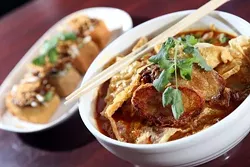 Satay House
31101 Dequindre Rd., Madison Heights
248-588-1779
Handicap accessible
Entrées: $6-$11
Open 10 a.m. to 10 p.m. daily.
If you've been keeping a bucket list of all the world cuisines you want to try, now you can head to Madison Heights — already known for its excellent Vietnamese restaurants — to cross off Malay. Lovers of Chinese and Thai will feel at home, but there are enough differences to be intriguing. Bordering Thailand, north of Indonesia and just across the bay from Vietnam, Malaysia is one of those countries that prides itself on its mix of cuisines.
You're greeted right away with, "Hot tea coming!" from a friendly server, as in China, followed immediately by mild and soothing tea itself, replenished indefinitely.
To make some sense of the 86-item menu (not including drinks and desserts), I tried to order dishes with "Malay" in the title or description, though I'm sure those with Chinese names, like roast pork lo mee or Hainanese chicken, would also be worth trying — "Chinese as in Malaysia" rather than "Chinese as in America." Thai dishes like tom yum and pad thai and a few Indian ones dot the menu. It's arranged by noodles vs. rice rather than by cuisine, which I'm sure is true to the spirit of Malaysian mix-and-match.
Americans have a thing for satay, whether because of the skewers or the peanut sauce I couldn't say. But I tried a more striking appetizer that I guarantee is also a crowd-pleaser: roti canai. It's a giant pancake, similar to Indian naan but less greasy, swirled into a dramatic shape and then dipped by the diner into a sweetish curry sauce with chicken and potatoes. Thoroughly delicious.
Another roti, telur, is also excellent. The sauce is the same but the pancake is stuffed with red onion and egg and cut into oblongs.
A third good-sized starter, this time refreshing, is papaya salad, very crisp shards sprinkled with ground peanuts and tiny rounds of hot pepper,with a sweet-sour sauce on the side. There's a shredded mango salad too.
We tried "Malai fish ball" just to see what it could be — an Asian cousin to gefilte fish? No, these were nine little rubbery mounds of pressed white fish, looking like counters in a board game, with a mildly chili plum sauce. We agreed they tasted like fish sticks without the crust.
A gorgeous entrée is penang prawn mee, a beautifully composed soup in a big white bowl. Hard-boiled egg caps and slices are arranged alongside fat yellow noodles, stark white sprouts and dark green spinach. I don't go for the taste of dried shrimp myself, but those who do should slurp this $7 stunner.
Prices are one good reason to visit Satay House, by the way; most entrées are $7 or $8.50.
I liked very much two similar fried noodle dishes, but be aware that you have to like the mouth-feel of flat rice noodles, which are softer than wheat-based ones. My companion and I agreed that these dishes were comfort food, not punchy. "Malaysian Fried Noodle" is full of pork, red onions, scallions and red bell peppers, with a bit of chili in the sauce; "Capitan Noodle" is milder.
Oddly, an okra dish and a couple of other vegetable entrées are $11 while the meat-based ones are $7. "Lady Finger Balacan" is a pleasantly hot dish, mostly okra with a few shrimp; please don't make me dispel once again the canard that okra has to be slimy.
An excellent side dish that will intensify any entrée is coconut rice, with the coconut flavor just substantial enough.
A big part of the fun here is the drinks, ranging from coconut juice to Malaysian iced tea and coffee, lychee drink, smoothies and bubble teas. The 15 smoothies can come with tapioca pearls and include the dreaded durian as well as safer mango, papaya and red bean; I favor avocado. What is it about feeling tiny gelatinous spheres slide down your throat that people find so appealing? No question, those pearls are entertaining.
My friend tried longan drink, a cousin of lychee, and thought it was most similar to the syrup in fruit cocktail (cast your sense memory back) and yet refreshing. Your drink may come in a plastic glass decorated with frolicking elephants. Decor is not an emphasis at Satay House, which has orange walls, high ceilings and bare tables.
For dessert, there's coconut pudding, a surprising $8, or peanut pancake, but we tried a couple of coconut milk items, bobo cha cha and pulut hitam, one with sweet potatoes and black-eyed peas, the other with black beans. Both are soupy, coconut-y and sweet.
I would make Satay House a regular stop if I lived nearby, for the comfort-food noodles, the coconut rice and the bubble smoothies.
Jane Slaughter dines for Metro Times. Send comments to [email protected]