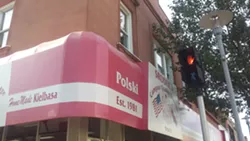 A day after the Hamtramck School Board approved DCFC's Keyworth Stadium lease, locals already seem to be thinking about the second most pressing issue surrounding the soccer club: what to eat at the arena during games? Looks like that question could already have an answer. The folks at Srodek's Campau Quality Sausage have created a special sausage that could very well fit right into the neighborhood's rich cultural tapestry.
While the Detroit Tigers have the ubiquitous Coney, the Dodgers have the Dodger dog and the and the Cleveland Indians have the Sugardale dog (topped with relish and Bertman's spicy brown mustard), the historic Hamtramck stadium could already be well poised to make way for the ghost pepper dog, err, sausage. Marrying Polish sausage-making techniques with the incredibly potent ghost pepper, known in its native India as
bhut jolokia,
this hybrid recipe seems especially appropriate to serve at a sports arena in Hamtramck, where both ethnic culinary traditions are cherished.
The notion was introduced on social media by mega fan Konrad Maziarz, who says the sausage was a big hit at a recent DCFC supporter barbecue. Describing the sausage as having a "perfect balance of spice and flavor that even those (who) do not care for spice can appreciate (its) flavor," Maziarz has invited the Srodek family to consider becoming an official food vendor at the games during the upcoming season.
DCFC co-owner Alexander Wright, upon hearing about the enthusiasm, tells us that per usual, fans have great taste and that they pay attention to every detail of the grassroots-supported club, ensuring that each game is a unique experience. "It's just one example of why we are so excited to make the move to Keyworth Stadium," he said. While hashing out details about concessions is not being worked out as of yet, the organization wants to bring on Detroit and Hamtramck-centric vendors as much as possible.
So what are the odds that fans like Maziarz and others could get their wish and be granted a DCFC Ghost Pepper Dog? Shall we dare to say favorable? Says Wright: "I fell in love with Srodek's - and so many of Hamtramck's other culinary delights - back when I lived in Boston Edison." A good sign, in our book.