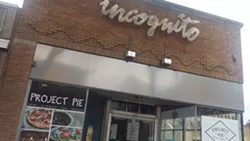 Royal Oak's retail imprint continues to diminish to make way for more dining establishments. Such is the case at former boutique Incognito, which closed its doors at the end of 2013. It is now being replaced by a growing pizza chain, Project Pie.
Though the former longtime retailer's signage remains, banners and help wanted posters advertising the "custom built by you" pizzeria are graced on the property at 232 N. Main St., inviting job seekers to apply online. The company has roughly 20 franchises, including in Southern California, Indianapolis and the UK. The concept for this space is fast casual, but offers diners an "everyday artisan pizza" experience by allowing them to design their own pie using interesting toppings like artichoke, Gorgonzola or cilantro. In keeping with the theme, customers can also build their own salads and drink "handcrafted" sodas.
While the build-your-own pizza pie idea seems reminiscent of a scheme dreamed up by Seinfeld's Cosmo Kramer, Project Pie is emerging as one of the next big restaurant brands to watch, according to CNBC. Plus, we like to see more pizza options in the area. Bigalora has a stronghold down the street, but Project Pie may provide for a tad lower price point, without skimping on quality. We'll make sure to keep our eyes peeled for an opening date and see if the customer really is better at imagining their own perfect pizza.