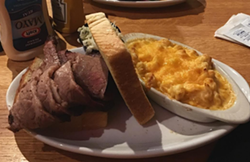 Greektown's Red Smoke is moving forward with plans for a new Royal Oak restaurant.
Tasso Teftsis, co-owner of Red Smoke and Astoria's Royal Oak and Greektown locations, is undertaking the project,
according to the Daily Tribune
.
The new building will go up at the site of a now-demolished Citizens Bank at 218 S. Main St.
Expect all the same menu items as the downtown Red Smoke and a late 2018 opening.
In Detroit, the Apparatus room will open its 4,600-square-foot space in a former firehouse that's being renovated into a boutique hotel called Foundation,
Eater reports
.
The Apparatus is every bit the type of hip, "chef-driven" spot one would expect in "New Detroit." You'll find "hyper-regional," new American fare prepared by Chef Thomas Lents, a Michigan native whose resume includes the Chicago Trump Hotel's restaurant Sixteen, which earned two Michelin stars.
Eater writes that diners can expect "dishes like pici pasta with beef heart and grated horseradish (billed as "an ode to Detroit's love of coney[s]"), sustainably-sourced langoustine grilled over fresh pine with honey glaze and spring turnips, sea trout with roe and spiced cucumber broth, poached halibut, confit suckling pig shoulder, and green and ripe strawberries (served with Malabar black pepper and spring mint notes of orange, rhubarb, and aperol)."
An "esoteric" wine list, craft cocktails, and, during the day, a cafe serving Anthology coffee and pastries comprise the beverage program.
The restaurant, which opens May 15, also includes a 10-seat, prix fixe Chef's Table, and culinary talent incubator.
Get more Detroit food news. Join our weekly dining newsletter here.