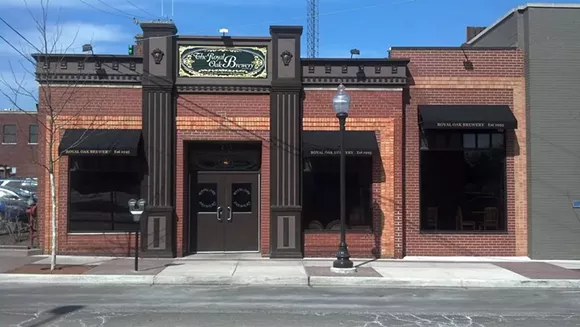 The long-shuttered Onion Roll Deli on Woodward north of 11 Mile has been given a facelift and opened as O.W.L., a 24-hour diner that features Mexican American fare.
The new concept was unveiled Tuesday, keeping the former establishment's retro signage but receiving a fresh coat of paint and updates to the interior.
The restaurateurs behind the new eatery are Joe, Kristin, and Larry Bongiovanni. Husband-and-wife Joe and Kristin brought us
Market North End in Birmingham three years ago.
On the menu, expect to find dry-rubbed chicken wings, habanero bacon, cheese, and egg sandwiches, chilaquiles, as well as nitro coffee, regular brew, and house-made infused lemonades, ice teas, and horchata.
O.W.L. is open 24 hours Monday-Saturday, and closes at 10 p.m. Sundays. The diner is at 27302 Woodward Ave.
Across town, Royal Oak Brewery is rolling out a new, more pub food-focused menu.
The 20-plus-year-old brewpub will hold onto existing fare like its jambalaya, fish 'n' chips, and Santa Fe Chicken salad, but will also add a variety of wood-fired pizzas, pork belly poutine with Porter gravy, and mustard crème fraiche, and mac 'n' cheese with fontina and cheddar.
Also added to the offerings is a house burger with lettuce, tomato, onion, pickle and mayo, a Juicy Lucy stuffed with American cheese, and a meatball sub.
Touted as Oakland County's oldest brewery, the spot features a rotating list of award-winning beers, with eight to 10 fresh taps daily.
Royal Oak Brewery is open 11:30 a.m.-midnight Sunday-Thursday, 11 a.m.-2 a.m. Friday, and 11:30 a.m.-2 a.m. Saturday. It's at 215 E. 4th St.