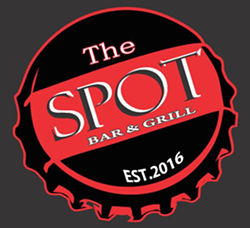 Multiple customers of The Spot Bar and Grill in Roseville allege the bar has charged black people a cover to enter, but not white people. And they say the bar's staff has discriminated against African-Americans in other ways as well.
The issue spread across social media over the weekend after Jonas Grabill posted about his experience at the bar on Facebook early Saturday morning.
The bar denies that it charges different rates for different customers.
"We do not believe it's true whatsoever that that statement was made," The Spot owner Robert Buzar tells Metro Times. "It's a zero tolerance policy for anything like that. We have a very diverse crowd."
But Grabill tells
Metro Times
that he and his girlfriend went to the bar around 1:30 a.m. to give a birthday gift to a friend. He says a group of four black people in front of them were charged cover, so Grabill pulled out his wallet. But when they asked the white bouncer about the cover charge, the bouncer replied "It's free if you're white," Grabill alleges. The bouncer added, "Don't tell anybody."
Grabill says he paused and he and his girlfriend exchanged concerned glances, but entered.
The exchange continued to bother Grabill the next day, so he posted about it on Facebook.
That sparked outrage online, and reviews from other customers in January and December suggest that this isn't an isolated incident, but a pattern of treating black customers different than whites.
"I was in shock, I couldn't believe it. It was just disturbing and I was thinking about it all the next day. I do have a friends a lot of friends who go there, so I thought I should say something," Grabill tells
MT
. "I was most insulted that he thought we were in secret club together. We're not."
Christina Bianca Carlier, who claims to be the manager who was working during the shift, says in a Facebook post that the bar "has never had an issues with racism."
"We accept and welcome everyone!!! We apologize for the misunderstanding with our security at the front door. I am constantly checking on security and walking around the bar, I've never had anything like this brought to my attention," Carlier writes. "We GREATLY APPRECIATE ALL of our customers. If you have any other issues, please feel free to message me."
An employee reached by
MT
on Monday afternoon said the owner would handle the calls, but added that she suspects that The Spot's competition paid sources $100 to make up the story. She provided no evidence to support that claim.
On Monday afternoon, The Spot Buzar denied that the incident occurred.
He adds that he trusts the bouncer, who he said "is not a racist in any shape or form."

"We're proud to have the diverse crowd that we have," Buzar says.
But that contradicts others' accounts of issues there. Many of those accounts were written in the reviews of The Spot's Facebook page, which have since been removed. Tionna Hardaway, an African-American customer who visited the bar to celebrate her birthday in January, spoke with
MT
about problems she encountered there.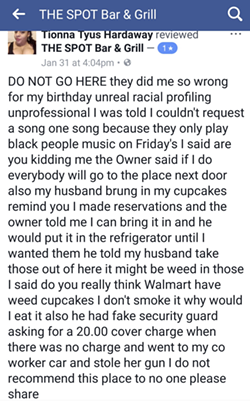 She tells us that she experienced "racial profiling" and a security guard tried to charge her group $20 to enter. Hardaway adds that she has friends who are mixed couples who have reported similar experiences. She says management made her boyfriend take cupcakes that he purchased from Walmart out to the car because the manager suspected there was weed in the cupcakes.
Buzar notes that no outside food is permitted no matter who is bringing it in.
Bar staff also allegedly told Hardaway that they "only play black music on Friday" when she requested a song, and at least one other customer reported online that she was told the bar doesn't play "black music."
Grabill says that others have reported that black people are asked to remove their hats, while white people are allowed to keep them on.
When asked why he didn't report the incident at the time, Grabill says he and his girlfriend don't drink so they didn't buy anything, and they were only there for a brief time. He also says the situation made them nervous.
"I didn't want to make a scene because it was first time there, and it was the first thing anyone who worked at the bar said to me," he says. "What if the bouncer decides he's going to go berserk on me? Who is going to stop him?"
(Comments from an employee from The Spot were added to the story at 1:22 p.m.)

(More comments from The Spot were added at 2:12 p.m.)