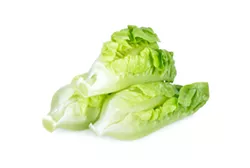 Romaine lettuce tainted with E. Coli
is believed to have sickened 58 people
in North America, including Michigan. It also killed one person in the U.S. and one in Canada. The strain of E. Coli O157: H7 has also led to illnesses in 12 other states, and food safety experts are urging people to throw out their romaine lettuce.
Food Safety News
reports that officials at the U.S. Food and Drug Administration and Center for Disease Control are still investigating the exact source of the outbreak. Though U.S. government officials have stopped short of advising people to avoid romaine altogether, Canadian officials linked the illnesses to lettuce on Dec. 14. It appears that the same strain is sickening Americans, so consumer advocates are urging people to avoid the lettuce altogether.
The 17 U.S. cases were reported beginning Nov. 15 to Dec. 8, while Canada had 41 cases.
"The FDA should follow the lead of the Canadian government and immediately warn the public about this risk," says Jean Halloran, Director of Food Policy Initiatives at Consumers Union. "The available data strongly suggest that romaine lettuce is the source of the U.S. outbreak. If so, and people aren't warned, more may get sick."
Leafy greens, including romaine lettuce, were the cause of outbreaks from E. coli 0157:H7 in 2006, 2011, 2012, and 2013.
"While anyone can get sick if they are infected with this strain of E. coli, young children, the elderly, and anyone who has a condition that weakens the immune system, such as cancer or diabetes, are at a greater risk," says James Rogers, Consumer Report's director of food safety and research.