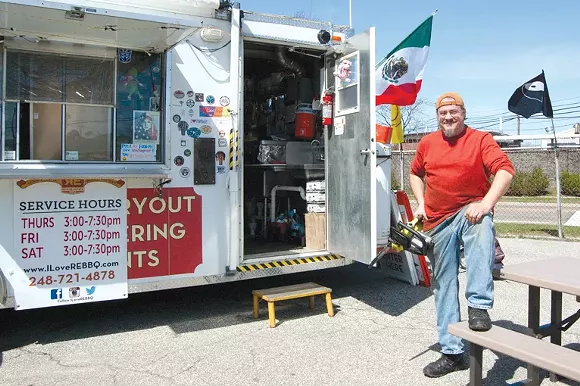 It's hard to miss Rogue Estate BBQ, a stationary food truck that takes up a quasi-permanent residence in a parking lot a stone's throw away from Metro Times' Ferndale offices — that is, if you pass it. Located in an industrial neighborhood away from the city's hip downtown, Rogue Estate stands out — with a roaring bonfire, colorful flags blowing in the breeze, and, typically, a steady stream of customers (even in the cold winter months). We stopped by recently for some barbecue — and to pry owner Bob Perye away from his work long enough for some questions.
Metro Times: How long have you been here?
Bob Perye: This will be our second year in that spot. The year prior to that, before I purchased the big trailer, we were next door at the Heights Food Center. The year before that, I was operating between Nine and Hilton Market and Western Market, bouncing between those two locations several days a week. Prior to that, I was 20 years a computer engineer. I got sick of it.
MT: Was barbecue always your passion?
Perye: I was always dabbling with cooking. When I was a kid, sick days were spent watching Justin Wilson, the Cajun chef on channel 56 and stuff like that. I grew up cooking because my mom doesn't cook. As I got older, Alton Brown came on the scene on television, and all of a sudden the engineering brain connected to the food brain, and it made sense, and I could start getting predictable results.
MT: When was that?
Perye: My mid-30s. My dad had bought a new propane grill. He gave me his old rusted, soaked-in-barbecue grill that he built when I was a kid. And I had taken that to my house in Ferndale when I finally had my own house and a yard to put it in. I didn't know what I was doing. This was right on the cusp of food television becoming a thing. But I started really getting into it, and just rocking this poor little drum until it disintegrated.
MT: When did it become a job?
Perye: I went to the store and bought a grill. I still have that one, and I've been beatin' the tarnation out of that one for just a decade now. But the business started on that. And I started getting good on that, and then word started getting out. For example, here in Ferndale, when B. Nektar Meadery did their first summer party, they asked me to come and supply the food. One thing led to another, and I started getting more and more work. I started working for another barbecue guy every once in awhile. I was doing my own events, just catering, weekend kind of stuff. Then it got to the point where I was like, "Man, I don't want to reboot Windows one more time." We got to a point, the wife and I, where we had no debt, and money in the bank, (and I said) "Honey, would you mind terribly if I switched careers?"
MT: So you're a food truck, but you're stationary?
Perye: I bought that big trailer two years ago with the aspirations of being just like all the other knuckleheads driving around and doing lunch service. But I learned early on that that sucks. Anything on wheels is gonna break. It's a monster. And it's harrowing to drive. That's a whole lot of locomotive and train to drive around, especially on these streets.
MT: So your preference is to not move.
Perye: This neighborhood is perfect for what I do. Everybody has been supportive. The businesses have helped me, we all help each other as neighbors and as conspirators in this Ferndale thing. The residents have been wonderful. They've helped me hone my craft. So what I've become is instead of a roaming food truck barbecue, I'm the neighborhood barbecue joint.
MT: Would you want to have a brick and mortar spot?
Perye: That's my next step. The trailer's nice in that it keeps us dry. It's sort of warm after a little while in the winter. When I get there at 9 in the morning, it's not warm at all. The smoker on board the trailer is OK. I have learned its idiosyncrasies. But it turns out some good food.
MT: What's up with the flags?
Perye: I do a different special every day of the week. There's always ribs, there's always brisket, there's always pulled pork, kielbasa, beans. And then everything else for the day is completely different. I pick a place on Earth, I order a flag from that place, and I find some great recipes, and that's the theme. Sometimes I'll even play some tunes from that place if I can get away with it. It's a lot of fun.
MT: We stopped by twice during the winter, and were surprised to see people lined up.
Perye: You and me both. That's how I kind of figure we're doing alright.
MT: Where do your regulars come from?
Perye: It's 50 percent returning, 50 percent new. For our regulars, I can tell you everybody's name, where they're from, their kids, their grandkids. My favorite thing is whatever the ethnicity du jour is ... for example, last Saturday, we did Cuban. This guy rolls up out the blue, and says, "I had to stop, I had to stop. You are flying the flag of my people." Those moments are what I get out of bed for.
The Rogue Estate BBQ serves from 3 p.m. to 7:30 p.m. on Thursdays, Fridays, and Saturdays at 600 Woodward Heights in Ferndale; 248-721-4878; iloverebbq.com.