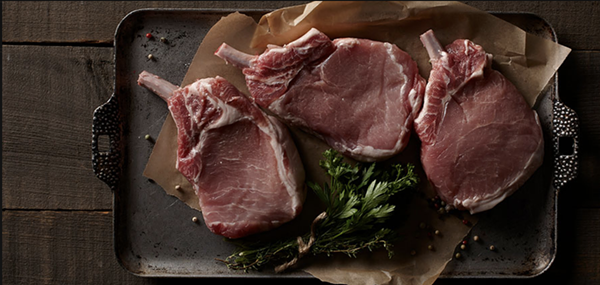 Midtown's Rock City Eatery is teaming up with Griffin Claw Brewing Company and Iowa-based master pig raisers Beeler's Pure Pork for a Duroc and Hops Dinner.
Beeler's is considered one of the nation's top pork producers partly because it raises European red Duroc pigs that offer hard-to-match marbling and texture, along with the appropriate pork pH. Its pigs are all natural, antibiotic-free, and aren't stuffed in gestation crates. In other words, Beeler's rejects the practices of the industrial pig farmers who produce the not-as-flavorful-as-it-could-be pork that usually lands on your plate. This is a good opportunity to take a bite some of the nation's finest pig, and its in good hands with Rock City chef Nikita Sanches who is offering an Asian-inspired menu for the dinner.
He tells
Metro Times
Rock City is switching to Beeler's for all its pork dishes, so he wants to put its products on display.
"I feel like Beeler's pigs are a little less genetically fucked with because it's such an old breed, and they're Midwestern farmers," Sanches says. "I like that they're someone who is coming down here to talk about their product and stand behind it. It's a lot better than going to the grocery store and picking up a pork butt."
Tickets for the seven course meal on Thursday, March 22 are $75 and include a beer pairing with each plate. Dinner is served at 7 p.m. Email
[email protected]
or call Rock City at 313-265-3729 for details and reservations. The dinner is likely the first in an ongoing series that will showcase Beeler's and local brewers.
The menu is as follows:
Course 1: Larb lettuce cups with Asian greens and herbs. Paired with Mr. Blue Sky.

Course 2: Pork and shrimp dumpling with ikura in pork broth. Paired with Copyright Cream Ale.

Course 3: Pulled pork slider with papaya slaw and nouc cham. Paired with Norm's Raggedy Ass IPA.

Course 4: Pomegranate-glazed boneless pork ribs and Mediterranean salad with smoked feta and pressed watermelon. Paired with El Rojo.

Course 5: Grilled pork tenderloin with tamarind and caramel with a grilled vegetable salad and purple sweet potato puree. Paired with Faux-Pas.

Course 6: Braised pork cheek with spaetzle, lemon ricotta, soy-cured egg yolk, caramelized fennel, baby oyster mushroom, and pickled apple. Paired with Harry Cherry.

Course 7: Apple crisp with streusel topping, bourbon caramel, and vanilla ice cream. Paired with Downtown Bourbon Brown.