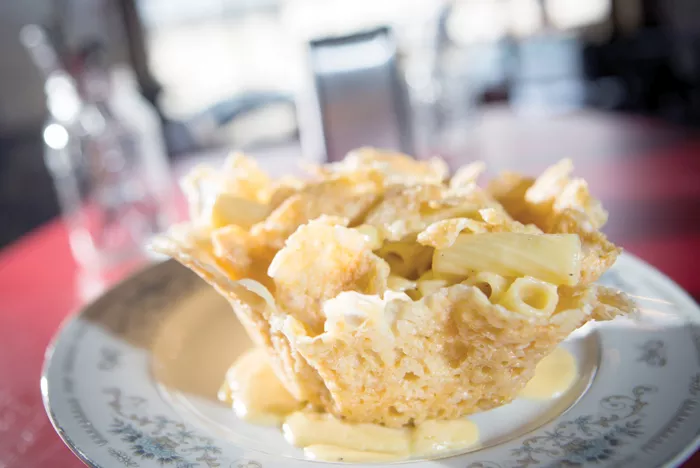 Rock City Eatery
11411 Joseph Campau, Hamtramck
248-633-3072
facebook.com/rockcityeatery
Handicap accessible
Sandwiches & mains: $6-$12
Sides & desserts: $3-$7
Open noon-3 p.m. & 4 p.m.-midnight Monday-Thursday;
noon-3 p.m. & 4 p.m.-1 a.m. Friday;
4 p.m.-1 a.m. Saturday.
It only makes sense that a chef who names his business "Rock City" would have a punk rock approach to running a restaurant. Nikita Santches, aka the "Pie Guy" (he used to sell his Rock City Pies at Ferndale's Rust Belt Market) wears his influences on his sleeve, not just through the loud music and outsized photos of rock icons gracing the restaurant's walls, but also in the distinctly populist pricing of his menu. Who says you can't feed the people thoughtfully crafted, locally sourced food, with a couple of drinks to wash it down, for less than $20?
It's hard to say what jumps out at you first when looking at Santches' menu — the reverse sticker shock (classic cocktails and microbrews at $4 apiece; most sandwiches around $7) or the eclectic, cheffy-sounding dishes that wouldn't be out of place in a fine dining restaurant (butternut squash with ricotta, maple and pepitas; a duck sandwich with pickled fennel, Gruyère and a duck egg). The menu doesn't have a particular theme except for being sandwich-heavy and influenced by a mash-up of cultures and flavors. Over a few visits, we encountered dishes with European, Indian, Southeast Asian and Canadian roots, and that was just scratching the surface.
Sandwiches are generously proportioned and served on ciabatta bread that stands up well to the juicy burgers, but didn't seem fitting for some of the other sandwiches. My comrades and I wound up leaving most of the bread behind when eating the brisket and duck sandwiches, focusing instead on the tender, flavorful meat and well-chosen garnishes.
The vegetable dishes we tried were unfailingly delicious, and make a great shareable accompaniment to any sandwich. Also a good candidate for sharing is the ultra-rich mac and cheese. Rather than a baked mac, this consists of a decadent and highly flavorful cheese sauce served over cavatappi noodles in a bowl made out of fried Parmesan (yes, you read that right, and yes, it's as good as it sounds).
Be sure not to miss out on the specials menu (ask your server for descriptions). Many of our favorite dishes came from that list, like a roasted cauliflower with curry spices, cashews, raisins, fresh herbs and a raita sauce, or a porchetta with salsa verde over farro.
In keeping with the restaurant's rock 'n' roll ethos, wait staff is suitably scruffy and laid-back. This may be off-putting if you're used to the snappy and hyper-attentive vibe at many casual restaurants; Rock City's servers are friendly enough, but with a less keen regard for timeliness or customer satisfaction. Buying the staff a round of beers is a menu option, which tells you something about the lax attitude here. Choose to take this in stride as part of the ambience, and your experience will be the better for it.
Much care was taken on the interior, which was transformed from a slightly sterile space (drop ceiling, vinyl booths) into one hosting a myriad of colors and textures. Tables made from repurposed materials are paired with mismatched resale store chairs. The effect is inviting and warm, unless you happen to be sitting by the front door, in which case, bring a sweater. (Side note: Have none of the restaurants here heard of the pop-up foyers ubiquitous in other large Midwestern cities in winter? The structure would likely pay for itself in the first year through heat bill savings alone.)
It goes without saying that you should end your meal at Rock City with a slice of pie. Even if you're full, at $3 a slice, just take some home. We did just that with a slice each of pecan bourbon pie and blueberry buttermilk pie, and only regretted leaving the salted caramel apple pie behind.
A note regarding the restaurant's hours: One of our servers mentioned that they close early at times if business is slow, so it's worth making a phone call if you're coming from a distance and it's after 10 p.m. Also worth noting is a special late-night ramen menu available on weekends "after 10-ish", according to our server, and sometimes available during the week if the kitchen feels like it. We didn't get a chance to try the ramen, but don't expect a super traditional interpretation; we were told the noodles are spaghetti noodles. (Psst: Guys, I'll hook you up with a noodle maker in Windsor.)
Back when I lived in Hamtramck, there were lots of worthwhile inexpensive restaurants, and lots of great bars that offered cheap drinks and good music, but nothing that combined the two. It's exciting to have such an option catering to those among us who appreciate good food and also love a stiff drink and a little Joan Jett or Iggy on the stereo; I'm more than a little envious of the residents who get to call Rock City Eatery their neighborhood hangout.