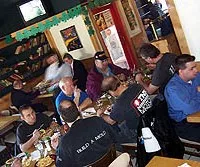 A menu at the Roadkill Cafe seeks to reassure the diner: "Be not concerned with name, all of our products are delivered and prepared fresh daily."
If there's anything I can't stand, it's unfresh roadkill ... but our hosts continue, "Thank you for your many offers, however we still will not accept any donations."
Despite the tire tracks on the Cafe's sign, there is no raccoon, no dog, no possum anywhere on the extensive menu. Just cow, chicken, shrimp and mozzarella, like any self-respecting sports bar.
"Roadkill shrimp?" mused a co-diner. "Maybe it got hit by a Jet Ski."
No deer heads on the wall, no hunting motif, just ESPN on TV and 93.9 The River for a soundtrack. Decor is posters of Elvis, Marilyn and James Dean, plus bookshelves that seem to have been purchased stocked en bloc ("I'll take 5 feet, please").
It's interesting to think about the foods that are now standard on any downscale American (or Canadian, in this case) restaurant menu. I don't mean hamburgers, onion rings and mozzarella sticks, although the Roadkill carries plenty of those. I mean nachos, fajitas, Greek salad and pasta.
Perhaps it's only in the sports bars and their ilk that America (and Canada) truly is a melting pot. We mix all the different cuisines together and it comes out unmistakably American! Or Canadian.
The Roadkill goes a step further than some by including Szechuan stir fry and a couple of Cajun dishes.
A San Franciscan friend of mine told me his credo was to never eat Chinese food out of town. I wouldn't go that far, but I would suggest avoiding Chinese in a sports bar. The Roadkill's Szechuan was just hot, with that slimy sauce you associate with bottles and cornstarch.
The wise diner is advised to stick to more traditional offerings and to take advantage of the bargain prices and free peanuts (throw your shells on the floor).
In this category, the barbecued steak, a special one Saturday night at $10, was tender and charcoaly.
If you're the type who finds a regular hamburger not meaty enough, I recommend the Churchill, which adds Canadian back bacon as well as cheddar.
I didn't try the nachos, but they were huge and elaborate, with olives black against the sour cream. The fajita ingredients were fresh and crisp. The garlicky bruschetta, with lots of fresh tomato, was quite tasty.
A house specialty is "Gord's bread" – what could sound more Canadian? – which is actually a cousin to focaccia.
The spinach salad and Caesar salad were good, although the mozzarella on the latter was certainly nonstandard. House salads, on the other hand, are iceberg.
I found the fetuccine carbonara too similar to the fetuccine Alfredo. Why would a restaurant that adds bacon to its Caesar salad skimp on bacon in its carbonara? But both are large and filling, if bland.
Or you can have your pasta nonbland by ordering spaghettini in a chili-based marinara with sausage. See what I mean by a melting pot?