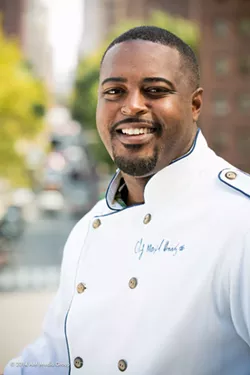 Maxcel Hardy is attempting a daunting feat —
opening three new restaurants
in less than a year.
His River Bistro, a casual Caribbean-soul eatery, is already up and running on Grand River near the Southfield Freeway. COOP, a chicken restaurant planned for the Detroit Shipyard shipping container development, is set to debut in the Cass Corridor this fall. And Honey, which pays homage to the African cuisine that's the origin of soul food, is planned for Henry Street not far from the new Little Caesars Arena.
Born on Detroit's west side, Hardy moved to Tampa at the age of 12 before his career took off in his early 20s. He worked as former NBA star Amar'e Stoudemire's personal chef, ran some of the city's top kitchens, then moved to New York City where that trajectory continued.
Last year, Hardy returned to Detroit partly because he saw that the city's suddenly hot dining scene didn't include many black chefs or restaurateurs. Hardy tells us that he finds that concerning in a city that's 80 percent black, and he's using his restaurants and skills to remedy the situation.
That starts with the kitchen at River Bistro. It's run by an all-black crew made up of cooks and chefs who hope to use its kitchen as a springboard to something bigger, like their own restaurants.
Among them is Brandon Williams, who graduated from culinary school in 2009 and last cooked at The Apparatus Room. He left to join Hardy because he likes Hardy's style and approach. Derryl Chappell — River Bistro's head chef — worked at the Detroit Blues Café on the east side, but says he views River Bistro's kitchen as a place where he can "speed up the process of being successful." And cook William Richardson left Detroit after high school to join Hardy in Miami, then moved back to Michigan to help with River Bistro.
But that isn't the end of Hardy's efforts. We sat down with him to discuss how he plans to help more of the city's Black chefs break into the industry.
Metro Times:
You noted in a
previous interview
that the city is 80 black, but there are few black chefs in the new restaurants' kitchens, and few black restaurateurs. Why do you think that is?
Max Hardy:
I don't think there were a lot of opportunities for [black chefs] in the past to be restaurateurs — it was a thing to be cooks and dishwashers in the back of the house, but you didn't see many notable chefs at the forefront ... And when you think of all the restaurants coming into the city now, how many black or minority chefs do you see? I think that can be because of the lack of opportunities, or a lack of exposure for guys going from cook to chef.
Even today on Food Network, you only have two to three black or brown chefs on the whole network, so that's where I want to use my resources. I want to help change that.
MT:
What kind of challenges does someone who grows up in northwest Detroit face that a counterpart from, say, West Bloomfield might not?
MH:
There's a lack of restaurants in our area that require a chef. We have fast food, grab and go, "you buy, we fry" — but not many casual, fine dining concepts around. So if I wanted to be a chef, where the hell do I go cook and learn? I've got to go out to West Bloomfield. Well, one: Transposition is an issue. Two: OK, is it a white-owned restaurant? Will they accept me as a chef? They'll give me a job as a dishwasher or a cook, but there wasn't a chance to be an executive chef or sous chef.
MT:
You recently spoke at a panel discussion that partly focused on the challenges that black people have in accessing capital to get ahead in the local food and restaurant industry. Do you think it's more difficult for black people living in poor neighborhoods in the city to access capital than it is for others?
MH:
There's money and resources out there, but sometimes in African-American communities there's a lack of knowledge of it. And sometimes we can apply ourselves and go after it a little more. For me, I try to research as much as I can to find funding and opportunities. You put it out there what you're looking, what you want and need, and I think a lot of times it comes. But you really gotta put it out there, you gotta go get it.
I hear, "They're not giving any money to black guys downtown." Well, they have to. There's minority grants out there and other initiatives. Is it easy to get it? No. It's not easy. Is it more limited for African-Americans than whites? I would say yes. Over the years, there has been a struggle … but I think there are opportunities for African-Americans to get business loans. You have to apply yourself, and if you have all your shit together, then it's a lot easier to get through the door.
MT:
Why is it easier to break into the restaurant industry in Miami or New York than Detroit?
MH:
Miami is a melting pot of different cultures and cuisines. You didn't have to break down those barriers as much because you had so many guys aspiring to be chefs at so many different restaurants.
At the same time, when I was 21 going into these places and saying "I want to be an executive chef," they looked at me a little funny. I went into the Williams Island Country Club, which has all the wealthiest people in the country, and they asked "How is this kid going to come in here and do this? He's not just young, but also African-American. It's a really big Jewish clientele. How is that going to work?"
I was the executive chef for two years and it changed some of the stereotypes and food culture there, so every chance I get, I try to break down those barriers and change that narrative.
But in Miami you pick and choose. If you want to be a Haitian chef, then you can experience that cuisine and start behind one of the top Haitian chefs … there's so many different pockets and so much diversity in the culinary scene. In Detroit, what do you have? You can understand Mexican a little bit in Southwest Detroit.
MT:
I was talking sort of on this topic with Nezaa Bandele, who is opening Paradise Natural Foods Jamaican restaurant, and she put it well — she said the culture of Detroit is Detroit.
MH:
Right, that's the hard part. You don't have that diversity.
MT:
What are some of the things that you're planning to do to make it easier for Black chefs to learn the trade?
MH:
Part 1: We just got a grant from the city, and we got three lots to do some urban farming on. That's on the same block that I grew up on. We want to show kids — and even adults — how to grow produce and turn it into an actual meal.
We have a food van parked in the lot, so once food comes out of the ground, it goes into the van, to the restaurant, and it's turned into meals. It's an instant farm-to-table experience.
Also, we're going to have a culinary training program which we're trying to partner with the city on, and potentially [Detroit Public Schools Community District's] Breithaupt Career and Technical Center. It already has a cooking class but we want to expand on what they have, and possibly create our own school.
Last October through May we did a culinary program where we went to charter schools, made meals, and trained kids as part of "Saturdays in The D," so I want to expand on that and do more workplace training … It'll be for kids in ninth through 12th grades, but every nine weeks we'll be doing internships where they can go out to kitchens and keep learning.
River Bistro is located at 18456 Grand River Ave., Detroit. More information here.