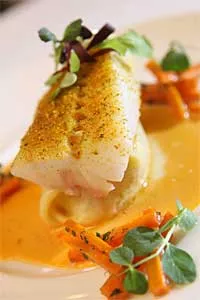 With the election, Happy Days are here again for many of us. What better place to celebrate the rare good tidings, along with those of the holiday season, than at that celebrated outpost of fine dining, the Rugby Grille in Birmingham? And while the price of a meal might make even Dick DeVos shudder, there are ways to enjoy the haute cusine, old-fashioned service and comfortable setting without holding a winning lottery ticket.
The Grille, which opened in 1988, is located in the Townsend, a boutique hotel in downtown Birmingham favored by visiting athletes and rock stars. Alas, when I asked manager Mario Plaza for names of celebrity diners to enliven this review, he demurred, pointing out that his hotel carefully protects the privacy of its famous guests, many of whom, in any event, choose to take their meals in their rooms.
Seating around 100, the Grille is composed of two rooms, a long "gallery" that opens rather publicly onto the main lobby and an enclosed clubby, British-accented room, elegantly fitted with leaded glass doors, dark polished woods, and the sort of oil paintings one might find in a country squire's library. The entire restaurant, including the always bustling bar area, has been smoke-free since October.
The continental kitchen is in the able hands of executive chef Jim Barnett, late of the Matt Prentice group, and David Gilbert, whose culinary pedigree is highlighted by a term at the French Laundry. Over the years, the Grille has earned an impressive variety of national and local awards, including being named by the consumer-determined Zagat service one of the 10 best restaurants in the United States.
It is difficult to make that claim about any restaurant, but the Rugby Grille continues to live up to its reputation. For evidence, one turns first to its take on French onion soup ($7), an earthy broth with a hint of sherry, covered with gooey strands of cheese overflowing the bowl and laden with chunks of onion. As usual with classically constructed onion soups, it defies dainty eating, thus creating a bit of incongruity in the formal surroundings of the Grille.
Alternate starters might include a hydro-Bibb salad ($12) gracefully composed of cherries, raspberries, toasted pine nuts, cheddar cheese and a gentle sweet berry vinaigrette or a baby-heirloom beet salad with goat cheese and walnuts ($14). From here, one moves to appetizers in the price range of entrées ($18-$24) that include such delicacies as black truffle and lobster risotto, Hudson Valley foie gras (PETA alert), and steak tartare prepared tableside.
Accompanying the appetizers is an admirable bread basket, full of crusty warm French bread and hard rolls and, recalling the London Chop House, a few sheets of matzoh.
Most of the main courses are in the mid-30s, with classic Dover sole a la meuniere, deboned tableside, an outlier at $46. The high tariff relates to cost of importing the delicate fish from Denmark or Holland, which are some distance from Dover, however. Among the most popular items on the menu, the sole is ordered by 200 well-heeled diners weekly.
There is always a veal dish among the entrées, such as a winning Bolognaise, crunchy and tender medallions lightly coated with flour and panko served over porcini, and enhanced by a fricassee of cipollini onions, tomato confit and pancetta, all awash in a blissful Marsala and port reduction. A bit lighter and certainly simpler is the Florida red snapper atop a galette of vegetables along with truffles and a hint of tomato vinaigrette.
Aside from several steaks served with a choice of sauce, you can usually find a Norwegian salmon with butternut squash, chanterelle mushrooms, Brussels sprouts and aged balsamic vinegar, diver scallops with a cauliflower mousse and oven-roasted Amish chicken. The always interesting accoutrements on these "composed plates" are among the strong points of the Grille's kitchen.
If all of this is too rich for your taste and pocketbook, you can select from items on the new "light fare" dinner menu ($14-$18). Here one finds mini-burger bites, a trio of kobe beef, ahi tuna, and Angus beef, designer pizzas, veal paillard over pistou sauce, and ahi tuna nicoise.
Or, at the other extreme, there is a changing chef's tasting menu ($75), a five-course extravaganza that, not surprisingly, must be ordered by everyone at the table.
The wine list is long, sophisticated and unusually playful, with section titles such as "The Power and Stubborness of Nebbilo," "European Grapes who Found Fame Elsewhere" and "Looking for Pinot Grigio," a category that contains no pinot grigios. For those looking for vin ordinaire, there are a handful of decent bottles in the low 30s.
Desserts are far from ordinaire, with inviting artisan cheese ($10 for three selections) and chocolate caramel mousse pyramid ($8) among the choices.
No matter how you look at it, an evening at the Rugby Grille will be expensive, but it is one of those rare upscale restaurants that scores on a cost-benefit ratio. Moreover, we all will soon be able to afford such an experience once the Democrats begin redistributing the wealth.
Mel Small teaches history at Wayne State University. Send comments to [email protected].