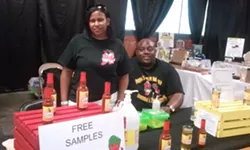 Thousands of Metro Detroiters have already descended on the Royal Oak Farmers Market to feast and drink at Metro Times' inaugural Rib Fest, giving ample opportunity for local smokers, BBQ chains and DIY food artisans to show of their goods. Among the stands that had meat lovers salivating was Stonewood Smokehouse out of Roseville.
Stonewood proprietor Gary Wakeford's ribs give you meaty, succulent cuts, that are already slathered in sauce when they go into the smoker. He doesn't sever the fibers completely, just slices them slightly and then smokes the ribs upside down, causing that fatty flavor to sink all the way through. This technique seems to be a winning method, because as of Saturday night, his stand had among the longest lines of customers, eager for a taste. "It's a jewel to see this," said Wakeford, 55, of the attention his ribs attracted.
The smokehouse was born out of Wakeford's existing Stonewood Pub, which had been in operation as long as he has been alive. But when the recession of 2008 hit and barflies drinking budgets shrank, Wakeford says he had to find a way to keep the customers coming. Bring in the smoker. "It's something we played around with for years," he said of his smoking recipe. Now, instead of relying on the local drinkers who live within a mile of the place for income, the smokehouse has become a Metro Detroit favorite, attracting customers from 10, 15, even 20 miles out.
Under the farmers market shed, husband and wife team Roosevelt and D'Ette Walton have been busy introducing their Poppa's Gourmet Hot Sauce. The recipe for Poppa's sweet and spicy sauces and jalapeno jams come from Eulongia, Georgia, where Roosevelt Walton's family had been canning preserves for generations from their home garden. One year, his father came to visit the couple at their home in Ypsilanti, bringing with him a mason jar of his hot sauce to a family meal. The sauce, which when it hits your tongue has almost a honey-like consistency and taste, but quickly finishes with a heated, but manageable kick of jalapeno peppers, was a hit during that fated visit and two years ago, the husband and wife decided to bottle it up and find ways to distribute it. In the same family tradition, the Waltons steer away from preservatives and stick to sourcing their ingredients from local farmers.
So while you're out there during these last hours of Rib Fest, waiting for the pig races to commence, make sure to say hi to Wakefield when you grab some of his ribs, and try a sample, no, buy a bottle of the Walton's zesty concoctions (we recommend the jam, which goes well as a barbecue glaze or surprisingly on fruit). It's the entrepreneurial spirit of these Metro Detroiters that make the lines and traffic all the more worthwhile.