Pizzaplex is the only restaurant in Detroit to seek certification as a purveyor of true Naples-style pizza: Vera Pizza Napoletana. The eleven pages of rules are improbably detailed and complex, and fun to read, like, "Specifically excluded is the use of a rolling pin."

The ruling Associazione specifies everything a certified pizzaiolo (pizza-maker) must use and do, from type of salt (sea) to shape of wood-fired oven (domed) to how to sprinkle on the olive oil (in a spiral). And woe to the pizzaiolo who wants to bake on a pan instead of on the oven floor, or to let customers carry out: "Vera Pizza Napoletana should be consumed immediately, straight out of the oven, at the pizzeria."
Although the rules permit only two types of pizza to be certified "vera" — the simple margherita and even simpler marinara — Pizzaplex, a project of spouses Alessandra Carreon and Drew McUsic, offers 16 others as well, 11 of them vegetarian. They combine mushrooms, salami, artichokes, black olives, capers, cherry tomatoes (cooked and raw), pancetta, truffle oil, Italian sausage, cheeses (Fontina, Gorgonzola, Parmigiano, Pecorino, Taleggio), pears, arugula, roasted peppers, eggplant, poblanos, rapini, and cooked or raw prosciutto — in a myriad of ways. Fresh basil appears in just about every pizza, as does fresh mozzarella — none of the processed stuff here.
Carreon's family comes from Naples, and the two studied there under master pizzaiolo Fabio Cristiano. Cristiano, an enthusiast of the Detroit project, trained some Pizzaplex staffers and will return to give more classes.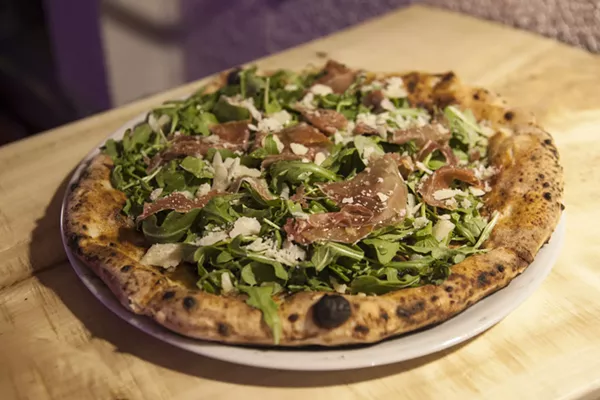 I liked the $9 sausage-rapini combo, the rapini a bit charred, the overall effect smoky and complex. The Nikolette, a white pizza, was also complex, though not a bit fiery as I'd expected, with poblanos, porcini, and Parmigiano. Although I usually adore pancetta, I was less happy with the only pizza that uses it, the Porcini. It was all one pungent note, and not one I recognized.
The Capricciosa is terrific, with mushrooms, artichokes, olives, and prosciutto cotto. In keeping with the Neapolitan philosophy, there's not a lot of any of those; you're meant to appreciate the crust, the San Marzano tomatoes, the herbs.
Which leads to a gripe: Though the rules say to "ensure that the pizza does not burn," my crust was often blackened. I'm not one of those fanatics who thinks the crust is more important than the toppings, but I do want it to "deliver the flavour of well-prepared, baked bread." The rules allow 60 to 90 seconds of bake time; pizzaioli, watch it like a hawk!
It's also possible to fold your pizza over and make it into a sandwich, what Pizzaplex calls a saltimbocca, for $4 to $6. Desserts rest on wood-fired, dough, too, either glistening Nutella or pear-honey-ricotta.
Pizzaplex salads are simple and outstanding, dressed in just olive oil. Only one, the arugula, involves greens. White beans are served warm with oregano. A caprese is big hunks of fresh mozzarella, grape tomatoes, and basil leaves, some of which are grown on the premises. The "Pomodori" — which just means "tomatoes" — is half cherry tomatoes bursting with flavor and half white onion. At $3, it would be silly not to include one of these stars with your pizza.
Cocktails are Italian, such as the Negroni (gin, red vermouth, Campari) or an Aperol spritz, or straight digestifs like grappa or bitter Amaro. I liked a not-too-sweet, cloudy gray Last Word: gin, green Chartreuse, Maraschino liqueur, and lime juice, straight up. Wines are Italian, too, and bottles can be taken home retail.
Service is help-yourself to water and utensils (and some very bad napkins — the folded-oblong kind that come in a restroom dispenser), and ordering is at the counter.
The menu is bilingual in English and Spanish, which is a bit surprising for an Italian-inspired restaurant, but appropriate for Southwest Detroit. Carreon and McUsic also want to make their space a local resource. They show movies on a giant screen on Sunday nights, and plan to encourage local artists, especially from Southwest Detroit, to exhibit. They are promoting a concept called sospeso — Italian for "suspended" — or "pay it forward." When you order your meal, you can choose to pay for a second pizza for a worthy cause, such as Southwest Detroit Environmental Vision or the local TimeBank.
As a resident of the neighborhood, I'm duty-bound to say that some here are concerned about the gentrifying aspects of new restaurants like Pizzaplex. It's not the prices, which are incredibly low. McUsic says the owners are "conscious of the neighborhood we're in" and wants to think that "someone with $5 in their pocket could choose between a Hot-N-Ready and a pizza that will blow their mind."