(Find more photos of La Noria's dishes here.)

Why would one city have two restaurants commingling Mexican and Italian cuisine? Perhaps because it's been a winning formula, attracting to a humble Southwest Detroit neighborhood suburban diners willing to pay unhumble prices.
And also because the owner of both restaurants is Norberto Garita, who in March launched La Noria next door to his El Barzon. El Barzon has long been a destination for those seeking something different, and the idea behind La Noria, Garita says, is to experiment with some new dishes — notably pizza — in a more casual atmosphere.
Neither barzón (the yoke of a team of oxen) nor noria (a waterwheel) is likely a word you learned in Spanish class, but both hark back to Garita's farming roots in the state of Puebla.
The ambience of the echoing new place, with shiny purple tablecloths and enthusiastic — but very young — servers, is indeed more like that of many Southwest Mexican restaurants than is El Barzon, despite its cloth napkins and wine list.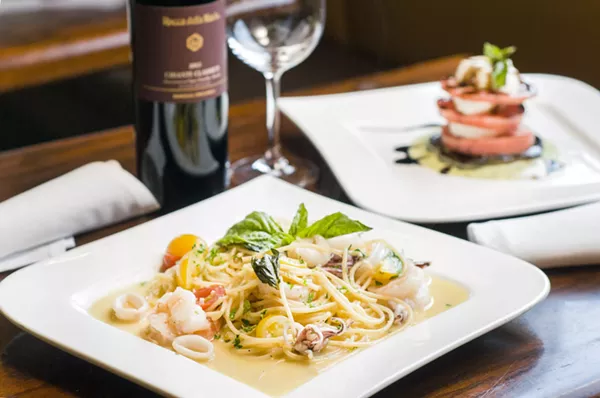 Don't expect prices like the neighborhood's, though. Garita keeps expectations lower at La Noria by omitting veal, seafood entrées, and fresh pasta from the menu. He adds $10 sandwiches. Mexican specialties run from $14 for enchiladas to $23 for barbecued goat, and pastas top out at $18, though the tacos are just $2.50.
None of this is to complain. It's just to predict that, despite having prices lower than El Barzon, locals may still choose to go elsewhere.
If they do, they will be missing some really stellar food. The Mexican dishes I tried were in a taste category all their own.
Garita's vibrant mahogany-colored mole poblano, a Pueblan specialty, is the best I've had. Many North Americans like to think that mole is a chocolate sauce, and are tickled to treat their chicken breast like a hot fudge sundae. Yes, there's chocolate in mole poblano, but the result has nothing to do with Sanders.
Garita's mole sauce includes chiles, tomatillo, cinnamon, anise, bread, and "etc." The taste is fruity with a very slight kick of picante, a stimulus to make you wonder about the "etc."
Just as delicious is barbacoa de chivo, a rich barbecued goat soup. The beast is marinated and then roasted for four hours (in an oven, not buried underground like it is in Mexico), creating a fantastic broth. On a return visit I will have a hard time choosing between these two.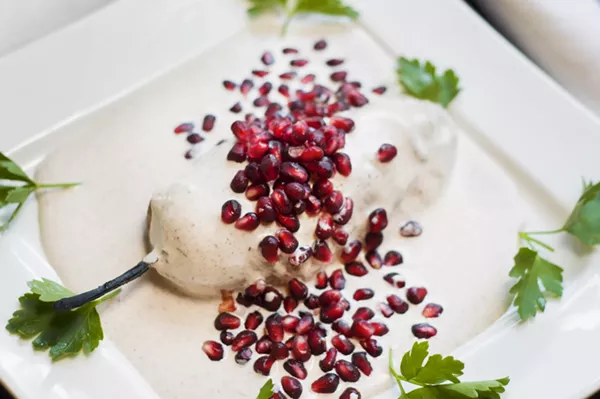 Garita offers another Pueblan specialty, chile en nogada (pepper stuffed with picadillo and topped with pomegranate seeds), though he uses a pecan cream sauce instead of the traditional walnut. Other Mexican choices, besides tortas and tacos, are fajitas of chicken or beef and skirt steak with onions.
For starters, the heartiest is chorizo with queso fundido (melted cheese), a thick, smoky, meaty mixture. Even more than that I liked baby clams in a full-bodied red sauce with a hint of heat — the language used was Spanish (almejas) but the flavor was Italian. A third is octopus sautéed in white wine with garlic and chile guajillo.
From the Italian column, we tried farfalle alla boscaiola (from the woods), which is Umami Central with its porcini cream sauce that is heavy and rich in just the way you want it to be. Orecchiette with a lamb ragu mint sauce was less successful — the tomato sauce blocked the lamb flavor and the mint peeked through only a little. Other Italian dishes are standard: chicken and shrimp Parmesan, spaghetti in a tomato-basil sauce. I spied a cream-sauce fettuccine with peas and coveted the hand-size, gauze-thin slices of prosciutto on top.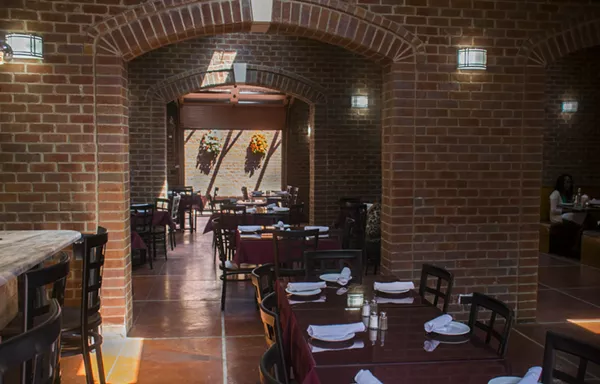 The red-checked, wood-fired pizza oven is visible to diners; you can even sit right in front of it on tall stools. The thin pizzas are traditional — margherita, quattro formaggi, pepperoni (the cheapest) — and not. The Poblana uses the same great mole as the entrée. The Chapulin uses ground grasshoppers, imported from Puebla, where they are practically a staple. Diners need not fear, for once ground, they're just crunchy, with the flavor of whatever spices the insects have been mixed.
We tried the "alla pescatora" pizza, with shrimp, octopus, and calamari, and found the seafood assertive enough to stand up to the mild tomato sauce.
La Noria continues El Barzon's attention to detail: Puréed black beans are so much more flavorful than the norm, as are the creamy squeeze-bottle salsas that come with chips at the beginning of your meal. The green is especially intriguing, picante enough to feel in your nose, with a taste approaching mustardy.
You get soup or salad with some entrées, and we adored a generous bowl of cream of broccolini.
La Noria offers sangria and 23 affordable cocktails at the marble bar, some locally named — Michigan Avenue Mule, Junction Fizz — and one infused with grasshoppers. Most intriguing are the Tamarind Mule and the Horchata Colada; others contain avocado purée, balsamic glaze, clam juice, and poblanos. Instead, I asked for the $14 wine flight, which meant getting to choose three from an unfamiliar, mostly Italian list, where I struck out on two out of three. Wine is also available by the glass, as are draft Mexican beers, 29 tequilas, and one mezcal.
I can't imagine a better summer evening than to sit near the open garage doors and sip while munching on a bowl of chapulines.
So many restaurants, so little time. Find out the latest Detroit dining news with our weekly food newsletter delivered every Friday morning.