Around 12,000 Japanese nationals call southeast Michigan home, and there are few nations' cuisines that are better represented here than that of Japan.
That means Michiganders who aren't from Japan are finally getting a sense that its food doesn't start and end with raw fish, but instead means dishes like Katsu Detroit's kakuni. It holds a small block of braised pork belly laced with soft, glorious, flavorful pig fat that arrives in a pool of soy and sake, and is flavored with ginger and green onions. There are Japanese omelettes, noodles, ramen, karaage (fried chicken), and grilled meats done on a yakitori grill.
Woodbridge's Katsu is an izakaya, which some loosely translate to "gastropub," and it marks the third that Metro Times has reviewed in 2019. It might not be the last. Katsu is one of two in the area that opened within of several weeks of each other in December — the other, Antihero, is up and rolling in Ferndale. Much of the Japanese population is concentrated in the western 'burbs around Novi or Bloomfield, where izakayas like Fumi and Kitchen Hanzo long ago laid roots, but Katsu is the first izakaya in the city proper.
Lanterns hang from the ceiling of the restaurant's dim interior, while a large-screen television at one end is tuned in to a Japanese television station. At the bar, Katsu keeps on display some of its dishes, and there's a range of Japanese beers, cocktails, sakes, and more. The food menu can be daunting on the first visit — it's lengthy and divided into sections of hot and cold small plates, grilled skewers, noodles, and deep-fried small plates, while a separate menu holds the sake selection.
Among the noodle dishes is the epic wintertime bowl Nagasaki Champon. The champon is a hearty soup that at some bites almost tastes Chinese, likely because Chinese restaurants in the north of Japan invented it. It's centered around fried pork, cuttlefish, shrimp, and big, crunchy pieces of cabbage that's all pan-fried with thick, wavy, and bouncy noodles. The chicken and pork bone broth is cloudy with a glistening surface, and the hearty wintertime dish also holds crunchy corn, peas, carrots, onion, seaweed, and more.
I ordered the tomato tuna sarada (tuna salad) on two different trips, and while it's excellent, it arrived with two different preparations. On the first visit, Katsu placed big dollops of tuna salad on a row of thin tomato slices. That's mixed with cabbage strands and the package should be hit with a bright, acidic yuzu dressing, which is a combo of citrus-y yuzu fruit and soy sauce. It's a more appealing and economic presentation than that which Katsu delivered on the second trip, which offered far less tuna and fewer tomatoes. Also note that Katsu uses canned tuna, not raw, so don't let that surprise you. There is no raw fish at this izakaya.
The oroshi mentaiko is essentially a small sausage composed of cod roe that's lightly charred. It's an incredible concept, and is slightly spicy, intensely salty, and held a strong flavor that I enjoyed but a dining partner didn't. The chikuwa chizu isobe-age is another fish sausage, though it literally translates to "fish cake." This time the cod comes stuffed with seaweed and cheese, and the package is deep-fried. Though it seemed odd on paper, it worked well.
Some of the small plates are actually fairly tiny, but that's not a complaint. Just don't expect the rather large small plates that are common around Detroit. The small portion of marinated octopus held a nice flavor, but was exceedingly chewy. Tsukemono, or pickles, are a staple with Japanese meals, and a plate of radish, celery, and other veggies at Katsu are lightly fermented with rice bran, salt, kunbu and red pepper.
Any of Katsu's tomagoyaki are a must. It's billed as a Japanese "egg roll," but this is more literal than the Chinese counterpart. Tomagoyaki are cylindrical, rolled omelettes filled with meat or cream cheese.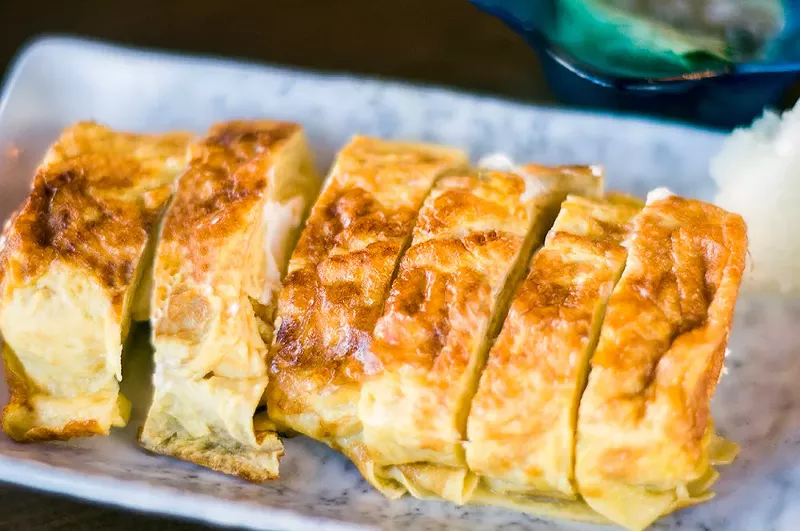 The yakitori grill seems to be the centerpiece of the menu. The grill itself holds virtually smokeless charcoal that slowly heats short skewers of chicken. We asked for the "chef's selection," and the chef delivered skewers with vegetables and four nubs of lightly charred bird that come heavily dusted with a flavorful spice mix. He sent chicken thigh with onion, chicken breast, and chewy gizzard that were decent and flavored with salt, garlic powder, and sake. But the chef missed the options I was most curious about, like the chicken tender with yuzu pepper, wasabi, or plum, or the chicken meatball with shiso leaf. The options the chef sent out were among the cheapest.
So which izakaya is best? There's no easy ranking as it's too tough of a decision — which is the best possible outcome for Detroit's diners.
So many restaurants, so little time. Sign up for our weekly food newsletter delivered every Friday morning for the latest Detroit dining news.