(Find more photos of Asty's dishes here.)

Let's clear this up straightaway: There isn't a "T" missing from the first letter of "Asty Time."
It's an easy enough mistake to make on first glance. Asty Acosta is the Dominican eatery's proprietor, and you get a pretty good idea of what kind of dude he is when approaching Asty Time's small storefront on McGraw in Southwest Detroit. Above the door hangs his photo, two thumbs thrust forward with a giant smile that urges you to drop in for some mofongo.
Passionate, loquacious, smiley, and energetic — these are the words that describe Asty, and it's part of the charm of the restaurant, which he and wife Edra opened in February. Before that, you had to know about the Southwest house out of which Asty Time operated since 2007, or work at Mexican Industries' Southwest auto parts plant where the Acostas sold lunch.
They're now able to set up a brick and mortar and thrive, partly because the number of Dominican expats that composes much of Asty Time's clientele is growing. So much so that McGraw — the street just west of Interstate 94 on which Asty Time just opened — and its intersection with Daniel is what Edra tells me is referred to as the "Dominican corner." Though it may not be as tourist-friendly as some Southwest Detroit neighborhoods, the food is worth the departure from the beaten path.
When you do so, consider bringing a friend who understands some basic Spanish, as Asty and Edra are the restaurant's only fluent English speakers, and the menu is in Spanish. It's not an insurmountable obstacle as the staff is super friendly, and between your broken Spanish and their broken English, they should be able to know what you're ordering.
On our first visit, some of the menu wasn't available, though we snuck in not long before closing. (It's early on Fridays — 7 p.m.) Our waiter explained what dishes the kitchen still had rolling, and we were relieved to learn that included mofongo — an Afro-Caribbean dish with direct lineage to West African foo foo that's popular in Puerto Rico. Asty's Dominican version is made with deep-fried plantains that are mashed up with what must be a hundred cloves of garlic (a good thing), chicken stock, and bits of salty, fried pork belly. It's a heavy hit of starch, and, like many dishes at Asty's, benefits greatly from a few squeezes of acidic lime.
The fried chicken — chicharron de pollo — is coated thick with batter, a presentation of which I'm usually not fond, but Asty makes it work. The flavorful crag encases moist meat, isn't grease-slicked, and the lime helps it along.
But the best dishes at Asty are those that get the sofrito treatment. Sofrito is a slurry of aromatics that's the base of much of Caribbean cooking, and the Dominican Republic is no different. Asty's variation is comprised of sauteed garlic, onions, bell peppers, celery, oregano, green onions, cilantro, lime, and small amount of soy sauce.
It's behind the deep flavor in the carne de res guisada, a dish of stewed beef that soaks in a small puddle sofrito sauce and falls apart with the slightest nudge from your fork. Sofrito also drives the camarones a la diabla, a piquant and spicy dish of shrimp in a tangle of sauteed bell pepper and onion with heat-radiating cayenne.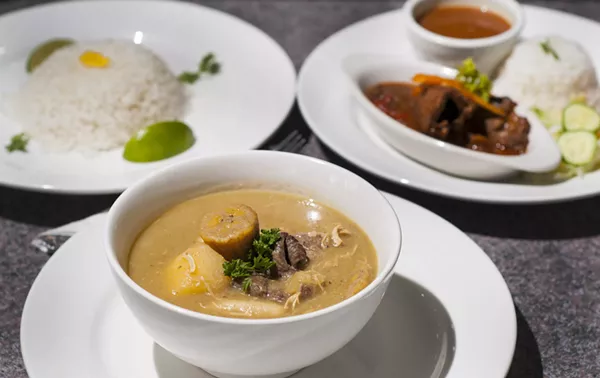 The intense fried pork chops — chuleta fritos — are marinated in sofrito and lemon, and the salty, moist meat arrives next to a mound of rice and fresh pinto beans. Apply citrus liberally. Likewise, the baked chicken — pollo al horno — is half of a baked bird that's worked sofrito and Goya seasoning, which arrives next to steamed broccoli and carrots.
Among Dominican cuisines most well-known dishes are the aforementioned guisados, or stews. Asty also treats us to a slightly earthy chicken stew — guisado pollo — with nubby pieces of bird in a pool of sauce that's made with sofrito, white wine, tomato paste, oregano, green pepper, and onions. And for lunch the chimichurri is a Dominican sandwich that has a lot of cousins around the Caribbean Sea. It's not the Argentinean sauce, but a patty of spicy ground beef sauteed in sofrito that arrives between crusty bolillo rolls along with cabbage, tomato, onion, mayo, and ketchup.
The list of beverages is short (no booze), and includes Dominican sodas with flavors like meringue, but the drink to order is the perapina, which literally translates into "pearpineapple" — but contains no pear and is actually a thick rice drink sweetened by pineapple juice.
The small shop is clean with murals left over from the previous Honduran restaurant, though Asty is planning to deck it out with Dominican colors. When you go, be prepared to wait. These dishes are made from scratch, and quality takes a little time. If Asty isn't in the kitchen, he'll help you pass the time by saying hello and probably tell you about how Major League Baseball teams with Dominican players — like the Toronto Blue Jays, with six on the roster — turn to him for food when they visit Comerica Park. Why they do so is no mystery.