Not many people in metro Detroit's Mexican immigrant population arrived here from the central Mexican state of Oaxaca. That's a slight bummer because while we're not short on good Mexican food here, that region's cookbooks hold what many argue are some of Mexico's best recipes.
That's where you'll find tlayudas, enfrijoladas, tamales Oaxaqueños, empanadas (Oaxacan-style), and, of course, the mole — Oaxaca is known as the "Land of Seven Moles," and the complex sauce is the region's culinary lifeblood.
Metro Detroit, conversely, might as well be known as the "Land of Little Mole," and none of Oaxaca's dishes are well represented here. That's why a restaurant called "Oaxaca" in Troy caught our attention. Oaxacan-native siblings Juan, Maria, and Carmen Velasco opened the restaurant in September 2015, and the compact menu holds several of the region's dishes, including tlayudas, molotes, and mole.
Oaxaca lists those three items under a short section called "Oaxacan Dishes," while the menu's remainder is devoted to more familiar offerings — tacos, burritos, and tortas. While burritos aren't common in Oaxaca, there's no issue with the addition of the familiar (and gringo-ification, if you consider the dollops of sour cream) because the nearly perfect meats render the vessel less important.
But more on that in a moment, because the Oaxacan part of the menu is what we came for. Start with the molotes which are essentially deep-fried, crunchy empanadas rolled with masa stuffed with salty chorizo and potatoes. The package is topped with refried black beans and soft, mild queso fresco.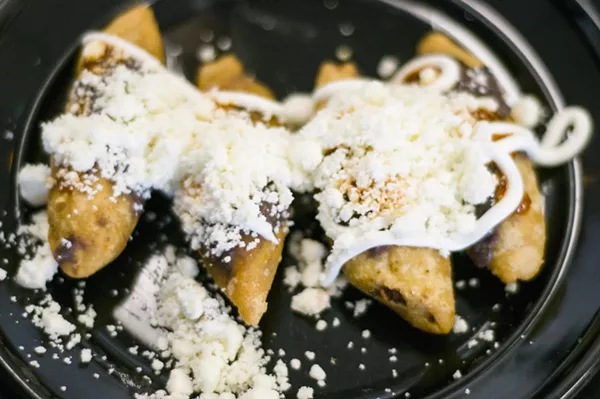 It's hard not to think of a pizza when a tlayuda is set on your table, but that's only for the appearance. The roughly 14-inch round masa cracker holds a tangle of crunchy light green cabbage shreds, ropes of stringy, white quesillo, and refried black beans, along with your choice of meat — we opted for chorizo.
Oaxaca's only mole is listed as "chicken mole," but it's a mole negro — a deep, dark, and complex sauce that's the sum of diverse and complementary ingredients like chile guajillo, plantain, chocolate, and more roasted chile peppers. Oaxaca's version is made from a paste imported from Oaxaca, as most of the ingredients can't be found in Michigan. Still, it's a rich sauce and used to drown three large hunks of chicken that arrive with rice and black beans.
But on recent visits the other diners seemed more interested in the burrito, and a friend who lives nearby told me "word is out on this place" because of the burritos. Of course, a burrito only goes as far as its meats will take it, and at Oaxaca the meats stand out.
The al pastor, for example, is sweet and savory with a slight char, though the latter is from the chef's griddle-work as opposed to the trompo. But with flavor like this, a trompo-less kitchen can be forgiven. Oaxaca's asada is among Detroit's most flavorful, and is marinated in a lime, orange juice, and seasoning combo that's common in Oaxaca. The piquant chicken tinga is another hit, as is the salty chorizo crumbles that are light and fluffy or charred, as opposed to the usual greasy balls. (We sure would love to see some chapulines, Oaxaca.)
So pick your vessel for the meats. Oaxaca's burritos are reminiscent of those in San Francisco's Mission District — as big as your head. The tacos are folded into homemade corn tortillas, and the tortas arrive on big, circular, crusty teleras buns.
There's no booze at Oaxaca, but it does have three varieties of aguas frescas and a wide selection of pops. The spot fills up fast midday, as the tiny dining room holds three tables and a counter at which to stand and eat. Perhaps the biggest drawback to Oaxaca is its location in a strip mall far north of town, but that's a short journey to make for a plate of Oaxacan fare.