(Find more photos of Lolo Potluck's dishes here.)

When we talk about Mediterranean cuisine in Detroit, we're often referring to a very specific, small part of the Mediterranean Sea's coast — Lebanon. But there's a vast amount of Mediterranean beachfront, including around 650 miles of which represents the Egyptian coastline.
The north African nation's cuisine isn't totally unlike that of Lebanon's, located to the north, but is more herb-heavy, making use of cilantro, dill, and parsley, along with onions and garlic to carry many dishes. That's all complemented by the regular presence of cumin, lemon, and black pepper. Generally speaking, Egyptian fare doesn't rely heavily on spices, and the dishes are often vegetarian and even vegan, though there are plenty of meaty options.
That means it's the herbs and vegetables that do most of the work, and when such dishes are in the right hands, the results are fantastic. That's how it is at Lolo Potluck in Troy, the one place in metro Detroit that trades in Egyptian cuisine. The shop, which is in a small storefront in a stripmall near Rochester and Wattles roads, is run by Sahar Shehata, an Egyptian immigrant who left the health care industry in May to follow her heart and open the restaurant.
It's worth noting that the northern suburbs like Troy and Rochester are becoming a respectable food destination. Lolo sits a few doors down from Neehee's Vegetarian Street Food, not far south of Sushi Coup and Oaxaca, and just a couple miles from El Guanaco, to name a few. Yes, there's more than just an Apple Store up here.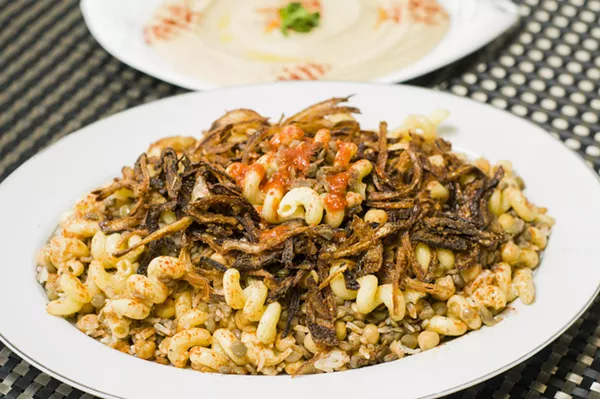 Lolo bills itself as a Mediterranean-Egyptian restaurant, and a good chunk of the menu is devoted to Mediterranean standards. However, the most interesting parts of its menu are the Egyptian recipes. And the best dish Lolo prepares is its mahshy, a common, colorful Egyptian plate that's similar to grape leaves. But Lolo replaces the grape leave wraps with cabbage, eggplant, or green pepper, and Egyptian grape leaves — unlike those of Lebanon — are always vegetarian. The meat won't be missed because Lolo stuffs the wraps with a super fragrant, red mix of rice, tomatoes, onions, parsley, dill, and cilantro, along with a hit cumin. It's cooked for an hour, which breaks down the purple eggplant or white cabbage shells a bit and leaves the package soft.
The koshary at Lolo also stands out. It's a wild pile of lentils, chickpeas, rice, and macaroni (all cooked separately) that's topped with onions that are breaded and lightly fried. The dish is enhanced with a vinegar and garlic condiment and a tomato-based chili-garlic sauce that should be poured over the huge mound of food and thoroughly mixed in. Koshary is basically Egypt's national dish, and possibly evolved out of Arabic mujadarra. And with ingredients that cheap, you get a lot of carb and caloric bang for your buck, though that doesn't speak to the flavor — there's a good reason it's loved by an entire nation.
A liver sandwich called kebdh eskandrani is another Egyptian staple. To be sure, I'm not one to eat offals just for the sake of eating it — my American-bred palette has its limits. But what Lolo serves tucked between two pieces of homemade bread is liver at its best — super tender and slightly sour, as its sauteed with bell pepper, onion, cumin, and lots of lemon and black pepper.
Another fine sandwich is the hawawshi, which looks not too unlike a calzone. It arrives with ground beef or spicy minced sausage between two pieces of golden brown flatbread made inhouse that are rolled together before the whole package is baked. Shehata mixes the meat with garlic, onions, and parsley, and the sausage is ratcheted with allspice, jalapeño, and pepper flakes, though Shehata makes some less spicy to accommodate customers' preference.
Moving to the entrees, the boftek is a salty, tender, breaded beef cut that's pounded out thin and sliced into strips. It's likely the southern Mediterranean cousin of French escalope or German schnitzel, but this comes with salty yellow rice with hunks of charred bell peppers and onions. Lolo's version of the meat — which is typically a Christmas dish — is flavored with lemon and lots of black pepper.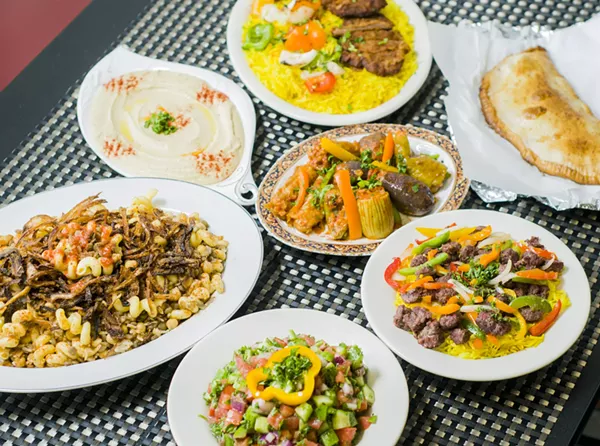 Similarly, the béchamel macaroni is served with a thin, crunchy layer of breadcrumbs amid a moist, buttery mix of pasta and ground beef. Lolo's Salata Iskandarani is a summer salad that also works just fine on a cold, rainy February evening, combining cucumbers, tomatoes, red onion, and parsley in oil and vinegar and spiced with cumin.
There's no alcohol in the small shop, which holds a few tables and does a lot of carryout business. But that's OK because you'll want to try the sugar cane drink which is, amazingly, liquified sugar cane. Lolo also makes its own delicious baklava in-house in case the sugar cane drink doesn't satisfy your sweet tooth.
Shehata tells me she was surprised to find diners' level of interest in her Egyptian cuisine, but the menu also holds plenty of the kebabs and shawarmas that you're used to seeing at metro Detroit's Lebanese restaurants. However there are slightly Egyptian twists in each — Shehata uses some different flavors, and doesn't make her kofta with bread, for example. But she says she mostly doesn't know or particularly pay attention to what Lebanese cooks are making, as she uses her mom's or aunt's recipes, and that's working out better than anything else.