As I sat down to write this review, I decided I really needed to go back to Folk for more "research." Didn't I owe it to my readers to inform them how long of a wait there might be at 1:30 p.m. on a Monday? And wasn't it 92 degrees, and didn't Folk have air conditioning while I have none? And wouldn't a dish of honeyed yogurt, mango purée, chia seeds, toasted coconut, and blueberries give me the energy to slave over a hot laptop the rest of the afternoon?
Yes.
In April, co-owners Kiki Louya and Rohani Foulkes began translating the success of their organic and locavore Farmer's Hand grocery store and take-out counter into a breakfast-and-lunch café a couple doors down. "Folk is farm-to-comfort," they say, passing through "table" and "fork" to get to what it's all about.
Folk is not exactly comfort food, though, if that means familiar childhood tropes, usually starchy. It does serve pie, waffles, and a hash plate, even a pot pie, but it gussies up the old favorites, and adds modern forms of comfort like avocado toast and a quinoa burger. The focus is on sourcing locally, organically, humanely, and seasonally.
The menu leans more to breakfast or brunch than to lunch, though Folk is open til 4 p.m. — eggs, quiche, toast, a yogurt bowl, but just the one (vegan) burger and no sandwiches, per se. You can get a single-origin espresso or a tahini latte, milk infused with turmeric or beet root powder, and several hot and cold teas.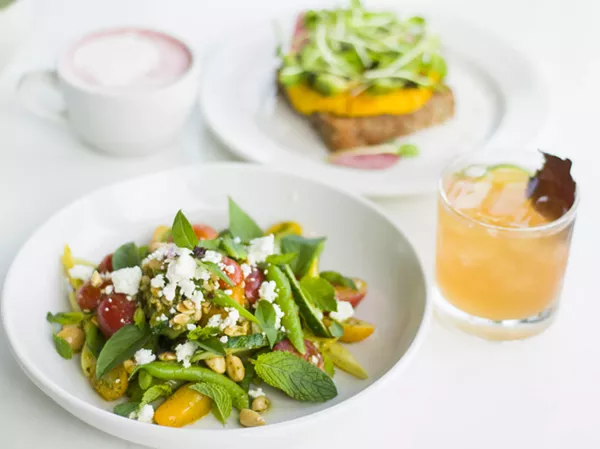 As you approach the restaurant, you're greeted with a row of bright flower boxes spilling over with color — and broccoli and cabbage growing among them. There's a patio, and inside holds six-seat tables with stools, which can be shared.
If I had to choose one Folk favorite, I'd choose two — the hash plate and the Tigress Aussie Meat Pie (Fowlkes is Australian). In the former, which can come with eggs or smoked tempeh, my sunny-side-ups were perfect, and the potatoes were not hashed up but faintly spicy, nestled among cubes of squash and all served with a spicy peach-colored aioli. The round meat pie had a fabulous crisp-but-tender crust — as a meat pie should — with creamy coconut chicken inside, and was served with lightly dressed bright purple greens.
I loved the yogurt bowl described above, and contemplated how much work went into peeling and puréeing the mango, if it was fresh. It was a work of art, composed, not tossed. As I wrote in 2016 about Farmer's Hand, "Every dish I tried was lovely to look at and well thought-through."
Also good, if more usual, is a tall and fluffy Belgian waffle with pistachio citrus butter and maple syrup. Chef Emily Cunningham says her weekend suburban customers tend to "brunch it up" with the waffle or its "bougie" cousin with whipped cream and compote, while neighborhood folks ask for salads or the hash plate. One Sunday, by the way, the wait was 45 minutes at brunch time, but another Sunday at 9 a.m. it was zero, and the same for Monday lunch.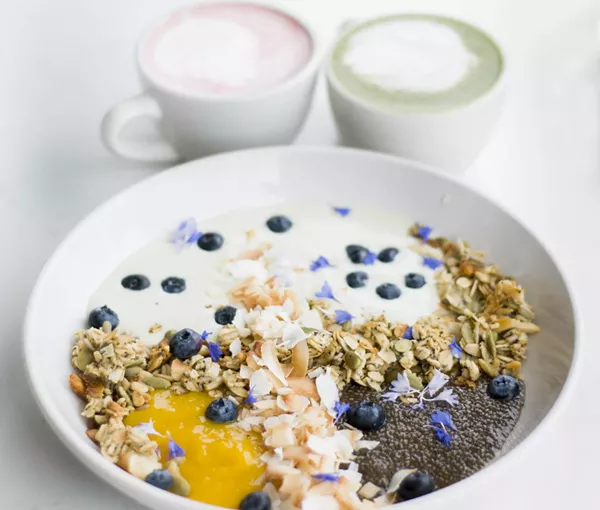 Less breakfast-y, a vegan noodle bowl combines skinny noodles, spicy crumbled sausage, fish sauce, nuts, crisp green beans, and high-powered basil. That's a lot going on, as in all Folk dishes, but it wor
Scheduled for a return visit — smoked whitefish toast from Lake Superior with crème fraîche, capers, and fennel, which Cunningham says has been selling out.
A simple side of buttered toast — Sweet Wheat from Zingerman's — was seeded on the outside and the Platonic ideal of toast. Other sides are eggs, avocado, and various sauces — sambal, piri piri, and jam.
I tried warm turmeric milk, decorated with a swirl barista-style, and appreciated the combo of creamy and pungent, but wasn't eager to pay $5 again for a coffee-cupful. I'm not an iced tea drinker and thought my friend's small glass of $4 cold green tea tasted like hand lotion (not Jergen's), but he, an experienced tea drinker, said it was great.
For dessert, Folk serves ice cream from the east side's Reilly Craft Creamery, including a vegan Chocolate Chunk made from coconut milk. If you put a scoop between cookies supplied by Sister Pie, you've got yourself an ice cream sandwich. Sister Pie also provides pie, such as a cherry bourbon that had me exclaiming over the thick layered crust that had a lot in common with a croissant.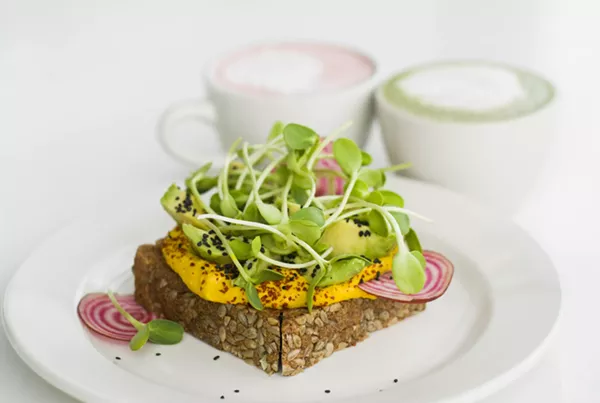 Just as Fowlkes and Louya are invested in the success of their farmer-suppliers, they are also committed to their workforce. The menu advises, "All of our staff are compensated fairly. Tips are gratefully appreciated and split evenly among all staff, but not expected." The starting wage is $11.50 an hour (vs. the Michigan minimum of $3.52 for tipped workers and $9.25 for everyone else), and delighted customers have continued to tip anyway.
Even more startling — every worker, dishwasher to cook, gets the same wage. According to Foulkes it all leads to high morale.
"Our customers know we are harvesting from local farmers and returning to them a high-profit margin," she says. "And we are taking care of our staff. We need our customers to buy in to that."
So many restaurants, so little time. Sign up for our weekly food newsletter delivered every Friday morning for the latest Detroit dining news.