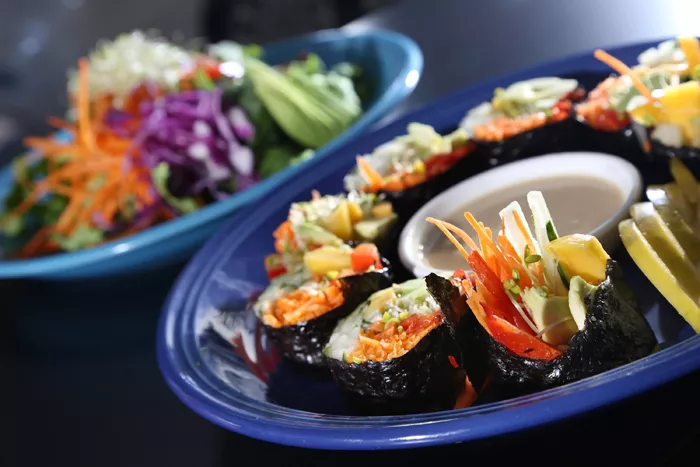 Try It Raw
213 E. Maple Rd., Birmingham
248-593-6994
Handicap accessible
Breakfast: $5-$7.25
Entrées: & salads: $5.25-$12
Desserts: $2-$7.25
Juices and smoothies: $4.25-$35|
Open 7 a.m.-6 p.m. Monday-Friday, 9 a.m.-6 p.m. Saturday, 11 a.m.-3 p.m. Sunday.
At Try it Raw, a tiny organic and vegan diner in downtown Birmingham, the restaurant's straightforward name lets people know what type of food they serve. But more than that, it's a friendly invitation to experience a way of eating that's new to many local diners. Raw food, in which no ingredients are heated at more than 116 degrees, uses soaked legumes, nuts and grains, in addition to fresh fruits and vegetables, to create dishes that often imitate or draw inspiration from familiar cooked foods.
The restaurant is owned by Marc Dobaczewski and Michael Severance, both former sushi chefs at Clawson's Noble Fish and veterans of Detroit's garage rock scene. The two worked together for seven years, during which time Severance began to experiment with raw food, bringing the results in to work to share. Once Severance and Dobaczewski decided to go into business, they quickly found a perfect little spot on Maple, and opened in July 2012. Dobaczewski said they specifically sought out a small space in order to keep things manageable and maintain a high standard of quality.
Devotees of Try It Raw aren't coming for atmosphere or a "dining experience" — instead, it's all about the food. Customers order at the register. There are no tables, so if you do dine in, don't count on bringing a crowd. There are some seats at the counter, but the majority of their business is carryout. Still, the small space is bright and welcoming, with plants in the window and colorful paintings on the walls, and we found it a pleasant place to have lunch.
I was already aware through friends who had eaten at Try It Raw that the restaurant has many near-fanatic regulars. It's not easy for vegans or celiacs (the menu is also gluten-free) to go out to eat, so when they find something good they tend to get hooked. The raw food lifestyle will probably not win over most die-hard meat-and-potato types, but my co-diners and I all agreed that anyone who likes fresh, tasty food can find something to love here. We also appreciated that the vibe is very welcoming and not at all preachy or pretentious. Eager to share their passion, the chefs and employees happily answer questions for raw food neophytes.
Most of the entrées are raw versions of familiar dishes, like nachos, tacos, pizza and noodles. Tacos are made with a delicious take on "refried beans" made out of pumpkin seeds, and topped with a creamy and spicy orange sauce that visually resembles nacho cheese, in case you want to pretend you're eating something indulgent and unhealthy. I admit I was a bit dubious about the taco shell — a raw collard green leaf — thinking it might be tough or bitter, but it's light, crunchy and a perfect vehicle for the savory filling.
Some of the dishes have an Asian twist, including some sushi and hand rolls, and a "noodle" plate with thin strips of zucchini for noodles. These are tossed with a creamy coconut sesame sauce that has a little kick of spice, and topped with marinated mushrooms, red peppers and crushed almonds. I had heard of the zucchini-as-noodles idea (popular with those trying to cut carbs) but had never tried it; I'm now convinced it needs to become part of my repertoire.
There are different daily specials in addition to the regular menu, and we tried one, a lasagna with thinly sliced zucchini, "meat" and "ricotta" made with various nuts and seeds, pesto and a tomato sauce. The chefs cleverly re-create the depth and richness you'd get from a long simmered sauce by using sun-dried tomatoes and dates for just a hint of sweetness.
One thing that might be slightly off-putting to some is that almost all of the food is served cold. On a hot summer's day, this would be welcome and refreshing, but in the grips of the polar vortex it was a little hard to embrace as fully. I confess to heating up my leftover noodles at home — not enough to "cook" them, but just enough to take the chill off. We did have one warm item, a bowl of broccoli soup that was soothing and flavorful.
Despite being pretty dyed-in-the-wool omnivores, we'll definitely be back whenever we need to counterbalance other indulgences. If you need any further proof that this food is delicious in its own right and not just as "health food," one hardcore carnivore I dined with, initially quite skeptical, couldn't stop stealing my salad out from under me and inhaling large bites. Actions speak louder than words, especially when your mouth is crammed with kale.