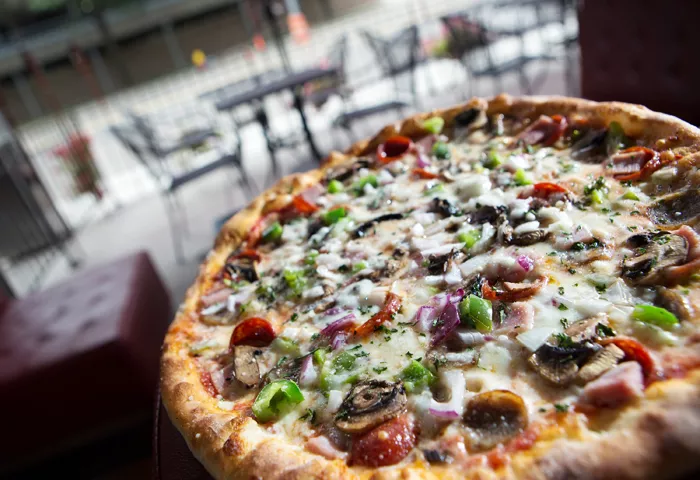 Tony V's Tavern
5756 Cass Ave., Detroit.
313-833-5595.
Pizzas: $9-$14.
Salads, sandwiches: $7.25-$10.50.
Open Monday-Wednesday: 11 a.m.-1 a.m.; Thursday-Friday: 11 a.m.-2 a.m.; Saturday: noon-2 a.m. Closed Sunday in the summer, open noon-midnight in the fall.
Big shoes to fill? Alvin's Finer Delicatessen and Twilight Bar was an institution in the 1970s, a hangout for artists and musicians and hippies more than for students, though it was smack dab in the middle of Wayne State.
Owner Barney Surowitz (1974-1989) says he bought the bar from the original Alvin because "the world had new values and new ideas; the Detroit feeling was similar to Ann Arbor, and Ann Arbor was like Madison, which was like Berkeley. There was a sentiment that news travels fast in a small community. It seemed we had an ideology where we were trying to fulfill our own personal destiny. I wanted to see what was going on, on the other side of the counter. I wanted to eavesdrop on these kids."
It's hard for folks today to relate to the "anything is possible" energy that animated spaces like Alvin's back then. A January 1976 article in the Fifth Estate told of that newspaper's 10th anniversary celebration at Alvin's, "ten years of creative (sometimes) struggle toward that elusively-marvelous future of a liberated humanity ... celebrated by 400 of the cream of the Detroit crazies ... ordinary people trying to push their lives beyond the hideous limits of ordinary reality." While drinking four kegs and 14 cases of beer.
New owner John Lulgjuraj reopened the space last month with more modest goals: to build a fun space for students and neighbors, with karaoke, trivia, "college night," DJs, and live music planned for fall when the Wayne State folks return.
But his redecoration has made the space a lot more attractive than the notion of a college hangout would suggest. There's no stale beer smell, no scarred furniture. A recent owner had installed a garage door across the front, so the whole space is now open to the air, and Lulgjuraj has set up living-room-type tables and chairs that invite anyone to eat and drink civilizedly and at leisure. Baskets of petunias decorate. Expansive Anton Vulaj, the Tony V of the new name, plays manager/host, along with a super-friendly staff.
The menu is a mix of standard college/bar fare, with an upward twist. A dozen pizzas range from the meat-laden to the Margherita. Salads are enormous and loaded. The beer list is short enough (nine drafts such as Bell's) for easy management. ("On a busy night," Surowitz says, "you don't have time to play games with people.")
You might get bread sticks to start your meal, which are actually strips of pizza dough baked crisp and spiced up, with a fresh tomato sauce for dipping.
They lie atop the giant salads too, which are more than a meal in a bowl. The salmon in one was perfectly cooked, with a slightly charred exterior, though we decided Gorgonzola doesn't really go with salmon (too heavy), and the raspberry vinaigrette was way thick. The ubiquitous Michigan salad went far beyond the usual cherries and blue cheese to add oranges, apples, walnuts, and bacon — a good sort of overload. Caprese, Greek, and Caesar are other choices.
The 11 pizzas are thin. We liked the Mediterranean, which tasted strongly of Kalamata olives and feta, and the simple Veggie, which uses a fresh tomato sauce that actually tastes fresh, with zesty roasted red peppers. Even better was the BLT pizza. Mayo is part of the underlying sauce; after it and the bacon are zapped in the brick oven, lots of cool, mayo-spattered romaine and some tomatoes are added. "It works," said a companion, "in the same way a BLT works." The contrasting temperatures are terrific.
Other options include a three-cheese bianca, artichoke pesto, and two versions of a four-meat pizza.
Sandwiches include burgers and panini. We got a crusty Cuban Panini, though it broke all kinds of grammatical and culinary rules: spicy mustard instead of yellow, grilled onions added, no pork. But that's fine, because all ingredients were clearly listed. The panini are necessarily on the small size compared to other menu items, probably limited by the size of the press, but they come with a huge pile of excellent fries. Intriguing: a Lux panini with turkey, provolone, and honey.
A spicy Buffalo chicken sandwich was generous with the bird, and sported a normal Buffalo sauce with blue cheese. The Reuben was thick and good enough, but I was surprised not to taste any dressing. Tony also offers a Philly cheese steak and an eponymous club sandwich with three meats, one cheese, and pesto.
I'm a little concerned whether sandwiches in the $8-$9 range are too pricy for the target student clientele. If so, the pizzas are plenty to share, or they can go with the $7.50 nachos, topped with black olives and jalapeños.
Thus far, though the food is definitely decent, the most standout thing Tony V's has going for it is that inviting open-to-the-sidewalk space. Maybe they could bring back M.L. Liebler to read some poetry…