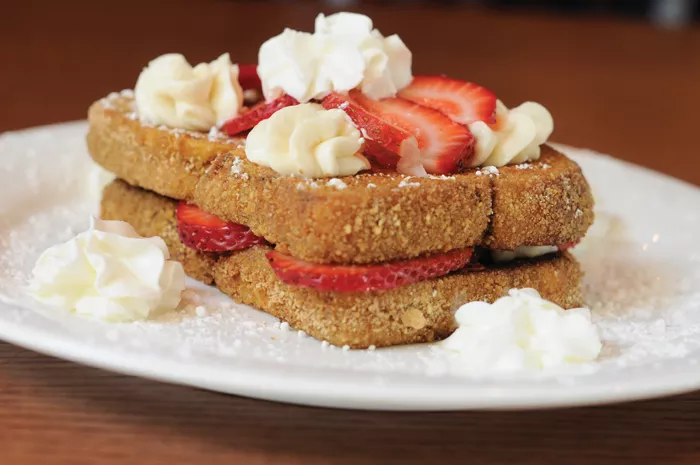 The Jagged Fork
18480 Mack Ave.
Grosse Pointe Farms
thejaggedfork.com
313-458-8440
Handicap accessible
Brunch and lunch: $6-$13
Open 7 a.m.-3 p.m. daily
In the Pointes, the Original House of Pancakes is an institution, and the yardstick by which all other brunch is measured. Although newcomer the Jagged Fork won't pose any serious threat to its older and larger neighbor, overheard comments at the restaurant and conversations with east-side friends indicate they've already won over a good many converts with their diverse menu and speedy, friendly service.
Walking into the small diner, the "mom decor" sets the tone — this is not some hipster café with brightly painted walls or mismatched chairs, but rather a good old basic family restaurant where you know without even looking at the menu that you can get a club sandwich, Greek salad, or some corned beef hash. There are two large flat-screens mounted on the walls for those who just can't miss whatever game is on; the World Cup was playing on a recent lunch visit, but the sound was off.
Even when the restaurant is full, the Jagged Fork does a great job of seating and serving customers quickly. We were greeted and had waters brought out at lightning speed, and food orders never took more than 15 minutes. Customer service is clearly a priority; when our server noticed my friend had barely touched her decaf coffee, which she found watery, it was removed from our bill without us having to ask.
The large menu, although not breaking new ground, does branch out a little from conventional diner fare, mostly with Mexican-inspired dishes like quesadillas, house-made tamales, or "voodoo" eggs Benedict with chorizo and salsa verde. My dining companion at brunch had ordered the Florentine eggs Benedict and found them disappointing (raw spinach and a pale tomato slice); she lamented her choice even more when two gentlemen at a nearby table were raving about the voodoo version. Salsa verde, ranchero sauce, and guacamole are made in-house.
Lovers of sweet breakfasts will go into a sugar coma just deciding between dishes like the Oreo or Chunky Monkey pancakes (caramel, white chocolate, and banana), or graham cracker-crusted French toast. Not able to decide between a sweet or savory breakfast, I opted to split the difference and try their take on a Monte Cristo sandwich. The sandwich uses French toast as the bread, with good quality, thick-cut ham and gooey melted Swiss inside; the outside is drizzled with a berry sauce and powdered sugar. I ate every bite, but next time I'd get the ultra-sweet berry sauce on the side or ask to substitute jam.
The omelets we sampled were fluffy, and come with the option of pancakes on the side instead of toast, a nice touch. However, small complaints included sub-par hash browns with an almost gummy texture (I'm guessing they're frozen, not fresh) and the use of dried basil instead of fresh in the pomodoro omelet. Our overall favorite breakfast was the plate of breakfast tamales, which you can also get in a lunch version (same dish minus the eggs).
Returning for lunch, we attacked the sandwich and salad portions of the menu. The Jagged Fork does an acceptable job with old standbys like the club and the Reuben, although for $9, my Reuben could have had a little more meat on it. Note that if you want Russian dressing, you'll have to ask; they'll gladly give you some, but it's not on their version of the sandwich.
All sandwiches come with a choice of fries, sweet potato fries, or fruit. If you choose fries, you can upgrade for a couple bucks and get them topped with cheddar, grilled onions, ranch dressing, or diced tomatoes. We went for the "Animal Fries" with cheddar, grilled onions, and Russian dressing. A little much for my taste, but my friend gobbled them up.
Salads are prepared with crisp romaine rather than the omnipresent "baby mixed greens," which is fine by me, since the latter can so often contain nasty, slimy surprises. Not to mention that romaine holds up better to creamy dressings or chunks of chicken and veggies. Salads are served with the soft, pillowy style of pita bread served at National Coney Island, et al.
Prices at the Jagged Fork are on the higher side of moderate for breakfast and lunch food, especially given the ingredients and preparations. If they were using top-of-the-line meats, or making more items from scratch — or even if the menu was a bit more creative — I wouldn't bat an eye. While none of the food was bad, per se, we found it all just average and not necessarily worthy of a drive across town. However, the service was consistently excellent, and the restaurant is clearly a welcome addition for those who live in the Pointes and want breakfast options other than OHOP.