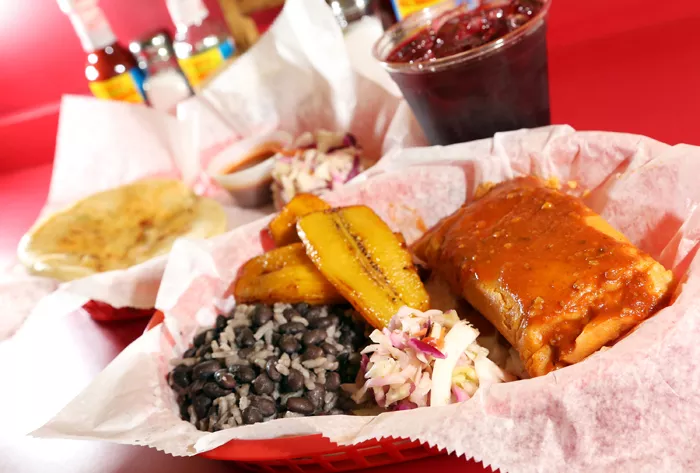 Pilar's Tamales
32247 Mound Rd., Warren
pilarstamaleseast.com
586-838-5608
Handicap accessible
A la carte items: $1.50-$4
Combo plates: $7-$12
Drinks and desserts: $2-4
Open 10 a.m.-6 p.m. Tuesday-Thursday, 10 a.m.-6:30 p.m. Friday & Saturday, closed Sunday-Monday.

Part of the fun of writing about restaurants is that your friends are always eager to share the great new places they've discovered. We try to keep up on new restaurant openings here at MT, but with tens of thousands of eateries in metro Detroit, it's tough to keep track of them all. When a friend mentioned a few weeks ago that there was a new tamale place near her house in Warren, we jumped at the chance to investigate.
Ann Arborites might already be familiar with Pilar's other location on Liberty, opened in 2009, which was preceded by a food cart at the Westside Farmers Market and a State Street location called Pilar's Café. The Warren outpost has been open less than a year, but it already seems to be a neighborhood favorite.
Pilar's in Warren is tiny and does mostly carryout business, although there are two tables and a few counter seats. Although small, the interior is bright, festive and welcoming, as are the owners, Juan and Sandy. Tamales are the obvious star of the menu, but they also serve pupusas. (If you've never had a pupusa, imagine a quesadilla but with softer, chewier dough that encloses the filling.) We didn't make it to the Ann Arbor restaurant, but its menu is slightly larger and features seasonal tamales made with local organic produce in addition to more traditional offerings.
Those used to Mexican-style tamales should note that Pilar's are Salvadoran and fairly different in style. They're about twice the size and use much more masa, the corn flour dough that surrounds the tamale's filling. One friend specifically appreciated that these tamales were "all about the masa." Far from being a mere vehicle for the filling, Pilar's masa is flavorful and delicious in its own right. Another difference is the inclusion of olives and capers in a few of the tamales; those who love anything brined or pickled will welcome this variation. Vegetarians will rejoice in the tempeh tamale or black bean tamale, whose masa is made with the bean cooking liquid instead of broth. All flavors of tamales are served in a mild red chile sauce.
I haven't had many pupusas to compare to Pilar's, but theirs are definitely less greasy than other versions. We tried a pork pupusa and a cheese-and-jalapeño pupusa and found them both delightful, as fried things stuffed with cheese usually are. Again, the meat is more a seasoning than something to count on filling you up; in the pork pupusa, it's finely shredded and blends in with the beans and cheese. Pupusas are served with a side of the same sauce that tops the tamales.
Seeing as how most items are $4 apiece on their own, ordering a combo special makes the most sense. These come with a little bit of everything, including curtido (a cabbage-and-vinegar slaw), casamiento (black beans and rice), fried plantains and a house beverage. We opted for the Perfect Pair special at $12, which gets you one pupusa, one tamale, and all of the aforementioned sides. Both Pilar's locations make everything in house from scratch and go out of their way to source local and organic produce, which explains the slightly higher-than-average prices. Side note: The menu description of the casamiento doesn't do it justice — far from being just plain beans and rice, it's deeply savory, with bits of green chile.
House beverages include horchata (a rice drink flavored with cinnamon and morro seeds), agua de tamarindo (tamarind), and agua de jamaica (hibiscus), all made on-site. I was happy to find the hibiscus drink significantly more tart and concentrated than some overly sweet, insipid versions I've sampled elsewhere. The horchata has a slightly grainy texture and pleasant, sesame-like flavor.
Celiacs and vegetarians will be pleased to note that Pilar's is 100 percent gluten-free and has many vegetarian and vegan menu options. Packaged gluten-free baked goods are available at the register, including a fine-crumbed, lightly sweet cake called a quesadilla that delighted my friend's toddler.
Pilar's still has some minor kinks to work out — for example, we weren't able to try the yuca fries because they hadn't yet started prepping them at lunch time — but with such friendly service, these small disappointments are easy to overcome.
Tamale pro tip: If you can't make it to Warren during the limited hours Pilar's is open, you can catch them at Eastern Market on Saturdays, where you can buy frozen tamales that come with sides of sauce and curtido.