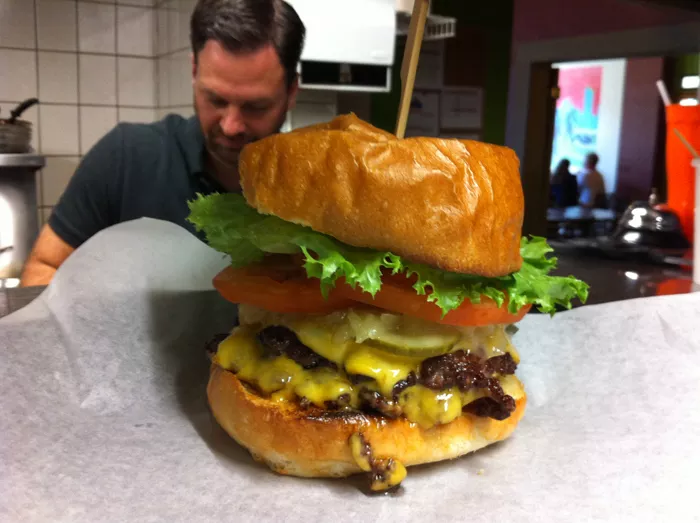 MamO Burger Bar
1515 Ottawa St., Windsor
519-973-1234
mamoburgerbar.com
Handicap accessible
Burgers and sandwiches: $12-$14
Open 11 a.m.-10 p.m. Tuesday-Saturday, noon-8 p.m. Sunday
I love everything Ryan Odette does, at least everything having to do with meat. I loved his original tiny fine-dining establishment (MamO), declared his Smoke & Spice Southern Barbecue the best I'd ever eaten, and praised his fried chicken joint, which has now been replaced by the burger bar. He apparently takes the rigorous concepts he learned when in French-cuisine training and applies them to the world of down-home.
Although I gotta say, is "more is more" one of those concepts? Usually I'm wary of too much lily-gilding, but Odette piles flavor after flavor onto his burgers and makes it work. You read the list of ingredients and slowly it dawns on you that all those items go on top of two 4-ounce patties of "single-steer" beef.
The Italian Job, for example, contains fried salami (not just salami but fried salami), prosciutto, mozzarella, basil mayo, pickled red onion, and tomatoes. The Daddy Mac boasts mac & cheese, smoked pulled pork, and caramelized onions. Get Shorty is cheddar, braised beef short ribs, onion rings, and horseradish aioli. Oh yes, and 8 ounces of beef.
Odette makes much of the fact that the meat in each burger comes from a single steer, bought from Shawn Morris Farms in Essex County, and ground in-house. I can't be positive that that's what makes the difference, what with all the other components that go toward making these the most succulent, and tallest, burgers you'll find.
Take Wakin' & Bacon (but don't take it away from me): Is it the thick, chewy strips of housemade bacon or the sweet bacon jam that takes this one over the top? It also sports cheddar and two perfect eggs, on a crinkly bun that's got more structure than your normal overly soft burger wrapping, without going so far as to be a Kaiser roll. There's no need for any human to consume that much protein in one meal, it's true, but the luscious flavors keep you plowing through.
Odette adds to the feeling that there's a particular alchemy about his concoctions by allowing no substitutions on his 10 fancy burgers, though you may build your own at a higher price.
We also tried two non-burger sandwiches and were just as enchanted. Notorious P.I.G. is smoked pulled pork, that good house bacon, ham, dill pickles, cheddar, and chipotle mayo. The overall effect, besides piggery, is very slightly sweet with a welcome tangy burst from the pickles. And Get Him to the Greek does to lamb burgers what lamb is so good at — a lovely charred exterior, served with a tzatziki-feta spread, arugula, tomatoes, and more of those pickled red onions.
Other non-beef possibilities are turkey burgers and chicken tenders, which I would eschew in anyone else's hands.
If you've managed to con a vegetarian into coming with, there's a Veg-Mex made of a black bean patty, avocado, arugula, pico de gallo, and feta.
But I would advise said trapped vegetarian to order the $10 arugula salad instead, which comes with warm smoked portobellos and those great pickled red onions. It's fabulous and as a starter, enough for three.
A Caesar was far less successful, at least when ordered as one of the free sides — uninteresting dressing, pale romaine, a whole lot of bacon. Each sandwich comes with either a salad or fries, garlic fries, jalapeño slaw, tomato soup, or tater tots.
The thick tomato soup is extremely simple — just pure tomato flavor — but extremely good, more like a purée than a soup. The chili, on the other hand, was unspicy and meh.
Odette sticks to his local theme for drinks. All the wines and craft beers, draft and not, are from Ontario, such as Cobblestone Stout from Mill Street Brewery in Toronto and Walkerville Brewery's Honest Lager on tap, from Windsor. My friend ordered the only IPA, Muskoka Mad Tom in a tall can, and raved about its hoppiness. Drinks are just $5-$7 and include the Pickle Back: a shot of rail whiskey with a pickle brine chaser.
Milk shakes and floats are made with soft-serve. Though I can't deny that both my spiked one, "Irish Coffee" with vodka and Kahlua, and my non-spiked, a "Salty Caramel," were delicious, still, ice cream is ice cream and soft-serve is soft-serve. You can taste the difference. The mounds of whipped cream on top are real, though.
MamO takes no reservations and waits can be long during prime time weekend hours.