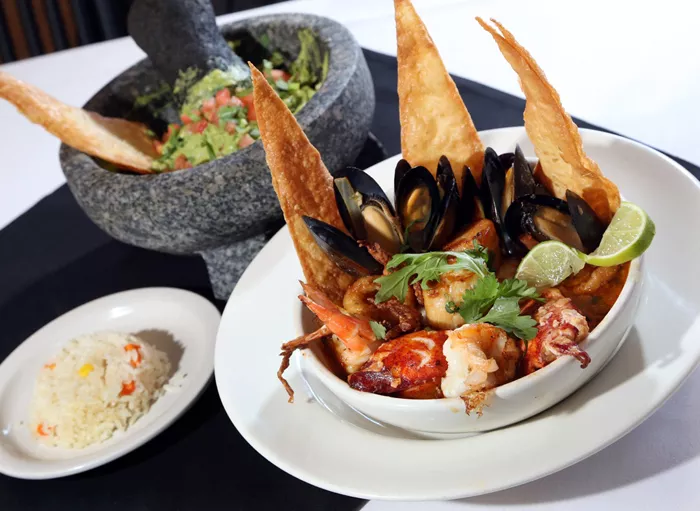 El Asador Steakhouse
1312 Springwells St., Detroit
313-297-2360
Handicap accessible
Entrées: $10-$19
Open 10 a.m. -9 p.m. Sunday-Thursday, 10 a.m.-11 p.m. Friday-Saturday.
On vacation last month in Yucatan, I naturally encountered plenty of dishes that were far off the beaten track of Mexican restaurants here. (They don't eat tacos or enchiladas at every meal, you know.) So I was eager to relive a piece of paradise (if at a different temperature), when I learned of a new (since October) Mexican steakhouse in Southwest Detroit.
Owner and chef Luis Garza had decided to bring sophisticated steak and seafood dishes, with fancy sauces, to the local scene. He's put a surprising amount of lobster on the menu. Diners can choose rib-eye, New York cut, aged sirloin, squid, scallops or mussels, none of which is common in the neighborhood. And entrées also come with sublime soups that aren't common elsewhere.
Garza is trying to please everyone: He cooks the more interesting dishes, but also offers nachos (with the addition of green olives). He'll make an exquisite lobster quesadilla and put a blob of sour cream on the side. I really, really, really don't like refried beans, and gray ones of the type served here are the reason why; some whole black beans would have been more in keeping with El Asador's ambitions, IMO.
I figured a very mixed party could do fine here. Those who don't really like Mexican could order a steak — "hold the sauce" — those seeking tried-and-true flautas or fajitas would be happy, and others could branch out.
The space has not been dressed up except for the tablecloths and cloth napkins; some may remember the basic Ecuadorian Doña Lola's in that space, from years ago. Your meal naturally starts with chips and your choice of salsas, but the chips are warm.
My favorite soup was a creamy poblano, infused with a mild pepper flavor and subtle heat, dressed up with croutons and corn kernels. Tortilla soup was a close second, a gorgeous creamy red from the roasted tomatoes and guajillo peppers, with a drizzle of sour cream, shreds of queso fresco and asadero cheese, and cilantro. Consomé de pollo is far more than chicken broth; the limey broth is quite strong, filled with meat, crisp tortilla shreds, and cabbage. Portions are large for comes-with-the-meal soups; do arrive empty at El Asador; the appetizers are sizable and dinners include two sides.
Starters include mussels with chorizo, chiles with chorizo and queso fundido (melted cheese with peppers and chorizo). I went for lobster quesadillas — good choice. The tortillas are crisp and the lobster shines through the melted cheese that's part of the package. Guacamole on the side has crisp onions incorporated.
Also good: calamar enchipotado, or squid with chipotle sauce. It's breaded and pleasantly spicy, not fiery.
A dish that shows off Garza's artistry is cazuela de mariscos, seafood stew. A big bowl arrives with fried tortillas poking up out of the stew on either side, cut to look like the head and tail of a fish. Big chunks of salmon, mussels, shrimp, scallops, calamari and lobster nestle in a full-bodied broth.
I also loved scallop tacos on double corn tortillas, though I must admit that the caramelized onions tended to overshadow the delicate scallops. I asked for vegetables as the side dish and got some well-cooked zucchini and squash. Shrimp a la diabla has an appropriately spicy sauce, not too "devilish."
My companion ordered a sirloin with three-chile butter sauce (ancho, guajillo, chipotle) and found it surprisingly mild. The peppers had permeated the meat, ordered and served medium-rare, and surprising caramel flavors also peeked in and out — a winner. Other steaks come with poblano cream sauce or ranchero.
I was expecting a nice flan for dessert, maybe a dulce de leche, but instead was offered a strawberry cheesecake chimichanga! My first chimichanga of any sort, it was pretty tasty, with cream cheese and a strawberry jam and honey filling, sprinkled with cinnamon. But I would recommend the addition of something more in line with El Asador's high-end aspirations.
What's missing is alcohol, but a license has been applied for. If spring ever comes, the menu will change to include more summery dishes, such as ceviche.