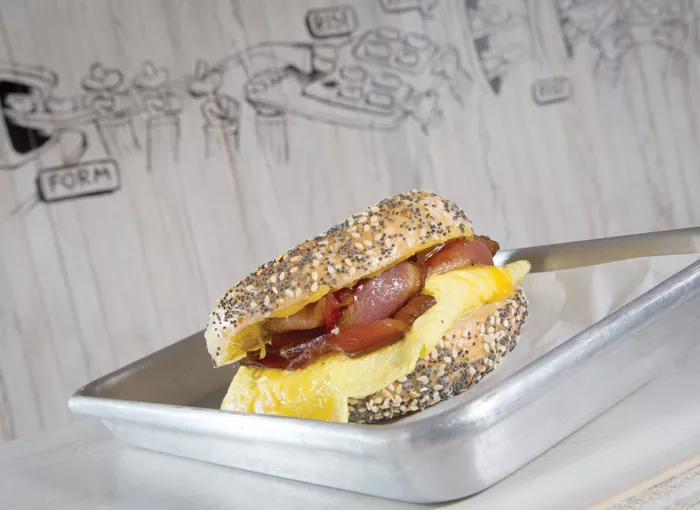 Detroit Institute of Bagels
1236 Michigan Ave., Detroit
313-444-9342
detroitinstituteofbagels.com
Handicap accessible
One bagel: $1.25-$3
Breakfast sandwiches: $3-$5.50
Lunch sandwiches: $4.50-$11
Open 7 a.m.-3 p.m. Monday and Wednesday-Friday,
8 a.m.-3 p.m. Saturday-Sunday; closed Tuesdays.

It's pretty much inherent in a bagel sandwich that the bagel is going to be harder than the innards, so when you bite down, the insides will squish out as or before your teeth break through the bagel. That's not a problem if you remember not to nosh while driving or in some other precarious position.
In fact, it's the bagel's combo of textures, when it's made right — the crackling to al dente outer shell and the doughy to chewy interior — that make it so popular. I remember, years ago, the first time I ate a bagel that wasn't hard all the way through, a bagel that did not have to be torn with the teeth like a caveman eating his raw dinner. It was not made in the Midwest. It was a revelation.
Decent bagels are much more possible to come by now, of course, though some New York friends will still offer to import a bag when they visit.
Last Thanksgiving, the three owners of the Detroit Institute of Bagels brought the freshly made kind to town, after a few years of experimentation and selling out of a Corktown house.
Head baker Ben Newman makes his 500-600 bagels a day the traditional way, boiled first, then baked — some operations skip the boiling and just steam, to save on labor. But Newman says boiling is essential for the right texture combination, as is the hole, for an even bake.
The Institute makes six basic varieties every day, including the essential "everything" with sesame and poppy seeds, sea salt, minced garlic and fennel. Other types, more expensive, are made in smaller batches and in rotation, and are sold till they run out each day, such as bacon cheddar, blueberry ricotta and rosemary/olive oil/sea salt.
All the bagel shop's lunch sandwiches are inspired combinations, some time-tested, others nontraditional in the bagel world, and the breakfast sandwiches, if more prosaic, are also delicious. I must single out the $11 Lew Silver (named after a donor's father), which contains more lox than I knew was possible, or at least economically feasible, to pile in one place. A mountain of thick slices of the fish, thin-sliced tomato, cream cheese, red onion, capers — whoever discovered this time-honored combo of bite, creaminess and marine saltiness left a gift for humankind.
Those on smaller budgets can simply get a bagel with a lox-flavored schmear, or a scallion- or herb-flavored one, or hummus or, and I don't recommend this, PB&J. All the schmears and spreads, including excellent spicy lentil and butternut squash tahini, are made in-house and available by the pound or half-pound.
A vegan sandwich option is roasted red pepper, avocado, cucumber and arugula, the latter applied liberally, the whole contraption making a mighty tall sandwich. Be aware, though, that a bagel has smaller dimensions than a regular piece of bread, so you do need lots of filling to get the volume you seek.
Other choices are BLT with mayo (!); roasted beet, goat cheese, red onion and arugula; salami and provolone; and a great Reuben, thanks partly to Sy Ginsberg, partly to plenty of kraut.
For his Bagel Dog, Newman metamorphoses the round bagel into a cylinder — suitable for framing an all-beef skinless kosher wiener — sprinkles on poppy seeds, and adds Brownwood's Famous Kream Mustard from up north.
Breakfast sandwiches are served all day. I tried egg and cheese twice, once with bacon, once with avocado. Both were rich and greasy — in a good way.
I also tried the "Fragel," a softish but chewy raisin bagel, deep-fried and smothered in cinnamon sugar. No, says the purist, but yes, says the breakfaster craving something sweet.
My favorite bagel qua bagel was the rosemary/olive oil/sea salt, which has a delightfully crackly but yielding crust and visible flakes of salt, perfect with the butternut spread, which is nutty and sweet, with the occasional unpuréed and welcome chunk.
The Institute's space is inviting, with big windows — it had been a bar, sitting empty for 40 years, but was thoroughly revamped. It's next to a pocket park, where a walk-up window is to serve a special function: The owners' friends who are starting out in the food business will be invited to use the kitchen in the evenings and sell from there.
The Institute has two unisex bathrooms instead of one for each gender, a practice that's been growing in New York for a while now, and is so much more efficient and kinder to women.
Newman says he fixed on bagels partly because they're associated with cities — and Detroit had no bagel shops of its own. When my New York relatives visit, they aren't looking for bagels (they want Middle Eastern). But if they stay long enough to get homesick, we're going to the Institute.