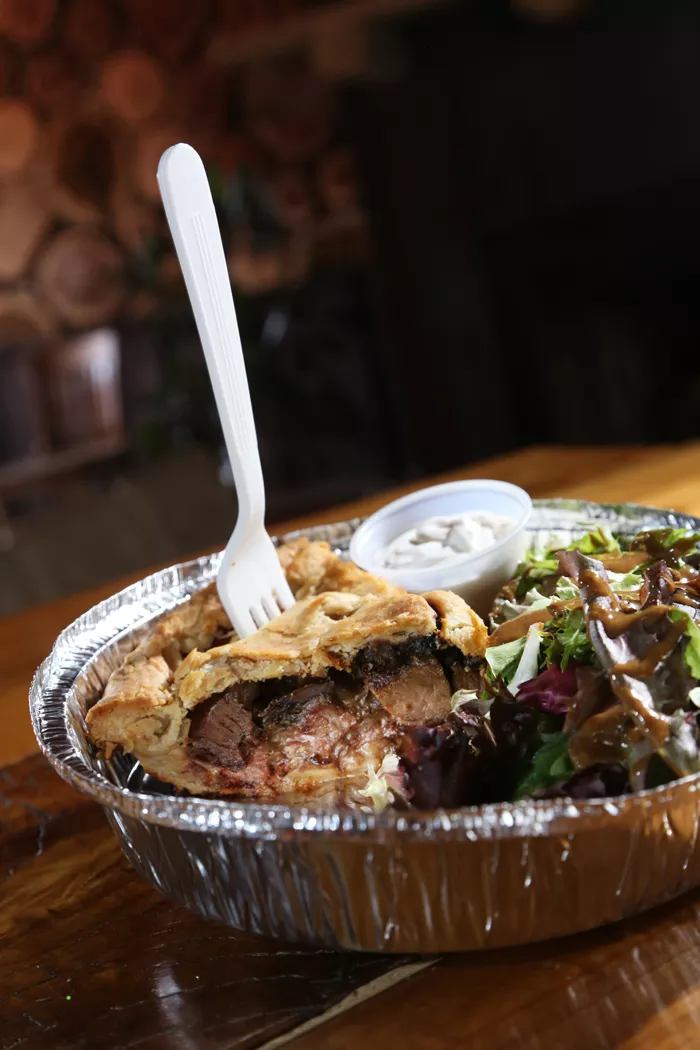 Dangerously Delicious Pies
4626 Third St., inside the Third Street Detroit bar
dangerouspiesdetroit.com
Slice: $6; whole pie: $30
Hours: 11 a.m.-midnight Monday-Thursday, noon-2 a.m. Friday-Saturday, noon-midnight Sunday
The great Jack Handey once advised, "When you die, if they give you a choice between regular heaven and pie heaven, take pie heaven. It might be a trick, but if it's not — mmmmmm, boy!"
We couldn't agree more. Though surely regular heaven would feature all the pie you can eat, pie heaven would somehow be even better.
And Don "Doop" Duprie and Sam Wood are well on their way to being angels there.
Duprie is a musician, and Wood is a music manager; Duprie took up pies as a day job when he lost his 13-year job as a Downriver firefighter. Firehouse cooking gave him plenty of experience in improving old family recipes, he says.
So the two are bringing grace to customers' evenings with sublime crusts and celestial fillings, not ethereal but substantial, heavenly because of the miracle that is pie crust done right.
One secret of that crust is that Duprie's Grandma Belcher, his mother, and two other ladies from church come in once a week to make it. Nothing fancy: just a hillbilly recipe of shortening, flour, salt and sugar, says Kentucky-born Belcher. But something about the way they slap it out — no overworking, no underworking — produces the perfect pie crust.
I asked how many slices people usually order and was surprised to be told "one," till I ate my first. Since each slice is voluptuous with ingredients that could be weighty, it's served with a tart side dressing for relief and zing.
Customers' favorite, and my favorite, is the SMOG: steak, mushrooms, onions and Gruyère. It's a delectable combination, rich and earthy, served with horseradish sauce. When I'm not duty-bound to try everything on the menu, it's what I intend to order on every future visit.
Milder is the chicken pie, with corn, carrots candied in brown sugar and butter, redskin potatoes and peas, served with a vinegary hot sauce. It's enough like the chicken pot pies you loved as a child to push the nostalgia button, and different enough — i.e., superior in every way — to order respectably as an adult. Some people like it with the mustardy vinaigrette that's also the salad dressing.
For the ratatouille pie, the cooks first roast squash, eggplant, zucchini, garlic and onion in tomato paste, olive oil and fresh oregano, to just the right degree of doneness, spice them hot, and then bake the veggies in the pie. This one is brushed with olive oil rather than butter, so it's vegan.
Those three pies are definitely full enough but kinda loose. The pulled pork pie comes tightly packed with meat, with a sweet barbecue sauce.
The spicing of the ham-and-cheese pie transported me immediately to the '70s; quiche was to that decade as kale is to ours, i.e., ubiquitous and considered healthful. With Swiss, white cheddar, Gruyère and chewy ham, it has a crisp top and yes, a hint of nutmeg. The other quiche, the "Con-quiche-da-door," is eggy and incorporates spinach, mushrooms, onions, goat cheese and Swiss. Both are top-notch, just below the SMOG in my book.
Each slice is served with a simple greens-only salad — a good choice, because you don't need a lot of add-ons when the main course is hefty.
The dessert pies are made with the same flaky, tender-yet-crisp crust. I can't choose among them. The Motown gilds the lily by topping pecan pie, served warm, with chocolate sauce. The Salted Caramel is custardy and sprinkled with big visible flakes. The crisp-topped Apple is a marvel of caramelized stickiness.
There's enough liquid variety at the bar to go with any of the pies, and drink prices are low.
If I have a complaint about Dangerously Delicious, it's that the plastic forks aren't strong enough to scrape up the bottom crust of the sweet pies where they stick to the tinfoil serving dishes. After all, you don't want to send any scraps back to the kitchen.
And if you're a person whose digestion prefers peace and quiet, be warned that music volume at Third Street can be dangerously high, and in the summer, Thursday is band night.
P.S. I know that everyone mixes up food and morality (chocolate is decadent, such-and-such dessert is sinful). But why? Relax, and don't call your wonderful pies dangerous. How about "Safely Delicious"? They make the eater feel well taken care of.