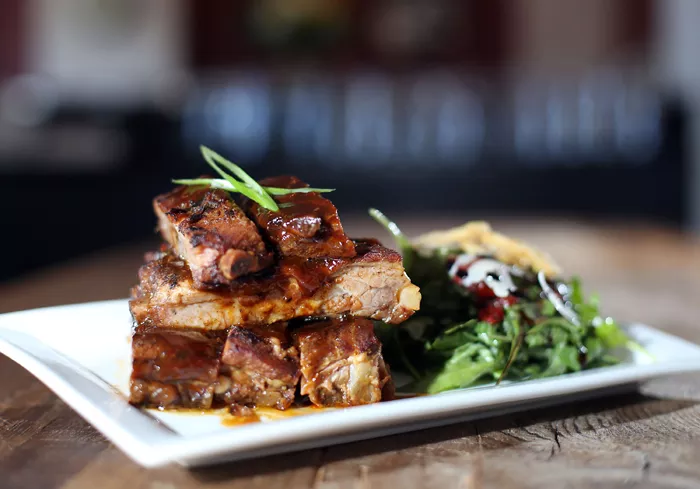 Craft Work
8047 Agnes St., Detroit
313-469-0976
craftworkdetroit.com
Handicap accessible
Entrées: $9-$18
Hours: 4 p.m.-midnight Monday-Saturday
The staff at Craft Work can pour a generous glass of wine. That turns out to be helpful when you're waiting a long time for your food. On a recent Saturday at 6, it took an hour to seat our medium-sized party, and another hour for the entrées to arrive. On a Thursday, seating was pretty quick but the entrées still took an hour.
I can't think of a new, upscalish restaurant I've been to recently that takes reservations. From the owners' point of view, that's easy to understand. It's a hassle. People don't show up. Or they overstay their time slot. I get it. But it would be refreshing if those whose business depends on pleasing the customer would choose the course that's convenient for the customer.
What if we all called up our favorite restaurants and asked for a reservation. When told they don't take any, say sweetly, "Oh, too bad, I won't be coming then. If you change your mind, please publicize it, because I would like to come if I could be sure of getting a table."
Sorry that this peevishness falls on you, Craft Work — a restaurant I like. I've been inwardly fuming about the ubiquity of no-reservations policies and long waits since long before your Dec. 27 opening.
Now, all that said, if co-owner Hubert Yaro gets more help in the kitchen, he'll have a winner on his hands. Actually, he already does: The place is jam-packed Wednesday through Saturday, according to the staff. Some patrons followed Yaro from his other restaurants in the suburbs, some are from the neighborhood.
Craft Work occupies the space that long ago was the Harlequin Café, and before that was an apothecary (a drugstore). The old glass-fronted dark-wood cabinets are still on display in the bar, which is down a short hall from the dining room. The bar is just as good a place to eat too, with stools and communal tables.
Co-owner and chef Matt Dalton is keeping the menu short: just fried chicken, two meat, and two fish entrées, and a vegan, gluten-free choice, beets and cauliflower. Five starters and four salads, and that's it. Portions are uniformly generous.
The chosen dishes are traditional American fare with enough of a spin to be interesting, but not too much. Everything is made from scratch.
The crust on the fried chicken, which, wisely, is a leg, is spicy and flaky; clearly someone has put a lot of effort into perfecting it. It comes with braised bacon greens, silky mashed potatoes and a little pot of honey.
Grilled trout from Wisconsin, head and tail on, is served over lemon slices and sprigs of thyme, with lots of sweet corn. It's simple and perfect. The battered cod in the fish and chips is good and crisp, and the chips are U.S.-style, i.e., they're ultra-thin house-made potato chips, rather than what the British call "chips," which to us would be French fries.
A big prime rib au jus is salty and herby, served with crisp bread, skinny fries and — a bonus — crème fraîche horseradish sauce. If you knew how much work, how much time, and how many ingredients went into this sauce — served on the side like an afterthought — you'd be sure to eat every last creamy dollop.
Trout appears as an appetizer too, a big smoked pot of it, served with a pickled Fresno pepper. The house-made sausage-and-peppers starter is substantial, a big soft log with a lemon accent. Warm chickpeas that taste of ginger are perhaps the most unusual starter, at an affordable $4.
I tried only one of Dalton's salads, and it was excellent — though short on the prosciutto that was supposed to be part of it. One of us got a few slices, the other got none. It's arugula and blue cheese with a bit of fig and apple.
As to desserts: No pastry chef will ever trick me into ordering a s'more in a restaurant. We got bread pudding instead, and it was less sweet than the norm (a good trait), with a caramel sauce, whipped cream and candied pecans.
Craft Work offers nine wines, seven traditional cocktails and just a few mass-market and craft beers. Short's Soft Parade from Bellaire, for example, is infused with strawberries, blueberries, raspberries and blackberries, for a result I can't predict. I found a Candor Merlot from California to be smooth and way above the norm, and an Apolloni Pinot Blanc from Oregon too sweet for my taste.
This might be the place to broaden your horizons and check out the liqueurs, which include Fernet, made from spices and herbs including myrrh; honey-flavored Barenjager; and Carpano Antica red vermouth.
Happy hour 4:30 to 6:30 p.m. daily, featuring an $8 cheeseburger with fries.