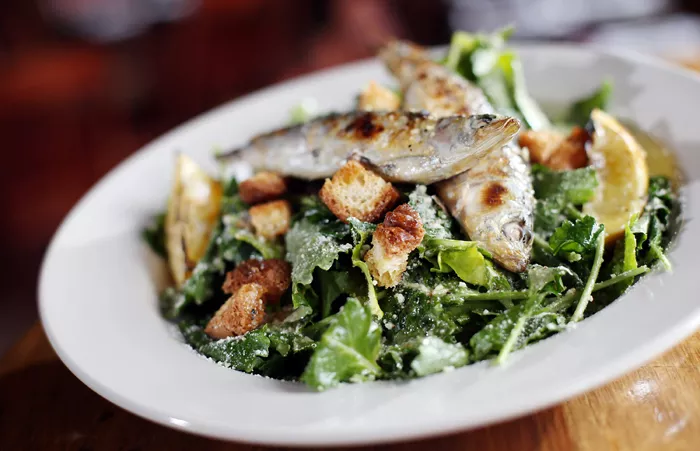 Republica
1999 Coolidge Hwy., Berkley
248-268-3175
republicaberkley.com
Handicap accessible
Small plates: $5-$10
Sandwiches & salads: $8-$14
Entrées: $12-$24
Open noon-10 p.m. Monday-Thursday, noon-midnight Friday-Saturday, noon-9 p.m. Sunday.
The Berkley residents I know have a lot of good things to say about their community, but often lament the lack of neighborhood dining options. That seems to have taken a turn for the better in the past year, with the addition of a few new, independently owned restaurants like Atomic Dawg and Coco Fairfield's. The latest to join their ranks is a small, family-run joint on Coolidge in the former Berkley Bistro & Café called Republica — with the emphasis on the "pub" and the pun intended.
The small but ambitious restaurant, whose tag line is "Food & Drink Revolution," styles itself a gastropub, serving a small selection of craft beers (including two rotating taps) and an even smaller list of craft cocktails. Wine drinkers have just a few options to choose from, but the owners are very receptive to suggestions, so perhaps they'll increase the selection if the clientele requests it. The cocktail menu needs refining to measure up to that of other local restaurants (the ones we tried were overly sweet and unbalanced), so for now we'll stick to beer.
The food menu is not extensive, but manages to offer a pretty wide array of dishes nonetheless. Some of chef and co-owner Petro Drakapoulos' dishes have Greek or Mediterranean influences, but you can also get items like barbecued ribs, a pork chop sandwich, and fish and chips.
At lunch one day, we tried the Village Burger, a lamb burger garnished with a dill-feta mixture, and the Buffalo & Blue sandwich, a gigantic chicken breast coated in Buffalo wing sauce and topped with an apple-celery-blue cheese "slaw." My co-diner was disappointed that his lamb burger was cooked through and not medium as requested; unlike many lamb burgers, which can tend to be greasy, this was on the dry side. He was a fan of the feta-dill, as was I, but we felt it needed a tomato slice or some other vegetable garnish. I was happier with my Buffalo & Blue; the sauce has just the right hit of spiciness, and the apple-celery mixture is a crunchy, cooling counterpoint. The pretzel bun, used on most of Republica's sandwiches, holds up nicely to the sauced meat without falling apart.
Returning for dinner, we got the chance to try several of the small plates, including the "Green House Pie," the roasted whole cauliflower and the lobster grits. A co-diner proclaimed the pie, with a spinach filling similar to spanakopita, lackluster; I disagreed, but it would have benefited from being served hotter. The cauliflower is arrestingly presented as a whole head with a knife stuck into it, with a zesty garlic walnut sauce on the side. The plating is entertaining, but I wished the vegetable had been tossed with the sauce for flavor's sake and ease of eating. Lobster grits are creamy, delicious, and … lobster-y. If you like lobster, give them a whirl; they were given a unanimous thumbs-up by our crew.
Some of my co-diners felt that the prices on certain dishes are on the high side; one friend ordered the Revolution burger (an over-the-top, everything-but-the-kitchen-sink preparation that includes onion rings and an egg), and stated that she liked it but that for $14 she expected "amazing," not just good. That said, many of the dishes we ordered offered value by being quite generously proportioned. Our fish and chips entrée was plenty to share, a huge mound of fries and two large pieces of cod encased in a batter that was the perfect thickness and crispiness. Also large enough for two, the roasted beet and arugula salad with red quinoa and pistachios was one friend's hands-down favorite.
While the menu has some minor kinks to work out, the staff and owners at Republica are extremely eager to make customers happy. The wait staff verges on over-zealously friendly and attentive; chef Drakapoulos circulates the dining room from time to time, checking on tables to make sure all is well. Chatting with him after lunch one day, he mentions that he is from a corporate restaurant background, but it's clear that he eschews this type of management and wants Republica to have an intimate, neighborhood feel.
Berkley residents seem to be responding favorably so far, as the place was lively on a recent Monday night in the middle of a cold snap. The warm red walls and brightly colored paintings (as well as, incongruously, a booth entirely devoted to hockey paraphernalia) are just as inviting as the welcome you'll get from Drakopoulos and family. I'm not sure whether Republica will become known as the gastropub it aspires to be, but a reputation as a down-to-earth, friendly neighborhood restaurant with hearty, well-prepared fare isn't a bad thing, either.