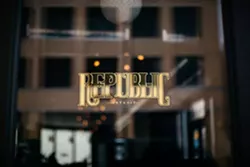 In a first for the G.A.R. castle's Republic Tavern, the eatery will hold a Michigan beer dinner event, entitled Bell's vs. Dark Horse. To pair with the craft brews, chef Sarah Welch will draw inspiration from her upbringing in Jamaica (she split her childhood between Michigan and the island nation).
Think smoked jerk scallop carpaccio (made with a Welch family spice) with Bell's L'appel du vide Saskatoon Berry and Dark Horse Blood Orange Ale; a mango cabbage slaw, with lobster and habanero, with Oberon and Sapient Trip Ale; or a hot and sweet pumpkin soup with a Kalamazoo Stout and BBA Scotty Karate.
The dinner will be held at 7 p.m. April 14 in a space upstairs from Republic's main dining room. Tickets must be purchased ($50) in advance and can be found
here
(the event is organized by Ann Arbor beer and wine wholesaler Rave Associates).
Welch is excited about the upcoming dinner party because it'll be the restaurant's first foray into beer pairing. We are definitely intrigued with the thought of digging into her take on Caribbean food.
Republic is at 1942 Grand River Ave. downtown.