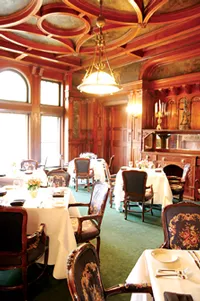 With Thanksgiving visitors in town from more fashionable cities, you may wonder how to demonstrate that your hometown is more than a provincial flyover. Why not ask them to take you to dinner at the Whitney, a unique showplace that should astound even your most jaded relatives?
With its 52 rooms, 10 bathrooms and 20 fireplaces, the three-story pink-granite edifice built for a lumber baron in 1894 has been one of Detroit's most celebrated restaurants since 1986. Last winter, Bud Liebler, a former automotive public-relations executive, bought the place and began making renovations in and around the building and, especially, in the kitchen and the wine cellar.
Out front the gardens and entrance have been attractively redesigned; inside, the wooden walls and Tiffany glass have been cleaned and buffed. More important, Liebler hired Michael Lutes, who previously worked at the Golden Mushroom, Tribute and Chicago's Charlie Trotter's, to bring a new look to the cuisine of the self-proclaimed "American Restaurant in an American Palace."
As part of that new look, the entrée prices have been reduced a bit, with half of them less than $30. This welcome feat has been accomplished, in part, by downsizing the portions, but hearty eaters take comfort: According to master sommelier Claudia Tyagi, the old Whitney featured "trencherman" platters. For her part, Tyagi has repriced her intelligent wine list, reducing the markups and offering more than a few intriguing varietals for less than $30. Like Tyagi, many of the skilled servers, smartly attired in black, are holdovers from the previous regime.
The Whitney is still an expensive restaurant, especially if you order appetizers, which average around $15, or salads, which average around $12, but it is not much more expensive than its competitors, none of which can match its magnificent setting. The six dining rooms on the ground floor are exquisitely appointed, as is the Winter Garden lounge on the third floor where one may repair for brandy, dessert and live music on weekends. But don't take the elevator to get there. Instead walk up the majestic staircase and stop on the second floor for a pit stop in the outrageously plush men's bathroom.
Obviously there is more here than the building, beginning with an appetizer of two crispy fried risotto balls accompanied by a mushroom and smoked-tomato puree or delicate seared ahi with a poached hens egg but only with a hint of the promised Nicoise.
The classic chopped salad, sweetened with a hazelnut vinaigrette, comes with a cute goat cheese "package."
Among other starters are crab spring rolls, smoked salmon and Peekytoe crab salad, and several soups such as turtle with black-pepper linguine and roasted onion with andouille and crawfish. Sometimes the quest for the unique may get out of hand. At lunch on one occasion, the five-lily soup, described by the server as a subtle variation on onion and its cousins in the lily family, struck several of us as so subtle that it could just as well have been a mushroom soup.
As for the dozen main courses, they cover a wide gastronomic terrain. The most creative may be the duck two ways — one way, gently honey-glaze tender breast rounds were expected; the confit, bits of meat wrapped in two crepes, was a pleasant surprise. Another busy invention involves roast chicken-strip roulades filled with well-seasoned pork and pistachios supported by a lovely mushroom risotto.
Wild coho salmon with orzo pilaf, roasted quail stuffed with cornbread, and grilled lamb chops with creamed gnocchi and a lemon fig sauce are other likely entrées. Vegetarians will have to make do with a roasted turnip stuffed with vegetable-strewn wild rice. As can be seen, the varied garnishes nicely complement the main attraction.
The Whitney offers some of the same soups, salads and appetizers at lunch at a slightly lower tariff. However, you won't find the wonderfully inelegant fried-egg sandwich, served in a bacon-laden bun with pencil-thin fries, on the dinner menu.
The bananas Foster cheesecake, which arrives looking like a flan bathed in a vanilla-rum sauce, is an appropriately elegant dessert to sample amid the decadent opulence of the Winter Garden. Other sweet things include a chocolate bomb and a chocolate mille feuille. The pastries are made in house; the admirable hard dinner rolls come from the outside.
The Whitney remains one of the most romantic restaurants in Detroit. On one recent evening, we witnessed a man presenting an engagement ring to his betrothed, amid flashing cameras. Although most male dinner patrons were jacket-clad, he seemed quite comfortable in jeans and a white shirt even if his outfit appeared a bit jarring in such a formal environment.
The romance inherent in the luxurious Gilded Age dining spaces could be enhanced if the piped-in music, now sort of nondescript new-age, could be replaced or at least supplemented with jazz, classical or, especially, operatic music.
But that is a very minor quibble. The Whitney is back with a new menu and the polish and sophistication that have made it one of the highlights of any culinary — or architectural — grand tour of Detroit. And now it appears more accessible than before to those who feared it was too rarefied for their tastes and wallets.
Mel Small teaches history at Wayne State University. Send comments to [email protected].