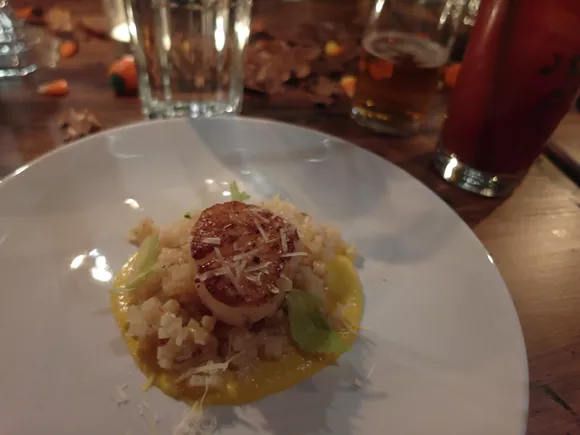 As the days get colder and shorter this time of year, chefs often turn to winter ingredients to change up their menus.
Among those locally, is Michael Barrera, executive chef of both Townhouse locations in Detroit and Birmingham. Recently during a special Halloween dinner event at Rock City Eatery, he turned us on to a winter rendition of "risotto", topped with a scallop.
We use the quotation marks because he swaps out the starchiness of a traditional rice risotto, with finely diced celeriac and parsnip to a rice-sized consistency. The result, a unique nutty, slightly spiced and slightly sweet flavor, with nice al dente bite.
Barrera tells us the key to getting the root veggies to just the right size is to use a mandolin slicer to slice thin round and then dice from there. Another way would be to use a box grater or to pulse in a food processor, but he recommends reducing the cook time for these methods.
He's shared his recipe with us so we can bring it to you (just in time for when you start planning your Thanksgiving menus).
Celeriac (celery root) and Parsnip Risotto
Yield: 4 servings
Ingredients:
2 lbs. Celery root, peeled, very fine dice
2 lbs. Parsnips, peeled, very fine dice
1/2 Spanish or white onion, very fine dice
1/2 tbsp. Fresh garlic, finely minced
1/4 cup white wines, chablis or pinot gris
1/4 lb. Whole unsalted butter
4 cups Chicken Stock
1/4 c Pecorino Romano Cheese, grated
2 tbsp. Chives, finely minced
1 tbsp. Parsley, finely minced
Salt and Black Pepper to taste
Method:
1. Once the celery root and the Parsnip are diced, hold in water so they don't oxidize. Reserve until later
2. Add butter to a large braising or saute pan on medium heat
3. Add onion to pot and saute until translucent, approximately 3-5 minutes
4. Quickly add garlic and stir
5. Be sure to lightly season with salt with every ingredient you add.
6. Add white wine to declare pan.
7. Reduce wine by half.
8. Add strained parsnips and celery root and stir.
9. Continue to stir for 2-3 minutes.
10. Add chicken stock and continue to cook for 15-20 minutes until stock is fully absorbed by vegetables.
11. Finally add cheese and herbs and stir. Season to taste.
This recipe can easily substitute vegetable stock to make a vegetarian version. For a source of protein, mushrooms, chicken, or seafood can easily be added.
See also:
Recipe: Johnny Noodle King's ramen with a tortilla soup twist
See also:
Punch Bowl Social rolls out new modern Southern menu (with recipe)