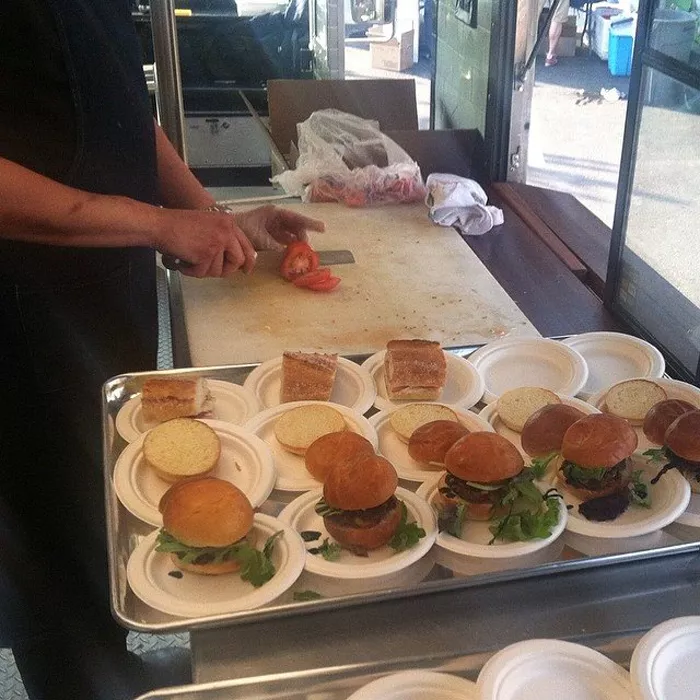 As with fashion, food follows trends. There are groundbreaking chefs who change the game worldwide, and then there are imitators who attempt to emulate their genius. Dishes of the moment roar to life only to be passed over a few years later. In this way, the dining public can be fickle indeed.
For instance, around three summers ago, we saw food trucks spread through metro Detroit like wildfire. Suddenly, everyone wanted their meals on wheels. Whereas in 2010, eating food off a truck meant you were having kind of a bad day, the motto of summer 2011 seemed to be, "Eating in a parking lot — now we do it on purpose!"
As with all white-hot trends, the insider-factor associated with food trucks faded and, although the trucks stuck around, we aren't clamoring to eat our dinner sitting next to an expired parking meter anymore. Or are we? More and more food trucks keep arriving on the scene, and they're run by legitimate professional chefs with culinary degrees. If food trucks are passé, then why do formally trained chefs keep starting them?
Thom Ingram and Nate Bonkowski — owners and chefs of the food truck The Cook's Crossing, which hit streets earlier this month — were running a successful pop-up dining concept by the same name when they decided to buy their truck. Ingram has worked as an executive chef at several Detroit spots, including St. Cece's Pub in Corktown and Woodbridge Pub. Bonkowski still bartends at Two James Distillery and considers himself to be as passionate about culinary matters as any chef. To them, opening a food truck presented an enormous opportunity, having nothing to do with being cool.
"I disagree that the 'trendiness' has worn away," Bonkowski says. "I think Thom would agree that we are not doing it to be 'trendy.' We are both passionate about food and the truck is a good means to an end. We hope to use it as a steppingstone in building the industry just as we used pop-ups as a stepping-stone to get to this point. And, let's face it, Detroit has plenty of room for more delicious foods."
Ingram agrees with his partner. "It's about ownership. I think that having the mobility and the possibility to own your own concept is really important. It took us about a $120,000 investment to get the truck off the ground." That may seem like a lot of money, but compare it to the half-million dollars-plus it can take to open a brick-and-mortar restaurant and you see the draw. They can make food they're passionate about and bring it to you, without mortgaging the rest of their lives.
The pair plans to use The Cook's Crossing as a "friendly way to present world flavors," Bonkowski tells us. "Our cuisine is focused on world street foods. They are fun and exciting flavors with new twists. From hand made currywurst sausages to smoked pork Bánh mì to hand made pickles and even our gluten-free vegan Thai green curry potatoes." Ingram also indicated there would be several types of ethnic sandwiches and many types of crunchy potatoes.
You'll find their truck at all the major music festivals this summer, plus parked in the Two James distillery parking lot. It's a concept we've heard about more than once now — the idea of food trucks supplying high-end munchies outside local watering holes that don't otherwise serve food. We think it's a great idea.
Which just goes to show that it isn't all about trends — when you improvise and adapt. mt