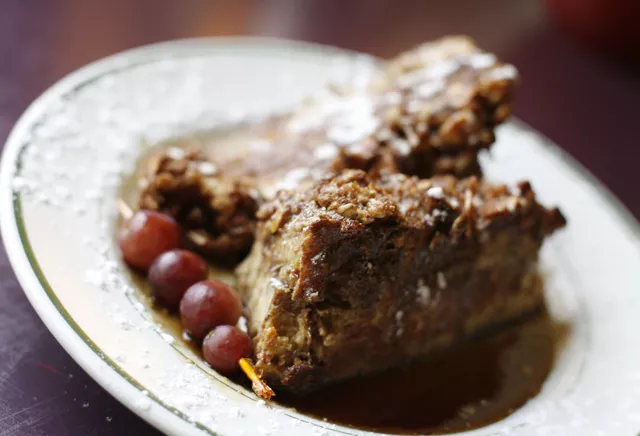 Simple, honest food: That's what the sign promises at Beezy's in Ypsilanti. Oddly, a simple but delicious sandwich seems almost novel in a world populated with both an abundance of chain restaurants and expensive foodie hotspots. But when someone at Beezy's calls you to the counter to pick up your plate, that's exactly what you'll get — simple and honest.
And smiles. You'll get lots of smiles too. The staff couldn't be friendlier, a quality that serves as the center of the café's singular charm. There's a convivial atmosphere permeating the entire restaurant, and it seems to emerge from the good nature of those who are there every day, making lattes, serving sandwiches, taking orders. Behind the register, in the kitchen, around the dining room, everyone is pleasant and clever, quick with a joke but thorough in addressing questions about the food.
The playful decor doesn't hurt the vibe either. Upon entering, the full menu of breakfasts, sandwiches, soups, and salads is on a blackboard on an exposed brick wall to the left. The dining area extends into multiple rooms, each with a bright panoply of wall colors, and behind the register, some locally made art made from retro coffee pots hangs above an espresso machine. Beezy's is simply charming from floor to ceiling (which happens to be gorgeous pressed tin).
Orders are taken at the register and filled at the nearby counter. Perhaps one of the surest signs of the quality awaiting patrons can be summed up by a quandary facing one of our recent dining partners, a regular at the café: Should he let a promising new victual tear him away from "the usual" — or cling to his delicious routine. After some deliberation, routine won the day in the form of Beezy's breakfast burrito.
The indecision-slaying burrito that inspires such loyalty is unsurprisingly simple: a crispy flour tortilla stuffed with scrambled eggs, cheddar, and chorizo accompanied by salsa made in-house. Don't let such simplicity be confused with lack of flavor. The salsa is delicious, the tortilla's texture adds a nice crunch, and the chorizo — produced locally at Dos Hermanos Market — is nicely spiced.
Scrambled eggs play a prominent role on the breakfast menu, available only during weekday mornings and into the early afternoon on Saturdays. For less than $7, there's a simple plate of bacon, eggs and home fries, a vegetarian pepper-and-egg sandwich, or a ham-and-egg sandwich with a generous portion of Muenster cheese. A favorite of our party, though, was the "Breakfast Eggel," an egg-and-cheese sandwich built on a bagel of the customer's choosing and optionally topped with bacon, ham or avocado.
Beezy's also offers a selection of breakfast sides and smaller bites from proteins and fruit plates to coffeecake and oatmeal, almost all available for $2 or less. But the largest sections of the menu are dedicated to sandwiches, soups and salads.
Most of the plated greens are not only simple and honest but creative. You can order Caesar or garden salads, but it would be a shame to miss some of the more distinctive options, such as the "Washington Street," with mixed greens, Amish chicken, apples, raisins and pecans. Also consider the "Pear & Prosciutto," with its prickly ginger-based vinaigrette. Dressing choices go far beyond the norm, a selection that includes ginger brown sugar, avocado lime and pesto ranch.
Soups are served in 10-ounce bowls for $3.25, but refills are available for only two bucks. As might be expected, one can get soup with a small salad or a half-sandwich for $7.25 and $6.95 respectively. Two soups are prepared daily and changed continually: Choices over the course of the last few weeks have included roasted corn tortilla, tomato leek, cabbage, and turkey barley.
Not many simple cafés — even honest ones — opt to bake their own bread, but Beezy's makes that effort to fairly impressive results. With a spongy crumb and chewy crust, the wheat is a personal favorite, though they also offer sourdough, rye and "veggie bread" with bits of herb and tomato baked into the final product.
Each of these may serve as a platform for any of the dozen sandwiches on the menu. Tuna salad with red onion and pickles is described as "Simple. Addictive." It's hard to argue with. The Italian is another worthwhile option, stacked high with ham, salami, provolone and veggies. It's dressed with tangy vinaigrette and accented by banana peppers and pickles, giving a strong acidity to each pork-filled bite. Beezy's also prepares a great barbecue chicken salad sandwich: Too many such creations are loaded with a sugary, cloying sauce, but here, a gentle hand uses a more piquant condiment.
To wash your sandwich down, try the house-made limeade. Plenty of soft drinks are available, but Beezy's nails this refresher with just the right mix of acidity, sweetness and a hint of bitterness. For those whose morning beverage must contain caffeine, it's worth noting that Beezy's serves coffee from the highly regarded roaster Intelligentsia, and the house blend offers cocoa and cherry notes. For those inclined toward other drinks, try a latte or pick from the selection of loose-leaf teas.
If you're in the mood for some simple food, you'll love Beezy's. Honestly.
Beezy's is open 7 a.m.-7 p.m. Monday through Saturday and 10 a.m.-4 p.m. Sundays.