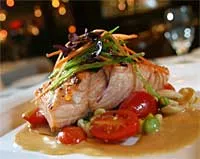 Although we in Michigan are surrounded by water, our region has never been blessed with a surfeit of quality chowder houses. Things looked even bleaker in 1998 when Joe Muer's, that endearingly old-fashioned barn of a seafood emporium on Gratiot Avenue, finally closed up shop. Fortunately for lovers of well-prepared, honestly fresh fish, one year before Muer's was shuttered, Matt Prentice's Unique Restaurant Corporation opened the Northern Lakes Seafood Company in the then Kingsley Inn, now the Radisson Kingsley Hotel, on Woodward Avenue in Bloomfield Hills.
After nine years in business, the Northern Lakes Seafood Company remains among the best places in Michigan to pick up your recommended dosage of omega-3 fatty acids. It is also one of the more attractive restaurants in the Prentice chain, whimsically decorated with colorful fish mobiles, huge seafaring-themed murals and octopuses masquerading as light fixtures. Anyone who was frightened by Doc Ock in Spider-Man 2 may feel queasy after catching sight of two huge, menacing chandeliers that dominate one of the restaurant's several rooms.
The sprawling establishment, which can seat 300 in its main dining areas, tavern and cozy private dining room, does not seem as large as it is because of the artful manner in which the space is broken up, and also because of the generous spacing between the New England-style bare wooden tables.
Some of the staff, including general manager Roxy Badidova and server par excellence Todd Clough, are refugees from the recently closed Morels. They work in the kitchen with Jamie Kalmus, who prepares his seafood in innumerable ways, with the simplest preparation often the best.
For starters and simplicity, it is difficult to beat the several varieties of oysters available at $2 each or $10 a half-dozen. If oysters aren't in season, the huge plate of flash-fried calamari ($9) is another recommended first because of its sprightly, Asian-accented chili dipping sauce. Also available are crab cakes with roasted corn and poblano salsa and pesto-seared sea scallops with carrot-scallion relish, both at $13. Kalmus provides imaginative salsas or relishes with almost every dish.
Lighter on the pocketbook are the two soups: a silky lobster bisque and a nicely seasoned, dense clam chowder. They both come with Matt Prentice's renowned sourdough bread, so moist and crusty that you'll ask for a second basketful even before you finish the first.
Every night, Kalmus offers about 10 fresh catches of the day that may range from Lake Superior whitefish ($17) or Idaho rainbow trout ($18) to Key West black grouper ($30). You choose how you want it — grilled, broiled, blackened, baked, steamed, sautéed or buttermilk-fried (did they miss any possibilities?) — as well as the accompanying sauce or salsa, from a simple béarnaise to a zingy tomato-mango-pineapple salsa. Crisp green beans and smooth scalloped potatoes accompany the fish. For $3 you may add a Caesar, iceberg (shades of Joe Muer's) or a house salad.
Aside from the catches of the day, there are eight other seafood "house specialties" and seven landlubberly platters, with only one, a morel-mushroom risotto, appealing to vegetarians. From the sea, one should try the "Nobu-influenced tuna duo," consisting of a generous slab of a pepper-crusted medallion of tuna, foie gras and a Nobu tempura roll, a combo that is worth its daunting $31 price. Or try the grilled Atlantic salmon, laden with edamame and sweet corn succotash, Honshimeji mushrooms and cherry tomatoes ($23). On one occasion, two of my cherry tomatoes, which looked fine on the outside, were bad on the inside. In situations like this, I'm never certain where to place the blame, especially since it is difficult for a chef to find a flaw unless he tastes each dish before dispatching it to your table.
Like all of the restaurants in the Prentice stable, Northern Lakes has a wonderful wine list full of relatively obscure and often reasonable bottles, especially in the "Interesting White Wine" category. Here one can find an Alsatian gewürztraminer ($26) or a pleasant Soave ($27) scattered among higher-priced and more exotic whites. It may be surprising to discover that of the more than 150 wines, there are significantly more reds (including a "fish-friendly" grouping) than whites, but apparently it has become fashionable to ignore the white-wine-with-fish dictum.
Of the few desserts made in-house, the admirable crème brûlée ($6), big enough to share, is a pleasing way to finish off the meal, although we would have gone for the more thematic Key lime pie had it been made in the Northern Lakes' own kitchen. More and more restaurants these days, even those in the upscale niche, have forsaken making their own desserts.
But that extremely minor shortcoming shouldn't stop anyone from going to Northern Lakes Seafood Company. The professional service is commendable, the surroundings are charming and the fresh seafood — ranging from the unadorned to the wildly fussy — make it a prime destination for fish in our metroplex.
Mel Small teaches history at Wayne State University. Send comments to [email protected].