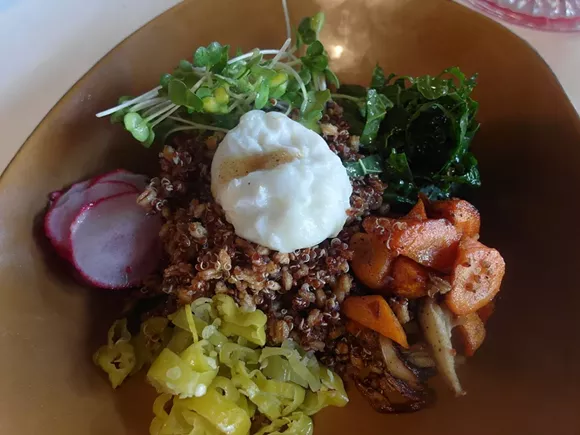 Punch Bowl Social quietly did away with its gastropub fare last week at all of its locations in favor of a menu driven by a renowned chef from Georgia.
We sampled the new offerings created by the chain's new culinary partner Hugh Acheson (reality TV judge, cookbook author, James Beard award winner) and found a lineup that emphasizes modern Southern-style comfort food, fresh ingredients, and a mix of sharable and chop house inspired fare.
Ian Hockenberger, executive chef for the Detroit location, says this of the new dining options: "If we don't have great food, we're just a bar with a bowling alley."
In addition to the new food, the chain is also tinkering with a revamped drink list, to add to its namesake spiked punches.
While bar grub like tacos, chicken wings, and poutine are still on hand, about 90 percent of the menu has been revamped. Now on rotation, a pimiento cheese spread, black-eyed pea hummus, fried hominy, a crispy chicken breakfast biscuit, a Wagyu cubed steak with Snake River Farms top sirloin, among others.
One of the highlights from our taste test was an item more akin to a trendy juice bar than a bowling alley bar menu: the Superfood Grain Bowl. This salad is packed with farro, quinoa, kale, radishes, carrots, pickled chilies, shiitake mushrooms, sprouts, miso ginger vinaigrette, and topped with a poached egg. It had a colorful mix of crunch, acidity, and umami textures and flavors.
Punch Bowl Social is at 1331 Broadway St.
If you you've tried the grain bowl already and want to recreate the concept at home, we've scored the recipe.
Here goes: