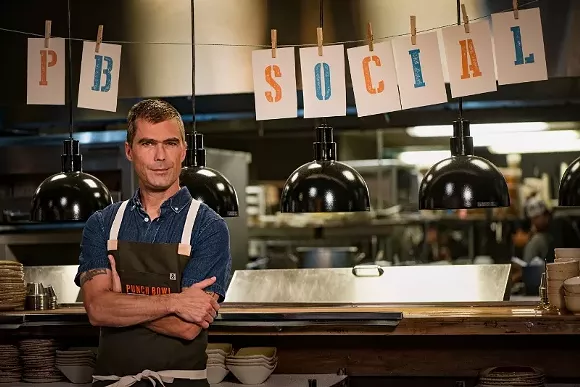 Punch Bowl Social is hoping to punch some new life into its culinary program with the addition of celebrity chef/author Hugh Acheson to overhaul the chain's food offerings.
Acheson, a judge on TV's Top Chef as well as a multi-time James Beard award winner, has spent the past several months developing a menu that the food, drink, and game emporium describes as Southern-inspired.
The new lineup will be sold at all Punch Bowl Social locations beginning Aug. 26.
The addition of Acheson to the Colorado-based company comes as the latest shakeup to build on its dining options. Denver chefs Chris Cina and Matt Selby were also recently brought on the team. Among the changes, Acheson and Co. will create daily green and blue plate specials. The growing chain has plans to expand in Indianapolis, Minneapolis, Chicago, Sacramento, San Diego, Brooklyn, Dallas, Rancho Cucamonga, Calif., and another in Denver.
A native of Athens, GA, Acheson is also the author of the James Beard Foundation award winning cookbooks, "A New Turn in The South: Southern Flavors Reinvented for Your Kitchen," "Pick a Pickle: 50 Recipes for Pickles, Relishes, and Fermented Snacks" and "The Broad Fork, Recipes for the Wide World of Vegetables and Fruits."
Locally,
reviews
for the downtown Detroit location have been mixed, starting with trouble keeping staff, multiple allegations of racism from employees, and complaints about service.
Still, thanks in part to the spot's landlord Bedrock Real Estate Services that regularly rents out the space for special events, Punch Bowl Social enjoys a regular stream of customers.
Punch Bowl Social has locations in Denver, Portland, Austin, Detroit, Cleveland and Schaumburg, Illinois. The Detroit location is at 1331 Broadway St.