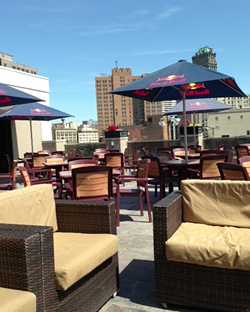 It's becoming an all-too-familiar trend these days. News breaks of the shooting of an unarmed black man. Social media is used by a business or public figure to spout off a polarizing rant, and the audience reacts accordingly.
This time it appears to be the co-owner of Bookies Bar & Grill, who posted a string of inflammatory statements from his personal Facebook account in response to a friend's post of dash-cam footage depicting the shooting of an unarmed black man on Friday night in Tulsa, Okla. The footage shows Terence Crutcher with his hands up in the moments before a white officer shot and killed him, according to
ABC News.
The incident began when police were responding to reports of a stalled vehicle.
"Get ready for the liberal media frenzy of BS... The media will cut video then, just wait until mainstream plays the clip. CNN we are ready for your half story."
We say allegedly because the comments, first
reported
by BLAC Detroit, are no longer visible as the author of the posts (who the magazine identifies as Mark Jerant, AKA Marko Jerant) has apparently shut down both his and the bar's Facebook pages (though plenty of people have taken screen grabs of his profile).
As expected, the public has expressed outrage over the comments and have vowed to take their money elsewhere.
See for yourself:
Don't patronize Bookies Bar N'Grille in Detroit .. pic.twitter.com/iJGL4aX6Hh

— R Hart (@BrowneyedDR) September 20, 2016
@BookiesDetroit apparently you all support this. #BoycottBookies https://t.co/uC0cZUuIkA

— MeekMeek Da DMV Lova (@216Girl) September 20, 2016
Marko @BookiesDetroit shares his racists views, Detroit pls don't give him a dime of your $$! #bookies #TerrenceCrutcher #blacklivesmatter

— Deborah Porter (@IntheLadies_Rm) September 20, 2016
Never setting foot in this spot again @BookiesDetroit owner Marko Jerant comes across pretty apathetic to a man that was murdered unjustly pic.twitter.com/QYwwWb0mqM

— Tayo Akin (@NaijaNupe_) September 20, 2016
Boycott Bookies Bar n Grill in Detroit. Don't waste money on proprietors that see you as walking target practice. #TerenceCrutcher

— J Brooks (@JoPolitico) September 20, 2016
This is just the latest upset involving a Detroit business getting backlash over social media posts that express personal, often racially charged views on police shootings.
Former EDM venue
Populux
shut down after just 15 months after a pair of Tweets disparaging the Black Lives Matter drew outcry and cancelled shows. In that case, club's ownership said their Twitter account was hacked.
Difference here is Jerant used his personal account, not the Bookies official page.
Update: Late last night we received a written statement from a spokesman for Jerant.
Read what he has to say here.