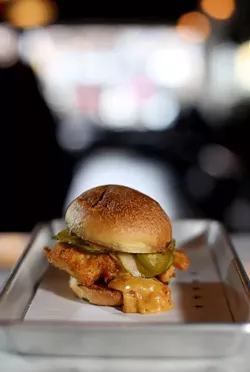 Public House
241 W. Nine Mile Rd.
Ferndale, MI 48220
248-850-7420
facebook.com/publichouseferndale
Handicap accessible
Snacks and sandwiches: $1-$4.50
Hours: Daily 11 a.m.-2 a.m.
Restaurants like the Imperial in Ferndale and Detroit's Green Dot have struck upon a formula for success that makes so much sense, you wonder why it hasn't been more widely imitated. Choose an area of town with a high concentration of people in their 20s and 30s who like to go out often but don't want to spend fine-dining dollars. Reel in the crowds with low-priced, trendy menu items and good ambience, and then cash in as patrons spend most of their money on their bar tabs, where the real profits are made.
The latest of these bar-restaurant hybrids is Public House, opened by the same group that owns Imperial. Public House follows the Imperial template closely, swapping out the tacos and tequila-based cocktails for a menu of trendy or nostalgic snacks and sandwiches and a list of cocktails whose names (Estelle, Mavis, Roy) read like a 1950s high school yearbook. These are served by a heavily tattooed waitstaff amid a backdrop of high ceilings, wooden booths and subway tiles. A large black-and-white painting of Keith Richards by Mark Dancey looms over the bar, echoing his Johnny Cash painting at Imperial. And, as at Imperial, the menu is short and sweet, with food priced at less than $5 and specialty cocktails at $8.
The menu, divided into Snacks, Sandwiches and Desserts, doesn't have a theme per se, other than that it features several of-the-moment ingredients and preparations. A few of the sandwiches are prepared in the "slider" style; others are served on bao buns (white, spongy circles of bread used in some Asian cuisines) that are folded like tacos. Other items, like deviled eggs, hush puppies, cotton candy and soft-serve ice cream have a distinctly nostalgic feel.
Over the course of three visits, we had the chance to try just about everything on the menu. The PBR-braised brisket was a unanimous favorite for its flavorful and tender beef, although I suspect the credit goes more to the cooking technique than the PBR. We also loved the buttermilk fried chicken sandwich with pimento cheese, combining crunchy, juicy, creamy, tangy and spicy elements all in a few little bites. We can only hope someday they'll serve the pimento cheese on its own; we're sure it would be a wildly popular snack item. The hush puppies were also impressive, with a crispy shell, warm, fluffy interior and a rich corn flavor complemented by maple butter and a little ham on the side.
Vegetarian options are existent but not extensive. Though most of the Snack portion of the menu is meatless, one vegetarian sandwich got high marks from a co-diner. She finished it before I could ask for a bite, but from the looks of its colorful, glossy roasted vegetables, I'd order it in a second. You can also swap out the burger for a lentil version.
The majority of the food is quite good, but a couple items were odd or missed the mark. The bahn mi tastes so heavily of ground coriander that it was off-putting, and we normally like coriander. The tempura-fried sardines have a breading that is quite thick, more reminiscent of a corn dog batter than the light crispy panko coating normally associated with tempura; a different menu description might have averted this disappointment.
Although menu items are not expensive, you'd need to order at least a few of them to constitute a meal, so don't assume that low prices necessarily translate to a small tab. Pricing in relation to value seems random, too; all sandwiches are $3.75, and though the veggie sandwich and bahn mi are fairly substantial, the burger — albeit delicious — is tiny even by slider standards.
The restaurant does have a full bar, but patrons are corralled toward the specialty drinks printed on the back of the food menu. There is no beer or wine list provided. During busy times, it's always preferable to peruse a written list than to have your server recite the choices and make a snap decision. We tried a few of the cocktails and they're just about what you'd expect for $8 — better than your run-of-the-mill mixed drink, but no match for the $10 to $12 cocktails at bars like the nearby Oakland.
Public House has hit the ground running and, if Imperial is any indication, will continue to thrive well past the new-restaurant honeymoon phase. The latter gradually expanded its offerings with brunch, additional menu items and specials, so we're encouraged that Public House will follow suit; in fact, a brunch menu is already in the works. The owners of both establishments have leased the space next door to the east, so there's that to look forward to down the road. Meanwhile, the convivial atmosphere and good quality, inexpensive eats at Public House offer plenty of reason to frequent the neighborhood.
Noelle Lothamer dines for Metro Times. Send comments to [email protected].