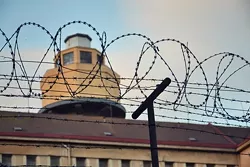 A prison worker with Trinity Services – the Florida-based company that serves the Michigan Department of Corrections' meals – was fired for refusing to serve inmates at Michigan's Kinross Prison rotten potatoes last week, the
Freep
reports.
The employee recounted what happened to the
Freep
:

"It was the most disgusting thing I've seen in my life," said Steve Pine, 48, of Sault Ste. Marie, who has worked for Trinity Services Group at Kinross since July 2016.

"They had about 100 bags of rotten potatoes," Pine said. "You could smell them," and "they had black and green mold all over them."

A corrections officer on duty agreed the potatoes should be thrown out instead of being used to prepare meals for the next day, but a Trinity supervisor disagreed, Pine said

When Pine, in front of prisoners who work in the kitchen preparing and serving meals, refused orders to have the inmates pick through the potatoes to find ones that could still be served, "they told me I was trying to start a riot," he said of Trinity supervisors.


MDOC spokesman Chris Gautz said that the potatoes ultimately weren't served.
So far, Trinity – which was awarded a three-year, $158.8-million contract in 2015 – has had 161 of its Michigan prison employees banned from prison property for various violations, Gautz said, and has been hit with $2.1 million in fines. The fines were for unauthorized meal substitutions, delays in serving meals, inadequate staffing levels, and sanitation issues, among other problems.
These are the same sort of issues that the state had with institutional food giant Aramark before the state ended its contract in 2015 and hired Trinity.
And it's more evidence to support the hypothesis that the issues aren't limited to any one private company because the entire private prison service model is inherently flawed.
The latest incident comes after
we reported
in December that former inmates are suing a doctor from the private prison health service company Corizon for allegedly sexually assaulting them.
And that came after issues with food and living conditions late last year led to protests and what was characterized by the MDOC as
a riot in the Upper Peninsula's Kinross Prison
, though it should be noted that prisoners have a different version of events than the MDOC.
That came after another Trinity employee was fired for making out with an inmate in September.
That came after inmates
protested poor food service and living conditions
at Kinross in March 2016.
That incident followed our February 2016 report, "Something Still Stinks in Michigan and Ohio's Prison's,"
which revealed that Trinity was shorting inmates on calorie counts and serving inedible food.
And, of course, all that comes after years of issues with the MDOC's previous private food service company, Aramark. The state ended its contract with Aramark in 2015 for overbilling it by $3 million. But that followed incidents in which Aramark employees were busted humping inmates, selling drugs, serving maggots, serving rotten chicken tacos, and serving food pulled from the garbage.
Why is this happening? As our sources have repeatedly pointed out, you can only save money in prison food service by cutting the amount and quality of food, and cutting employees' wages. And — as we've seen over and over in prisons and jails all across the country in recent decades — that's when you start to see these kind of issues, which destabilize the prison yard and put people's health and life at risk.