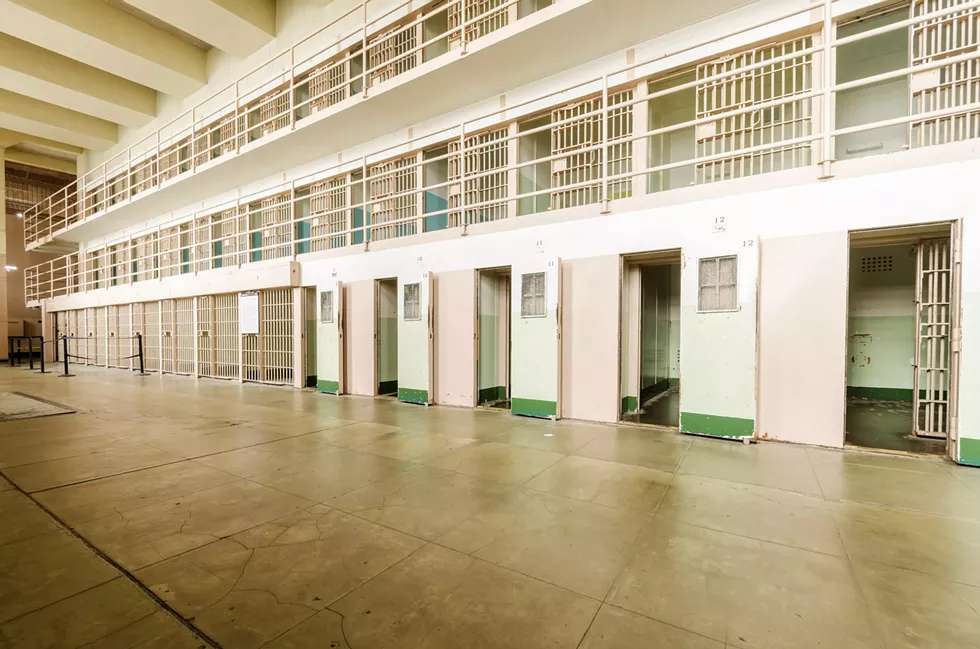 Since Michigan privatized its prison kitchens in 2014,
problems with Trinity and Aramark's employees
have been
well documented
. But of all the issues, one that corrections officers say hasn't received much attention is also perhaps the most dangerous — gangs are trying to exploit Trinity's weaknesses to exert control over the food supply. Former corrections officer David Angel, who spent four years working in prison kitchens, provides a fairly simple explanation about why gangs are eager to do so.
"When you are a part of a gang trying to gain power, you try to control the aspects of the prison that earn money," he tells
Metro Times
. "Money, sex, and drugs control the prison system. That's the trifecta. When you control one, you can control or get the other two.
"Through the disbursement of food products, you gain financial power. In prison, power is everything. It means you have control."
So the kitchens are a logical place for gangs to make a move, Angel says. "If they steal food from the kitchen — whether it be five pounds of cheese, five pounds of turkey, 10 pounds of hamburger — they can sell that for money. If you can generate cash flow, then you control a portion of the prison."
Officers say the kitchens are vulnerable because Trinity is understaffing them, undertraining employees, and underpaying employees. They allege that the Tampa-based company has unwittingly hired gang members along with inmates' family members and ex inmates.
But Trinity's problems extend
well beyond gangs
. Documents show some Trinity employees have supplied drugs to inmates, or taken drugs or drank on the job. Trinity employees
have had sexual
contact
with inmates
so
many times
that one officer tells us, "We can tell which new [Trinity] employees will walk out of the prison with a boyfriend."
Officers say that in 2017, a Trinity employee tried to hand keys to a prisoner, then later left keys unattended in a lock. Other employees have lost keys or sharp tools that could be used as weapons. In another instance, an employee was fired for giving an inmate 30 pounds of stolen peanut butter.
These types of issues aren't all new when it comes to private prison food vendors in Michigan. But
Metro Times
spoke with a group that has largely been silent on the issues until now — corrections officers.
They say the prison kitchens are worse than what's publicly known because the MDOC is deliberately underreporting problems. Beyond that, officers corroborated inmates' claims of issues with sanitation, rotten food, calorie shortages, and other food service-related problems.
The sum is creating a dangerous situation in which inmates and officers are angry, officers tell us. In recent years, there
have been
multiple
reports of unrest
that
stem from kitchen issues
, including a 2016
riot at the Upper Peninsula's Kinross Correctional Facility
.
Officers say the MDOC's failure to do anything meaningful about the situation and allegations that it's underreporting the problems has forged an odd alliance between inmates and officers against the MDOC administration.
"It used to be a community — us and the administration against the inmates. Now it's us and the inmates against the administration," says retired MDOC corrections officer Pamela Drew. "How sad is that?"
"I get emails from corrections officers all over the state," she adds. "Food service is the number one gripe, but it's also the total disrespect and disregard for the staff and inmates, and the idea that those of us with the boots on the ground have no idea what we're talking about."
MDOC administration denies that it's intentionally underreporting problems, and a spokesperson tells
Metro Times
that Trinity is responsive to issues, so the agency doesn't need to document all incidents.
'The biggest concern I hear over and over again is, "Someone is going to get killed."'

tweet this
Regardless, we could be witnessing the final chapter in Michigan's foray into privatizing prison food service. After the state fired its union kitchen employees and hired Aramark to run the chow hall in mid-2014, Aramark and Trinity — which took over the kitchens in 2016 — regularly violated their contracts, overbilled the state by millions dollars, were
fined millions of dollars
over contract violations, allegedly had millions of dollars of fines forgiven, and have been a consistent source of bad PR for the state.
Privatized food service hasn't been the money-saver Republicans leading Michigan thought it would be, and, in January, governor Rick Snyder announced
Michigan wouldn't be renewing Trinity's contract
. Corrections officers say that can't happen soon enough.
"People are going to lose their lives over this," says retired corrections officer Ron Taylor.
"Something is gonna click and when it does, God help us," Drew adds. "It could lead to a statewide riot. But the biggest concern I hear over and over again is, 'Someone is going to get killed. Someone is going to get killed.'"
Underreporting
Officers say that Trinity employees have been caught smuggling in cell phones, tools, heroin, pills, cigarettes, Seboxone, cocaine, love letters, and other contraband. They've lost track of scissors and knives, don't show up for work, quit during shifts, and steal.
But many of these types of issues aren't being properly reported by MDOC administration, officers say.
Per agency protocol, violations of MDOC rules that interfere with the prison's ability to function should trigger a stop work order, officers tell us. The stop order bars an employee from prison grounds and notifies all MDOC prison staff of the offense while it's investigated. If the investigation finds that an illegal or negligent incident occurred, then the employee is fired and possibly prosecuted. The order is also subject to the Freedom Of Information Act.
But officers claim that the MDOC is no longer issuing stop orders for all incidents. They say they know because current corrections officers quietly working in each prison provide retired officers with information on incidents that should have resulted in stop orders. Retired officers supplied the incident list to
Metro Times
.
Metro Times
then submitted a FOIA request to the MDOC for all stop orders and cross-checked that list against the list provided by officers. The MDOC's list showed about 207 incidents involving Trinity employees (and hundreds more for employees of Aramark), while the officers' list showed about 60 incidents for which the MDOC doesn't appear to have issued a stop order.
Officers claim that there are more incidents for which stop orders should have been issued, but the problems are so frequent that they simply can't track everything across the state.
The MDOC gets around issuing stop work orders by having Trinity handle problems internally, officers say. In other instances, employees "quit," though it's in essence a forced quit. The MDOC doesn't need to issue a stop work order on a quit.
"They're not reporting quits, even though the quits are under questionable circumstances," Taylor says.
When that happens, the media and politicians who ultimately make the decisions about the MDOC's budget — decisions that impact officers' and inmates' safety — are in the dark, along with the public.
'It used to be a community — us and the administration against the inmates. Now it's us and the inmates against the administration. How sad is that?'

tweet this
"A lot of the time these people just disappear off of the job, so if an officer is nearby and knows what happens, then they tell us. Otherwise, you don't know why they're gone," Taylor says. "It allows the MDOC to lower figures."
MDOC spokesman Chris Gautz says regardless of which avenue the MDOC pursues — issuing a stop order or allowing Trinity to handle the situation — the employee is out of the prison.
"The bottom line is, whether the person is fired or stop ordered, or both, that person is no longer going to be working in our facility," Gautz said in an email.
He also praised Trinity: "We appreciate the fast action Trinity has taken in many cases and not letting issues fester. They have taken decisive action, and when we feel it is necessary, we have issued stop orders on top of that."
But corrections officers don't buy Gautz's explanation, and claim that the MDOC is attempting to make it appear like there are fewer problems.
"It's sad," Drew says. "It sounds like a conspiracy, but they're good at that."
Rotting food and kitchens
Over the last several years, inmates at multiple prisons detailed to
Metro Times
a range of issues in Trinity-run kitchens.
Several who
we spoke with in January
at Jackson's G. Robert Cotton Correctional Facility claim that Trinity serves old food and rotten fruit. The
stench of rotting potatoes
is commonplace, inmates say, and Trinity is known to re-serve food that has already left the line or been dropped on the floor. Inmate and media reports say food shortages, maggots, mice, mice feces, insects, and ants are common issues in prison kitchens across the state.
Unsurprisingly, there are also problems with sanitation. Inmates we spoke with say Trinity employees prepare food without gloves, the food service line is regularly crusted with old food, mold infestations are common, and bins used to defrost chicken are used to hold potatoes and vegetables. They also allege that they don't have the proper cleaning equipment, appliances like ovens are frequently broken, and Trinity simply ignores the issues. There have also been reports of confrontations between inmates and Trinity employees.
MDOC spokesman Gautz previously denied inmates' allegations and charged that they are lying. But officers we spoke with say inmates' accounts are accurate, and that Gautz is lying. They referred to him as "
Baghdad Bob.
"
Officers say the kitchens are filthy, and provided photographs that showed the "slimey" conditions in one facility.
"We always had a very clean kitchen when we had [state] kitchen service workers in there," a current officer who requested anonymity for fear of reprisal tells us. The officer says it's now up to corrections staff to deal with Trinity's mess, which places an extra burden on officers who are already stretched thin.
"You would think Trinity would maintain the same kind of sanitary standards that you would have in a restaurant … but it got so bad in our kitchen that we had to bring in crews with power washers to clean the grease off the ceiling and the floors. The bugs, the mice, ants — there's consistent problems," the officer tells us.
However, Gautz suggested in January that inmates are to blame for widespread sanitation issues because they clean the kitchens.
Several corrections officers say they're stunned that Gautz would make such a comment. They note that the $158 million Trinity contract requires the company to keep the kitchens clean, and also pointed out that many of the inmates are teens or young people who grew up in broken homes. There are people in prison "who will drink alcohol out of their shoe, and when there's that mentality, why would Gautz assume that [inmates] can clean?" one officer asks.
"It's so dismissive of our security," Drew adds. "The inmates should know not to hate each other, they should know enough not to stab each other … harm each other or hurt each other — there are a lot of things that they should know, but I guess that's why we're here."
Another officer likened it to adults asking children to clean up.
"They don't know how to clean to a food-service standard," the officer says. "There are things that you're not going to know unless you're trained … and it's Trinity's job to supervise these guys. They're getting paid to do that. That's in their contract."
Gautz also previously told
Metro Times
that prison kitchen inspectors haven't found any issues, but officers say inspectors are former food-service heads on MDOC payroll who falsely report that the kitchens are clean.
Then there are the meal portions, which one officer likened to "an elementary school lunch tray." Officers say Trinity employees report feeling pressed by the company "to minimize the amount of food that they're sending to the units."
Trinity employees sometimes fail to order enough food to feed the prison population, leaving hundreds of hungry inmates standing around in the chow line, a situation that retired officer officer Barb Patterson calls "very dangerous."
When the food does show up, it's so bad that it's nearly inedible. While no one is suggesting pot-au-feu for inmates, officers say Trinity cut food costs by eliminating salt and spices from meals, along with any other relatively "good" dishes that prisoners used to receive. Documents also show that Trinity has been repeatedly fined for substitutions, like pizza served on hot dog buns, or peanut butter in place of meat.
Patterson adds that officers used to eat prison food, but no longer do because it's so bad. And, he says, the food is so bad that it's destabilizing the prison.
"The food causes a lot of tension between prisoners, especially indigent prisoners, because this is all they have to eat," Patterson says. "So you get a lot more fights over the food, especially if someone gets better food [from the commissary]."
When gangs run the kitchens

Retired officer Angel says gangs can take over when a gang leader is hired into a kitchen position. He'll behave like the model prisoner and earn the trust of a kitchen employee before attempting to get other gang members hired.
At that point, inmates who are not part of the gang are either forced out or forced to cooperate with the gangs, and "mini power struggles" ensue in the kitchen, officers say. "There's a lot of stuff that goes on back there that Trinity workers don't see happen," one officer tells us.
Angel says it takes a strong authority presence to thwart gangs, and inexperienced, underpaid, undertrained, or corrupt Trinity employees either work with the gang members or are helpless. Some Trinity workers have expressed fear of going back in the kitchen alone, officers say.
'The gang problem in the kitchen is worse lately. If you have Trinity staff who are interested in bringing in drugs and having sex with inmates, then they aren't going to be enforcing the rules.'

tweet this
Angel adds that the kitchens are one of the most dangerous places in the prison, which is why he says he finds it so absurd that a private food vendor runs them.
"I knew and every person in MDOC knew that it was the wrong move," he says of the state hiring private food vendors. "That doesn't mean there aren't corrupt state employees. It means the level of punishment and level of risk went way down when the state privatized. If a Trinity worker [gets caught working with gang members] then they lose out on a [low-paying] job. If I get caught, then I lose a $60,000 per year job. That's a big decline in pay. And that's huge incentive to follow the line."
MDOC spokesman Gautz says the officers' claims are "anecdotal observations" contradicted by observations of an "intelligence unit" that monitors gang activity. He also says gang-identified prisoners are not allowed to work in the kitchens.
But officers disagree with Gautz's assessment.
"The gang problem in the kitchen is worse lately," says retired corrections officer Taylor. "If you have Trinity staff who are interested in bringing in drugs and having sex with inmates, then they aren't going to be enforcing the rules, and the only people left to put a stop to it are corrections officers."
So how did it get to this point?
The motivation for privatizing prison food service is cost savings, and one common way that private food vendors save money is by reducing payroll expenses. That means some combination of fewer employees and a lower pay rate, and that means less oversight in the kitchen.
Trinity staffs as few as four employees in a kitchen for all shifts, officers say, and they often run double shifts. By comparison, the state staffed three employees and a supervisor in each kitchen for most shifts.
There's also an increased likelihood that gang members on the outside will work with gang members on the inside, and a great way to get inside is to work for a private food company with loose employment standards.
Officers say that the interview process involves two brief interviews. Trinity also provides its employees with far less training than the state's union kitchen employees who went to the corrections officers' academy to learn about prisoner management, use of force, self defense, and basic first aid and CPR.
"[State employees] knew what to expect, knew how to handle incidents, were trained in communications, went to the academy part-time, and had yearly training," Taylor tells us. "These people are not trained; they're not experienced. Trinity is just going and hiring someone who works at Burger King, giving them the keys, and setting them loose.
"Most of the [state] food service employees wouldn't allow any of this to go on. Those guys who worked for the state watched the kitchens like hawks, and if they saw somebody was doing something wrong, then they would go after them."
Along with less training comes less pay. Trinity employees are paid $13 an hour, compared to the starting wage of $20 per hour that union employees received, Taylor says. One Trinity employee allegedly quit after employees were paid with Meijer gift cards.
"They're untrained, unseasoned, underpaid, and not very bright individuals off the street," Drew says. "Then the MDOC is bypassing all of the rules and regulations associated with working inside of a correction facility. You get a lot of problems that way."
Stay on top of Detroit news and views. Sign up for our weekly issue newsletter delivered each Wednesday.