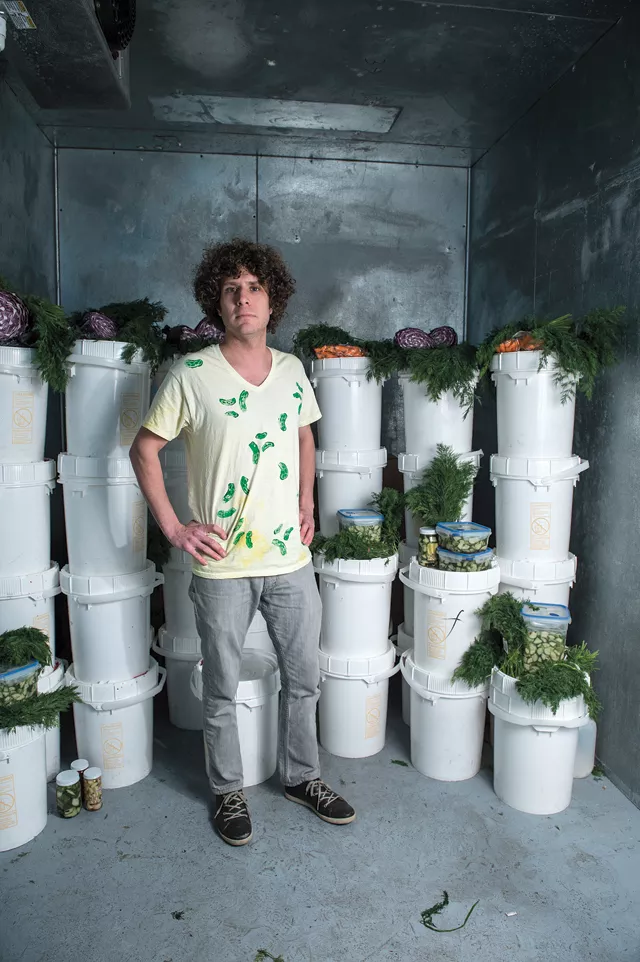 Perkins Pickles president Tom Perkins has always loved the tangy taste of a good pickle. As a kid, he says he didn't carry around a packet of Skittles, he had a jar of pickles. For Christmas, he'd get 5-gallon tubs of pickles as gifts. That love of pickles continued into adulthood, and in 2007, when he was living in Chicago working as a button-maker at the Busy Beaver Button Factory (no, we're not kidding; use Google as proof it's real), Perkins and his fellow button-makers would order pickles from different companies, trying to find the best.
"Everybody there was kind of a pickle fan, and I kept eating these pickles and I started to think, 'You know, I bet I can do this better.' So, with some urging from my colleagues at the button company, I started making pickles, just screwing around with a bunch of recipes. It just sort of evolved from there. I got a recipe I thought was pretty good, and went to the 2009 Leelanau Pickle-Off Festival. ... I ended up winning the People's Choice award, beating out 50 other companies." With an award like that under his belt, Perkins began to attract the interest of funders with some pretty deep pockets. "That's when I started going through the licensing, tweaking the recipe until just last year, when I got serious about jarring."
Perkin's pickles even got praise from Mario Batali, but the tasting almost didn't happen. Perkins says, "This was last year, before I started doing pickling full time. I was passing out pickle samples up in Northport at a dog parade." After we stopped laughing at this, Perkins added, "I think the theme was 'Doggone with the Wind,' so you had all these dogs dressed up as characters from the film ... Anyway, there was also this food and wine festival, and, I didn't know this, but Mario Batali lives down the road from Northport. So his wife came up to me and was like, 'If you have a last couple jars, you should give one to my husband Mario.' I told her they were for my investor. Later, I was still handing out samples, and she chased me down and said, 'Come meet my husband Mario.' That's when I was like, 'Oh, my god, it's Mario Batali!' I cleared off the sample tray and gave him a jar. He flipped out and said it was the perfect pickle — the best pickle he'd ever had!"
Perkins makes his pickles in the kitchen of the Traffic Jam restaurant, producing 500 jars of pickles alone every week. Rather than call his pickles "cold-pack," Perkins prefers using the term "refrigerator-style" pickles, because "people recognize it more." Describing his process, he says, "We put pickles in five-gallon food-grade buckets on Monday, pull them out partway through the week and chop them up into bite-size pieces and put them back in the brine again until Friday, when we pull them out and jar them. It's a super-quick pickle. There's actually a style of pickle called a 24-hour dill, but this is more like a 96-hour dill, I guess. So it's all really fresh, and we make just enough to sell during the week. Every Friday we have fresh pickles coming out, so nobody gets pickles that are more than a week old. That helps keep the product cold, crisp and fresh.
Perkins' brine includes peppercorns, crushed red pepper, garlic and sugar — although he cautions that it's only a little bit sweet, "definitely not a bread and butter or sweet pickle."
"People ask me what kind of pickle it is," he says. "It's a little sweet, but it's not a sweet pickle; it's got a little spice to it. It's not quite a new dill; it's fresh like a new dill, but new dills don't use vinegar. It's basically a hybrid of a lot of different kinds of pickles."
In addition to pickles, Perkins also sells pickled garlic, taking the garlic he pickles with and letting it sit a few more weeks, producing about 100 jars of it weekly. He also produces a similar quantity of jars of pickled green tomatoes and chow-chow, a pickled relish (Perkins prefers to call it a "slaw") made from red cabbage, green tomatoes, pearl onions, carrots and jalapeños.
With all these new pickle companies, you might think there'd be stubborn rivalries among competitors, but Perkins paints a different picture. "The pickle guys are all really nice," he says. "Some of the other food people aren't very friendly to each other, and it is cool that there are all these companies and we're all friendly and supportive, and we're all doing a little bit differently, we all kind of have our own niche, and it's cool that way. Joe McClure is actually one of the nicest guys I've come across, always offering to help me out in some way."
Perkins could use the help, because his pickle business is expanding. Earlier this year, his jars were already available at Plum Markets, Rocky Peanut, Eastern Market and various farmers' markets and via Door to Door Organics. Since then, he has moved his pickles into Rust Belt Market in Ferndale, Western Market in Ferndale, Holiday Market in Royal Oak and Whole Foods outlets in Rochester, West Bloomfield and Troy. In fact, he's in talks with Whole Foods, taking the initial steps toward regional distribution, which would mean selling in stores throughout the entire Midwest — including the coveted Chicago market, with its two-dozen Whole Foods stores.
Perkins already employs about a dozen part-time employees to help manufacture and sell the pickles. "I could hire another 12 right now," he says. "One of the things holding us back is that I need more people to go and demonstrate the pickles in grocery stores and get the name out there. These pickles have a one-month shelf life. That's one of the bigger challenges. People aren't going to buy a $7 jar of pickles without having tried them. If customers don't know about us, we have to be in there demoing and passing out samples every weekend until we build our following. We need to have people buying these things quickly."
With bigger deals in the offing, Perkins is in the initial stages of an expansion plan that involves moving into a 1,500-square-foot space in Hamtramck where he could produce as many as 300 cases a week — that's 3,600 jars of pickles.
"Pickle production doesn't need a lot of space — it takes a couple tables, a couple shelves. It's not a super labor-intensive operation. It does require a really big walk-in refrigerator, though."
Perkins is also happy about relocating to an area rich in pickle heritage. "There's an old abandoned pickle factory down the street from where we're moving. It is so cool that we're moving into a neighborhood that has this history of small food production — especially pickle-making. How many cities are there where there's a history of pickle making because of that Polish heritage?"
Another way Perkins differs from his fellows is with his marketing strategy. He personalizes his pickles with pictures of himself on them. The pickle label, which was designed by Matt Wizinsky of Chicago's Studio Jungle Cat, was even included in a recent book on contemporary graphic design. "I'm pretty proud of that," Perkins says. He also uses the graphic as a banner when he sells at farmers' markets, which people enjoy shooting snapshots of.
"We're definitely trying to take a little more of a fun approach to it," Perkins says. "The lid is unmistakable and I'm definitely part of the branding."
He adds, "You wouldn't realize how many middle aged ladies I've taken pictures with, I've even autographed a few jars. They just say, 'Oh, my gosh! You're the guy on the jar!'"
Perkins even says he's been approached by total strangers, in a good way. "I'm definitely like part of the brand. A couple times now I've had random people come up to me and be like, 'Aren't you the pickle guy?'" he says. "The funniest time was this summer. I was walking down Second Street in Midtown after a long, hot day of pickling. This car pulls over and it's full of some pretty young people who scream, 'Yeah! Perkins Pickles! Yeah! We love your pickles!' After a long day, it was good to hear that and get a laugh out of it."
Michael Jackman is senior editor of Metro Times. Send comments to [email protected]