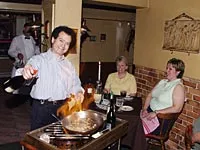 At a time when so many chefs are focused on fussy "plated" foods, Lino Catroppa, chef and owner of The Cook's Shop and The Pasta Shop in Windsor, has a refreshing approach. You won't find any parsley confetti on the plates and the vegetables are not newborn infants, but you will find robust Italian food made of fine ingredients. Focused on flavor, you might say.
The two small restaurants occupy two floors of the same building. During the week, the kitchens merge; on the weekend they're independent. The advantage of The Cook's Shop is the tableside cooking; anything that can be flambéed is, and this can be lots of fun to watch.
Catroppa has found a successful formula and doesn't want to change a thing. He says when he opened in 1980, friends decided to wait a few months for the crowds to subside. "It's still crowded, and they come anyway. They tell me, 'We're still waiting for the novelty to wear off,'" Catroppa chuckles.
The salad, served family-style, is a freebie. Big hunks of romaine come with big croutons in a big stainless steel bowl, with a wondrous, better-than-Caesar dressing. Catroppa has been asked for the recipe a million times; he laments that he recently turned down Gourmet magazine's request.
Don't skip one of the pasta appetizers, which are prepared tableside downstairs at The Cook's Shop. Our server, Al, seemed comfortable rustling up spaghetti a'chitarra carbonara over a rambling gas flame in tight quarters. Before pouring in the cognac, he warned a big table of stockbrokers sitting near us that they might feel the heat (this was the day before the Dow Jones dropped below 10 grand).
The egg and semolina pasta is made in-house, which may explain why it tastes so good no matter what sauce is on it. (If you find yourself waiting in the foyer of The Pasta Shop, you'll be sharing the space with a gigantic pasta maker, which is rolled out of the kitchen when things get busy.)
At The Pasta Shop a couple nights earlier we sampled three varieties when we ate with a group of friends — Napoletana, a tomato sauce; linguine Alfredo; and a simple garlic-and-butter sauce. Our only complaint: The service was excruciatingly slow that night.
It was fun to watch Al make cherries flambé for dessert. You'll know exactly what's going into it: tons of butter, very little sugar, tons of cognac, fresh lemon juice and tart cherries. Served with vanilla ice cream, it was sublime.
Catroppa is proud of the Angus beef, which is used in all the beef dishes, even the lasagna. It was luscious in the two preparations I tasted: Steak Diana and a scaloppine piccata. I found the menu's description of the rainbow trout dinner hard to resist: "We start with a good-size trout." The trout was delectable, as was the sole I ordered on another evening, as was the rack of lamb that the co-diner ordered. It's like Al said, "Order whatever you like, you can't go wrong."
Elissa Karg dines for Metro Times. E-mail [email protected].