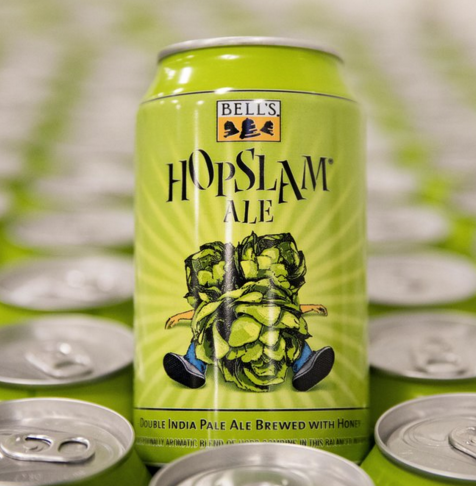 Get ready for your annual reprieve from the bitter cold. Bell's Brewery says it has begun packaging its highly acclaimed Hopslam Ale and will start shipping it out this week.
Lower southern Michigan will get its provisions of the double IPA first, with cans heading to our region's Wayne, Washtenaw, Oakland, and Macomb counties
this week
. Bells will send the brew out in waves to the rest of the state throughout the month.
#Hopslam started packaging today and will ship out this week and over the next couple of weeks to help ensure it's as fresh as possible. Please be patient with your local bars and retailers. More info about where and when can be found here: https://t.co/2i9YPJBjDb pic.twitter.com/CtRu77HCFr

— Bell's Brewery (@BellsBrewery) January 2, 2018
If you're wondering what all the fuss is about, we think the following quote from Bell's Director of Operations John Mallett says it all:
"Somebody once described Hopslam as tasting like your cat ate a bag of weed and then pissed in the Christmas tree," he says at the video link below, later divulging that he was that "somebody" behind the quote.
Mallett also describes the drink as fruity, floral, and bright. It is, indeed, all of those things, but it has the added bonus of getting you drunk as hell, or as we have previously described it, "Hop-slammed."
And the folks over at Bell's seem to know exactly what that 10 percent alcohol by volume can do.
"I think about those great stories around Hopslam," says Mallett with a sly smile. "You end up with a whole range of emotion — you have laughing, you have crying, you maybe have a change in relationship status.
"Enjoy it, but respect the Hopslam," he adds.