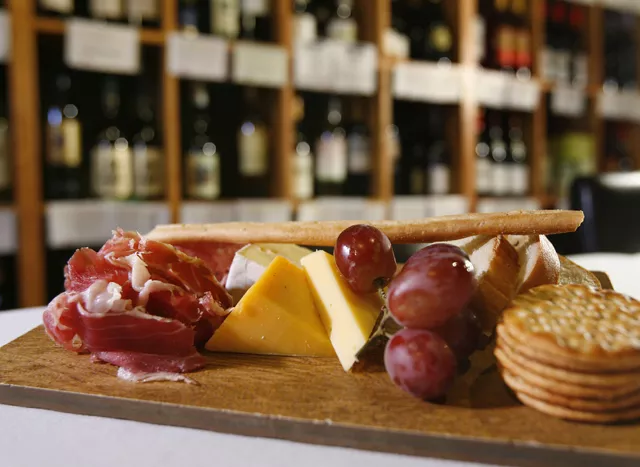 Kitchen Sync at Wine Sync
122 W. Main St., Northville
248-374-9463
Alan Verstraete's Wine Sync retail store in tony Northville was always about synching wine with food. After a few years of recommending to customers what goes with what, last year he began serving small plates himself, creating Kitchen Sync. He cleared away some of his wine displays, bought a ton of stemware, and installed tall tables with comfy chairs.
The walls of the store-restaurant are still lined with upright bottles arranged in six categories: silky white, crisp white, rich white, fruity red, mellow red and robust red. White linens and fresh flowers complete the scene.
The result is a marvelous place to snack after work; the small plates are enough to constitute supper if you order a couple. Better yet, it's a fun all-round experience on Saturdays: a $30 three-course dinner, with three wines matched by an expert. Verstraete says he always starts by choosing the wines; the menu evolves from there.
New Year's Eve will be more elaborate at $100 a couple, with a Champagne toast at midnight. Call quickly for a chance at a seat.
Because the kitchen is tiny, Verstraete works with a limited menu. On Saturdays (reservations required), dinner includes just two choices of entrée, plus coffee and dessert.
On a recent weekend, the first course was watercress and pink grapefruit salad with toasted walnuts: the greens ultra-fresh, the dressing light, the jumbo walnut halves crisp and plentiful, not just a garnish. The salad was outstanding, but the star of the course was a small serving of zippy Mauritson Sauvignon Blanc 2009 — which had a distinctly grapefruit tang.
The wine ($25 a bottle; 10 percent discount for Saturday diners) came from Mauritson Estate Wines in the Dry Creek Valley of Sonoma County. See mauritsonwines.com for a quick lesson on how their wines get the way they are. The grapes for the Sauvignon Blanc, for example, are grown next to a creek, which lengthens the growing season, making the wine richer, while the sand and rock in the soil impart the illusion of citrus, the makers say.
The cheese and charcuterie course was a bit disappointing in the food but spectacular in the Mauritson Cabernet 2007. The cheeses were served cold and were a bland Bel Paese, cheddar and dill Havarti. When we replied honestly to the host's "How do you like the cheese?" he brought a fantastic aged Gouda, pungent, dry and crisp (in flavor). Both the more humdrum cheeses and two Goudas are available when ordering cheese a la carte on weeknights.
I can't credit most of the Mauritson family's description of their Cabernet: "aromas of dust...both juicy and serious...tobacco and sweet oak...as the wine moves back on the palate, it gains focus." But it definitely is "explosive in the nose" — please take the time to inhale first.
The entrée choices that night were beef tamales or pork shank mole, sprinkled with scallions and served with black beans and rice. The latter was a good-sized chunk on a big bone, rich with dark brown mole concocted to work with the Mauritson Zinfandel.
The tamales were moist, well-stuffed, the corn shell tasting of corn as it should. I've had better tamales in southwest Detroit (Pollo Chapin, Pupuseria, El Comal) but also far worse, and never beef. These are certainly the best tamales in Northville. And when I asked to take one home, it was returned to me wrapped in tinfoil in the shape of a swan! The black beans tasted of barbecue sauce, a little sweet, excellent.
Dessert was tiny tartlets from Sweet 220, a Northville pastry shop, some covered in chocolate, some peanuts, some coconut.
On Mondays and Fridays no reservations are needed and you can order from a list of small plates: a handful of candied pecans, toasted walnuts and olives; smoked salmon crostini; that watercress-grapefruit salad; flatbread topped with Italian sausage; pork mole; or an assortment of cheeses and charcuterie. We tried an excellent sopressata studded with peppercorns, a steal at $3 for six slices. Spaghetti in a chicken cream sauce was, well, creamy and also a bit tart, from a few artichokes in the sauce. A New York strip wrap with caramelized onions was outstanding, rich with horseradish cream.
The rest of the week brings something different each day:
Tuesdays: Chef's choice — a free appetizer with a glass of wine.
Wednesdays: Pasta, salad, garlic bread and wine for $15.
Thursdays: Flatbreads and wine for $12.
Fridays: Five 1-ounce pours for $5 (yes!), plus the small plates menu.
Food is served at Kitchen Sync from 5 p.m. to 10 p.m. Monday through Thursday and from 5 p.m. to 11 p.m. Friday and Saturday. The retail store opens at 3 p.m. Monday-Thursday and 11 a.m. Friday-Saturday.