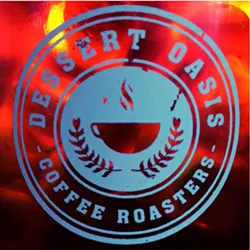 With the impending expansion of Rochester-based Dessert Oasis Coffee Roasters across the street from Detroit's microscopic Capitol Park, a caffeine war could brew this fall with longtime cafe Urban Bean Company. Dessert Oasis founder Nathan Hamood plans to fill a 2,600-square-foot space inside the newly-renovated The Albert, owned by developer Broder & Sachse. A press release from the suburban roaster bills the new location as a neighborhood coffee shop, complete with nightly live music, specialty coffee, freshly prepared desserts and a light lunch menu.
"As an up and coming community of artists and young professionals, it is only fitting that a local coffee house joins Capitol Park," Broder & Sachse CEO Richard Broder is quoted in said release. "At The Albert, we've set out to provide amenities that exceed the expectations of our renters. The addition of Dessert Oasis Coffee encourages a community atmosphere in Capitol Park where our residents, locals and visitors can come together."
Hamood, in a statement, said his move to the area is not about competition.
"We are all about community and growth of everyone in the community. I've talked to the guys at Urban Bean Co. and they're great people. Our vision is consistent with their vision – we would both like to see Capitol Park and the surrounding areas thrive and do well. This is not about trying to divide up the business in Capitol Park but trying to assist in the growth of the park and its surrounding areas for the benefit of the whole community," the statement read.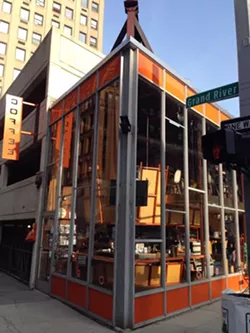 A local coffee house to Capitol Park? Did we miss something? Not that there can ever be enough locally-owned cafes downtown, but the microscopic neighborhood has been home to the sleek, mod-styled Urban Bean Company for the past few years. Owner Josh Greenwood began renovating the space himself back in 2000, long before chains like Starbucks, Buffalo Wild Wings and Pot Belly stepped foot downtown. The cafe opened in 2008, closed for a year during the recession, and reopened two years ago, attracting a regular following of globetrotters, office workers and bloggers. DJs throw down sets nightly in the DJ booth upstairs and there's usually a display of baked goods to go with the java.
To combat the increasingly stiff competition, Greenwood and his partner Ed Siegal are exploring financial support from the likes of micro lender Kiva Zip, which provides entrepreneurs with zero-interest loans through crowd-sourced funders. In a week, the cafe has raised $5,000 needed to make basic improvements (an ice-machine, commercial brewer, freezer, etc). This fall, Greenwood also plans to apply for more lending to pursue a liquor license, a real menu offering and to deliver food and craft beer to folks in the neighborhood.
The area surrounding Capitol Park, like most of downtown, has transformed in recent months as Dan Gilbert and Co. have purchased buildings left and right, displacing starving artists to make way to pricey apartments. The Albert Kahn-designed and restored The Albert boasts an on-site dog-grooming space, gym and dry cleaning delivery - a far cry from much of the area's former, lower-income rentals.