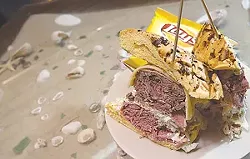 These are difficult times for yacht clubs, particularly those that are nautically challenged. The Parrot Cove Yacht Club — located on Dequindre just north of 14 Mile Road in Troy in a rapidly deindustrializing neighborhood miles from the nearest body of water — has met the crisis by offering huge servings of solid bar food in its raffish but homey clubhouse. Last week, they slashed prices by about 25 percent to 1999 levels. 
In 1993, even though Bill and Maria Craig could only afford an inland Floribbean-themed bar and grill, they decided to call it the Parrot Head in tribute to Jimmy Buffett. They did not realize until it was too late that the name was copyrighted. Consequently, they were stuck with an expensive sign that already included a colorful painted parrot, the word "Parrot," and the space for another four-letter word. The short-lived Parrot Head, which had been the Round Table since the '60s, became the Parrot Cove, with the Yacht Club added tongue-in-cheek (a la the landlocked Polish Yacht Club in Detroit).
The sole genuflection to the island theme revolves around the see-through glass-topped wooden tables full of shells, sand and other items that might wash up on a Key West beach. The rest of the small, unremarkable shingle-and-brick stand-alone is rather plain, with an array of Christmas lights and six flat-screens the chief adornments. The mellow '60s-through-'80s top-hits playlist suggests that the Parrot Cove is a tavern for adults.
The Craigs earned their restaurant chops at Royal Oak's venerable Oxford Inn, owned by Maria's father in the '70s and '80s. Bill and Maria tend bar, serve and bus (with occasional help from daughter Lynn) with surprising efficiency and care, considering all the many restaurant chores they personally undertake. On one occasion, for example, without being asked, Bill came over to adjust an annoying unbalanced table leg. 
The new retro 1999 prices are quite a bargain, as is a pitcher of beer going for around $7. Penurious wine drinkers are not as fortunate, since a glass will set you back $6.
On the other hand, the Cove Platter, at $8.50, is a steal. The substantial sampler overflows with deep-fried chunks of crisp and tender chicken fingers, comparably crisp onion rings, breaded mozzarella sticks and, least crisp of the four, somewhat soggy stuffed potato skins. These irresistible artery-cloggers come with three dipping sauces. Considering the venue, a surprising bonus is a basket of gently seasoned toasted garlic bread.
An alternate first is a spicy nacho ($8.99) that scores on the all-important filling-to-chip ratio. Among other appetizers are sliders, Cajun shrimp cocktail and fried zucchini. 
The comes-with greens are a house salad, Caesar and coleslaw. Of the three, the coleslaw, a crunchy creation midway between creamy and vinegary, is a better bet than the romained but overly croutoned Caesar and the simple iceberg-based tossed. Dinner-sized Cobb and chef salads are also available, as is onion soup, which, though not quite Cordon Bleu, is generously topped with gobs of melted cheese.
Parrot Cove flaunts seven burger variations that can also be constructed with ground turkey. The Cove Burger ($5.50), a made-to-order patty topped with provolone cheese, sautéed mushrooms and lettuce and tomatoes, and accompanied by fries and slaw, is an attractive combination, although you might ask the kitchen to go a bit lighter on the salt. And given the recent Upton Sinclarian E-coli revelations about how ground meat is produced nationwide, well-done should be the request here — and everywhere.
Among the mains, which come with two sides, the precisely grilled 6-ounce petite New York strip ($8.25) is a winner, hidden at first by a haystack of onion strings and mounds of either French or extremely sweet sweet potato fries. The latter may not need the kitchen's powdered-sugar enhancement. 
Another option is baby back ribs that start at $7.50 for a lunch portion. The Craigs go way back with ribs, beginning with a recipe they bought from the old Carlos Murphy's that was used by Dad to win awards for the Oxford Inn. Their smoky barbecue sauce contributes to the experience. And the gently sautéed perch ($13.25) is a nuanced preparation. Prime rib in different sizes, jumbo shrimp sautéed, fried or Cajun-style, fish and chips, fajitas and more than a dozen sandwiches round out the bill of fare with a "parakeet" menu for toddlers.
Although they had to give up the name, the Craigs remain faithful Parrot Heads, going so far as to use the icon's own recipe for margaritas as well as the eponymous Margaritaville Tequila. 
Those generous margaritas, sand and seashells are certainly evocative of the Caribbean. Considering the economy, the Parrot Cove may be the closest many of us will be able to get to Key West this winter, as we relax with a cold one while selecting from among the menu's inexpensive, satisfying (if less than healthy) comfort food.
Mel Small teaches history at Wayne State University. Send comments to [email protected].