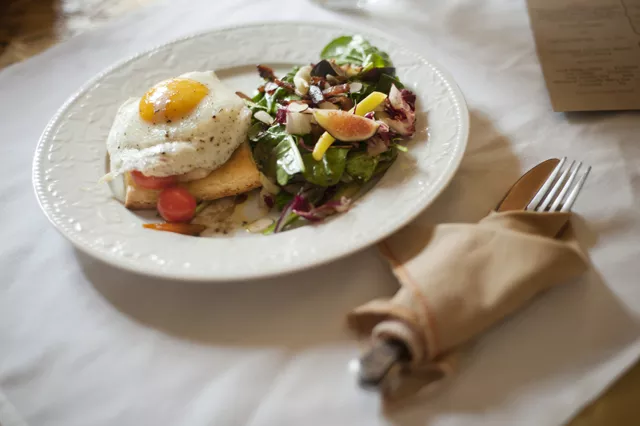 To experience Brunch Underground, "like" the Brunch Underground Facebook page or send a message expressing an interest in attending the invite-only party. The next Brunch Underground event is tentatively scheduled for 11 a.m.-3 p.m. Sept. 30 at the Artlab J Loft in Greektown in Detroit.
To join the Dunch Club, find the group's Facebook page and get in touch or call 313-312-4025. Dunch is served 2-8 p.m. every Thursday, at 5101 Loraine St., Detroit, with selected delivery options; pick-up is $7, delivery is $10.
For a growing number of culinary innovators, the pop-up format makes sense. Instead of buying or leasing a brick-and-mortar space, paying for all the overhead, and staying open even when diners don't come in, the commitments are much more modest. Pop-ups, as we'll see in our occasional spotlights on them, rely on word of mouth, sell tickets or club memberships in advance, create one beautiful meal, often move among different spaces for each apperance, and usually cater to certain dietary desires.
They can be an inventive way to forge a brand, or a low-risk way to market a niche food. But in the case of the Brunch Underground, you get the sense it's a reaction to what many restaurants have become.
It's a collaboration between Emily Eisele, chef Tony Aja, and hostess Nikole Moore, all of whom are familiar with professional restaurant environments. At its best, their pop-up does things that traditional restaurants simply can't do anymore.
Officially titled as "forager" of the group, Eisele is a sort of operations manager for Brunch Underground. She manages a farm in Pontiac and is vitally interested in ensuring locally grown food makes it onto diners' plates.
"It's really tough to have a restaurant," Eisele says. "And a pop-up allows talented chefs and local food growers to 'play restaurant' instead of sinking six or seven years into being in the red. They can present food that is creative and delicious and solid and have a really good time doing it."
She continues: "The restaurant industry that we've all worked in can be exploitative, labor-wise, sourcing-wise, because it's all about the bottom line and keeping your food costs at 30 percent. So even high-end places are serving food from Sysco."
Instead of squeezing workers and going for cheap ingredients, the pop-up format allows for a warm, collegial atmosphere.
The three-person collective is determined to keep the brunch, which takes place 11 a.m.-3 p.m. every other week, affordable.
"A lot of pop-ups are $50 and up per person, mostly because of the labor that goes into them," Eisele says. "We try to keep it at $15 or less, with food that is 85 percent local."
The trio has been doing the brunches since this spring, hosting the meals in various locations, including residences, even Torino Espresso + Bar in Ferndale. At residences, they usually cut off RSVPs at around 45 diners, but for larger spaces, they can approach 100 diners. While many entrepreneurs would favor larger events, surprisingly, Eisele says, "I prefer to do it residentially. It has a cozy feel when you seat people all at one table. That's what we aim for, a sort of underground mystique, not pretentious, definitely not 'hipsters only.'"
"We always seat people together," Eisele says. "That way you get a lot of social cross-pollination. And Nikole does a really cool playlist for every brunch."
Front-of-the-house manager Nikole Moore agrees: "It's a much warmer environment than a typical restaurant. People come in and have to sit next to people, and maybe that's a little outside their comfort zone if they're used to being isolated. But given the conversations, meeting people, or when people start recognizing each other at brunches, I've seen people stand outside and talk an hour after brunch just because they sat next to each other and dined together."
In that community spirit, Brunch Underground often offers "comped" meals for guests who bring something to the mix, whether it's helping with the dishwashing afterward, or bringing tea or fresh-cut flowers. "Sometimes," Eisele says, "people often bring food of their own, like bread, or coolers with homemade juices, just crazy stuff. ... One time, somebody made us handmade original art for brunch and got comped too. It's all about trades," she says with a laugh.
As for the food itself, it's "solid" American food made with local produce. And dietary concerns, from vegan to gluten-free profiles, can be accommodated.
"Lately," Eisele says, "we've had several vegetarian menus because seasonal food is just so glorious it doesn't require any bacon fat. And it's more fun to cook with stuff that's seasonal too, to see how people have been exposed to stuff at brunch they've never had on menus before."
Sources for Brunch Underground's meals include the student organic farm at Oakland University, produce from Rhiza Food Company, which runs a farm in Highland Park growing what Eisele calls "awesome, restaurant-quality produce" including 40 varieties of heirloom tomatoes.
On the seasonal tip, chef Tony Aja says, "We're using a lot of apples and walnuts and other stuff that's readily locally available at this time of year. For the last meal, we used lots of tomatoes, all local dairy, local pork, and farm eggs from Eastern Market. Hands-down, it's so much better than what you can get at a grocery store, and any extra cost is negligible when you consider the experience of enjoying that."
Aja characterizes the dishes as elegant but not pretentious. "We're not manipulating ingredients too much. Of course, we accommodate special requests much like a restaurant, if people are cool with waiting five or 10 minutes for a plate of food. We'll have everything on one plate, usually an entrée with a little side salad or a dessert."
Keeping it simple is important, Aja says. "When you're out at a venue, at someone's house, you have to be able to pull off all your ideas. You can challenge yourself, but it's best not to be masochistic about it. There are things you have to avoid, because, you know, we have to do all the dishes, and logistically you're hauling all this stuff to somebody's house or some venue. And if you're in someone's house, you're there from 9 a.m. to 6 p.m. and you want to make it easy on them too."
And those logistics need to be tight, and not just to make the most money, but to avoid wasted food.
Aware of how much food gets tossed in a traditional restaurant, Eisele says, "That's why we only take RSVPs, so we don't have a lot of waste. When you're involved with food from seed to the dining room, you realize how much work goes into it, so you don't want to waste anything."
In their purest form, pop-ups are simply a way to offer one niche, healthful meal a week. Take a look, for instance, at the Dunch Club. The brainchild of Lindsay Jewell, the group has been up and running since last summer, offering metro Detroiters seasonal, vegan, gluten-free, mostly organic and local, food lovingly prepared.
"I've been a vegetarian for years," Jewell says, "and also wanted to do a food thing but didn't even know I could. I was volunteering at Spirit of Hope [a Christian community with a full kitchen and permaculture farm]. I'd be there in the kitchen, cooking hardcore for myself for a couple years because I had to give up eating a lot of things. I was in there so much that I thought it would be great if I could make my food and make it for others at the same time.
"At the same time they had a big food conference last May at Eastern Market. Jess Daniel was up there cooking with us in the kitchen and I got to talking with her about what she was doing [with pop-up Neighborhood Noodle]. And I thought, 'Wow, somebody can move here, open up a noodle shop in their own house and make it rock? If she can do it, I can do it.'"
Jewell started the Dunch Club in June 2011, working out of the kitchen at Spirit of Hope. A few months ago, Jewell moved out of that space — which still does its own Thursday lunch club — into North End Studio on the near west side. Though some guests come to dine in, the Dunch Club offers a small but expanding meal delivery service around metro Detroit, including the Grosse Pointes, Royal Oak, Ferndale and Madison Heights. Jewell soon plans to expand the operation to downtown.
Jewell emphasizes serving local food when possible, saying, "The food that comes from close is best for us as far as our carbon footprint goes, as well as helping the local economy by spending our money here to keep it here."
Jewell works with local growers, including produce from Brother Nature, Grown in Detroit and Feedom Freedom Farm, and organic, local grains, beans and lentils from Hampshire Farms.
And local produce means seasonal dishes. Jewell says, "The squashes are starting to come out in a couple months, and there are only two months when you don't have sweet potatoes. In summer-spring we'll have strawberries and asparagus, and we've had lots of melons coming out in the last couple weeks. When it gets to be winter, it's a little more difficult: We get heavy on squash, cabbage, beets and turnips. I love when the season comes around in late spring and early summer and Brother Nature's greens come out. There's always great food — our state is one of the most agriculturally diverse in the nation."
What ultimately drives Jewell is the health aspect of eating. She says, "I think food is medicine. If we all start to eat better — the more green vegetables, the more beans, the more fruits — the less likely we are to have arteriosclerosis, heart attacks, strokes, cancer, diabetes. All these killers are being enabled by the standard American diet. That's something a lot of people don't know. I mean, I didn't know. So I want to help people save themselves from those situations."
That said, Jewell strives to serve food that's approachable and flavorful. "I do use oil and salt and things like that," she says, "but I think it's balanced out by taking in that volume of fresh foods. I serve a combination of raw and cooked, although I've upped the raw since I saw a film on raw knocking out diabetes. But there's always something cooked that's a little more comforting too."
When it comes to flavor, Jewell is fond of mixing things you wouldn't necessarily have together. "Basically I go into the market and go around and start picking up whatever is looking awesome that day, grabbing a few things then asking what's going to be good with what. It's something different every week." Sometimes the results are extremely unusual and surprisingly popular.
"Earlier this summer," she says, "I did a broccoli-lime-jalapeño-blueberry marinated salad with toasted cumin seed — and the sweet and hot and broccoli and everything, and the way it mixed together, people were into it, and I actually got a few catering orders for it."
Know of any other pop-ups that deserve coverage? Let us know at [email protected].